Balancing Work, Life, and Chemical Equations — Mr. Owen Named Educator of the Year
Dedicated to pursuing and encouraging growth in both himself and his students, science teacher Mr. Matthew Owen has been named Educator of the Year.
When he and his family relocated from England to the U.S. for his father's job when he was 8 years old, what was meant to be a two-year endeavor turned into over two decades — and counting — for science teacher Mr. Matthew Owen.
With the relocation process being unexpectedly prolonged and his family becoming comfortable living in the U.S. during that time, they ended up staying much longer than originally intended. 
"It stuck," Mr. Owen said. "And now I'm here."
Having grown up in Stevenage, a town about 30 miles north of London, Mr. Owen said that he does not remember much about it or the experience of being brought up in England after living in the U.S. for the last 22 years. Rather, he said that the memories of specific things come back in spurts whenever he has the opportunity to visit his hometown.
"I remember going back and being like, 'Whoa, I don't remember some of these places or what this was like at all, and then I'll recognize a building or something like that, and it will flood back a memory," Mr. Owen said. "There's this swimming pool there that now I just can't get out of my head when I think about it because we used to take swim lessons, and that was a big piece of life, I suppose, back then."
Attending Catholic grade school in England prior to the move, St. Ignatius for middle school, La Salle for high school, and Gonzaga University and the University of Portland for college, religious schooling has "been a part of me for a really long time," Mr. Owen said.
In particular, his time at Gonzaga proved the most influential in his decision to pursue teaching, Mr. Owen said. Initially set on following a path toward a career in lab research, he worked in a lab at Gonzaga for around two and a half years before deciding that it was "a lot of doing the same [thing]," he said. "And I wanted to do something different."
So, during his senior year, he began working with and tutoring student athletes in chemistry. With the positive feedback he received from the program's adviser about the help he was providing, he decided that teaching was the road he wanted to take.
"That was a real moment for me, and I started looking into grad schools immediately upon graduation from G.U.," Mr. Owen said. "But it was not a path that was viable for me financially." 
Reaching this conclusion, Mr. Owen planned to work for a couple of years before returning to school to obtain his master's in teaching at the University of Portland.
"But other plans were had," he said, when an unexpected and last-minute offer for a teaching position came about in La Salle's science department around eight years ago.
Receiving phone calls from two separate people at La Salle, former admissions director Ms. Kam Kimball and former Vice Principal for Student Life Mr. Brian Devine, about an opening in the science department at La Salle, Mr. Owen decided that it would be "worthwhile, maybe, to just come by and hear about the position," he said, to gauge his interest in the job and allow the administration to gauge their interest in him.
However, when Mr. Devine, who was also Mr. Owen's track coach when he attended La Salle, informed him that time was running out for a decision, Mr. Owen told him he was no longer interested. 
"But then, Mr. Devine encouraged me again to reach out and say, 'Hey, I'm not someone with teaching experience, but I am interested in the position. Is it something that we can meet and talk about?'" Mr. Owen said. "So I did that. …And then I got the job and [have] been here since."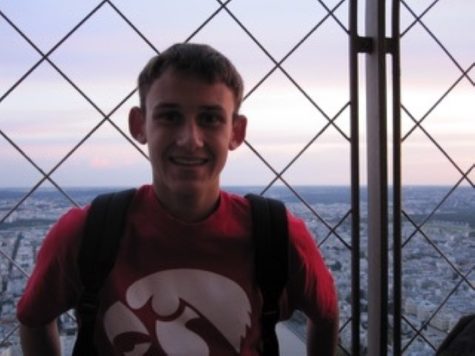 From that point on, Mr. Owen said that he has felt a sense of loyalty to La Salle for the encouragement and help that the community has provided him throughout his time teaching, which he said has been a factor in keeping him at the school for so long.
"They took a chance on me and were willing to help support me throughout my journey in becoming an educator," Mr. Owen said. "And that goes a long way."
After joining the teaching staff, Mr. Owen returned to school to complete his master's in teaching at the University of Portland, graduating in 2018.
Going from being a student at La Salle to being a teacher was "strange," he said. And he recalled having to become accustomed to calling his teachers-turned-coworkers by their first names, rather than their last names, remembering a particular moment with former teacher Mr. Josh Barstow.
"I walked past him in the hallway, and he goes, 'Hi, Matt,' and I go, 'Hi, Mr. Barstow.' And he just stopped. He's like, 'You can call me Josh now,' and I was just like, 'This is odd,'" Mr. Owen said. "And I've had that with just about every teacher who was here in my first couple of years teaching, and now I'm used to it. I really am."
On top of that, he also remembers the peculiarity of teaching some of his former schoolmates. During his first year teaching at La Salle, he taught some senior students who were third graders at St. Ignatius when he was an eighth grader there.
"It was really odd," he said.
However, despite the adjustments Mr. Owen had to make in becoming a teacher at La Salle so soon after being a student, one thing remained the same: his love for soccer.
Playing on both recreational and club teams growing up, as well as La Salle's team once he reached high school, "it really consumed a lot of my life," Mr. Owen said. "And in a way that I'm very thankful for because I really love the sport."
When he began teaching at La Salle, he also took up coaching track and became one of the soccer coaches as well, alongside former coaches Mr. Seth Altshuler and Mr. David Leslie. And, while he had to leave coaching behind because of the time and commitment it required, it is one of his favorite things he's been able to do in his career at La Salle.
"While I miss coaching soccer, and I miss coaching track," Mr. Owen said, "I definitely made the right choice for myself in terms of what I needed."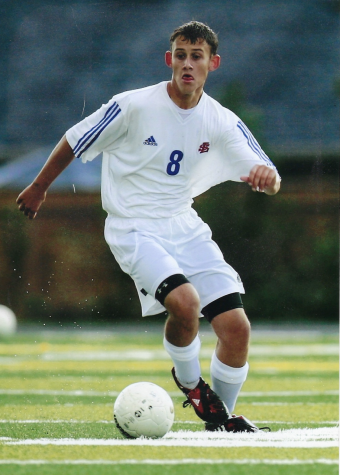 His favorite moment from coaching was having a part in leading the boy's varsity soccer team to win the state championship in 2019, and "being able to share that with those athletes [and] to be able to share that with Mr. Altshuler and David Leslie as well was really special," Mr. Owen said.
Familiarity has been a common theme for Mr. Owen in his time at La Salle, walking the same halls and being around the same community as both a student and teacher. And, when the announcement was made that he had been named the Educator of the Year, memories of watching his own teachers gain that same title came flooding back.
"I went to those assemblies when I was in high school, I sat in the bleachers, and then I sat in the chairs when we were seniors," he said. "So it is kind of strange to be on the other side of that."
Understanding that he had a chance of earning the title, but not at all expecting himself to in the end, Mr. Owen views being named Educator of the Year as both a gift that he is very grateful to receive and also an unexpected result. "I just try to turn up every day and do my best," he said.
Beginning teaching at La Salle in 2014, his first couple of years on staff were not without difficulty, as he didn't have any teaching experience outside of tutoring at Gonzaga. However, there was one instance during that time that he still deems as having been pivotal to his growth as a teacher.
"Things weren't going well, which can be expected from a first-year teacher," Mr. Owen said. "And I had a conference with a parent. And at that conference … the parent was asking me questions, and they asked me about my background in teaching, and I was honest and I said, 'This is my first year. I don't have a lot of experience. I'm really learning a lot on the fly.' And she goes, 'Oh, that makes sense. So you're not a real teacher.' Those were her words. I remember that. And that hit very poorly with me."
Despite facing this criticism, Mr. Owen found support in his colleague at La Salle, Design Thinking teacher Ms. Carie Coleman, who "was very real with me," he said. "She said that, while how she said that and what she said was probably not accurate and in line, there's a lot of learning to be done, and that I really had a choice in terms of how [I wanted] to proceed from this. Did I want to take that feedback, and did I want to become better? And that's what I ended up choosing."
This desire for personal growth as a teacher and an eagerness to find meaningful solutions to problems are things that Mr. Owen has carried with him since his first years teaching.
"I want to receive feedback in terms of where to improve, and I want to try and go from there," he said. "I think that's a big part from my first two years, when I didn't have a clue what I was doing. … I just put my head down. I was like, 'Okay, I'm going to try this. I'm going to see if this works.' And that kind of personality has carried with me throughout the whole time."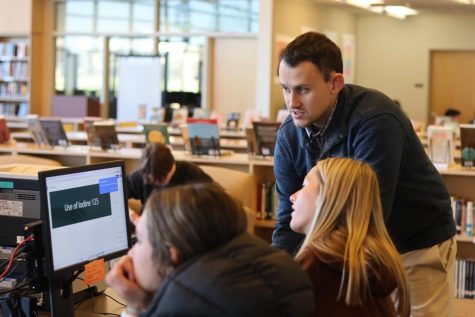 Finding avenues for growth in both himself and his students is something that Mr. Owen has found particularly valuable in his time teaching, and he sees determination and dedication toward development in one's self and in others as the key to what it means to truly be an educator — a title he believes is not limited to traditional classroom teaching.
"I think an educator is, at its core, a person who helps others to grow in a positive capacity," Mr. Owen said. "It doesn't have to be in the typical way where we think of someone at a whiteboard or blackboard … but it does involve helping identify strengths, areas to improve, and challenging people to be their best selves."
A part of this for Mr. Owen includes working toward his goal as a teacher to make Chemistry accessible to a variety of people, change the common attitude he has seen the subject be met with, and "help students see that Chemistry is something that can be learned by any person," he said.
He hopes to make his Chemistry classes different from those that people have had negative experiences with in the past in an attempt to change the mindset surrounding the subject and create an environment that allows students to learn in a way that is encouraging for them.
Through trial and error and years of trying to further himself as a teacher, Mr. Owen said that seeing the impact of his classes firsthand is something that has given value to his work and his efforts to inspire growth in both himself and his students. In particular, reconnecting with previous students and hearing from them about their experiences in his class has given him a sense of confidence in his abilities as an educator.
"It serves as a nice reminder that the work that I'm doing has some meaning," Mr. Owen said.
Even after being named Educator of the Year, Mr. Owen recognizes that he will always have room for improvement as a teacher and that he is continuously striving toward becoming a better representation of his definition of an educator.
"I'm still working on it," he said. "I can do better, and I want to do better."