Student of the Week: Natalie Rask
Senior Natalie Rask has lived in Boring, Oregon, on the outskirts of Clackamas essentially her whole life, and "like the name suggests, there's nothing to do," she said.
The thirty-minute commute to school each morning is something Rask has become accustomed to, but the distance makes it difficult, as she is far away from her friends who live in La Salle's more immediate vicinity. This struggle was only amplified during the lockdowns of the COVID-19 pandemic last year.
"It really felt isolating," Rask said. 
On top of not being able to see her friends as much, Rask struggled with not seeing her extended family as often as she'd have liked due to the pandemic's restrictions. And being someone who is very family-oriented with a larger family, this change was difficult on many levels and was the hardest part of the pandemic for her.
Learning online last year presented another obstacle for Rask.
As a person who "[loves] talking to people," learning online was especially grueling as it didn't allow her to make personal connections with her new teachers and made it difficult to learn. For this reason, Rask jumped on the opportunity to come back part-time for the hybrid model schedule last March, but still, this was not ideal either as most of her friends decided to stay at home.
"It was a really different experience, and it was just weird in general coming back to school for the first time," Rask said.
On the bright side, though, Rask adopted a new member of her family — her striped calico cat, Jinora, named after a character from one of her favorite childhood shows, "The Legend of Korra." Apart from her love for the show and the character, Rask said that a "blob" on her cat's head resembles that of the Airbender tattoo on the head of the character herself — another reason why the name seemed so fitting.
Furthermore, coming back to the classroom part-time made it slightly easier for Rask to complete something she views as her greatest accomplishment: her AP Art portfolio. 
School, Rask said, is her workspace, and being at home during the pandemic made it extremely difficult for her to produce the level of work that was required of her. "It was the most stressful thing I've ever done, but I felt so accomplished after it," Rask said. "I've never done something that big and seen it turn out like that."
Having taken art classes at La Salle since her freshman year, Rask is currently in her second year of taking the course at the AP level. Walking through the hallways of La Salle, some of Rask's art can be seen on display and is easily recognized as hers, she said, by the "fun colors" she uses in a lot of her pieces.
 "I center myself around my art a lot, so it's a big part of who I am," Rask said.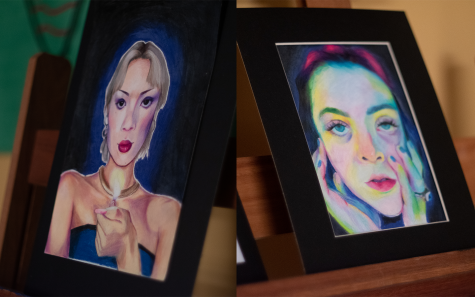 Ms. Cha Asokan, La Salle's art teacher, is an inspiration to not only Rask's artwork but also who she is. Beginning the same year that Rask began art classes at La Salle, Ms. Cha has taught her a lot about art and technique, as well as about herself and her capabilities as an artist and as a person — an impact that Rask says she is incredibly grateful for.
Rask's struggle with doubting her artistic abilities early on was one thing Ms. Cha helped her through as she would constantly push Rask past her limits in the art classroom and encourage her to continue pushing herself, despite not feeling the best about her work.
"She'd always be like, 'No, there's something in you, and I can see it,' " Rask said. " 'But you just have to keep pushing, keep doing this. And it's going to be uncomfortable, and it's going to be hard. But when you keep pushing yourself, you're going to see past this.'" 
Apart from having productive conversations at school and attending many protests for causes she supports, Rask's art also often reflects themes related to social justice, something she greatly values. She credits her family for being influential in initially shaping this passion, saying that her parents always encouraged her to speak up about the things she believes in. "My parents raised me to be the type of girl that takes no shit from anybody," Rask said. "So… I've kind of always been like this, you know, very outspoken." 
As Rask awaits graduation and with college on the horizon, her passion for both art and social justice drives her to want to pursue both in some form in the future. "It's just important when you're passionate about something that you put that effort into everything you do," she said. 
Although Rask did not want to share any names of specific colleges she plans to apply to out of fear she might "jinx it," she said, out-of-state schools are the direction she is headed. "I want to get out of Oregon, I want to see new things," Rask said. Studying abroad is also an interest for Rask, and places like Italy and France are on her list of locations she wishes to go to in the future.
She is also excited to live on her own with her cat in a new place surrounded by new people in the near future. "And I'll just be happy," Rask said. "That's it. That's all I'm hoping for."
Until then, Rask is laser-focused on finishing her second AP art portfolio and applying to and getting into college. And although she feels ready to graduate, there is a part of her that feels like it is coming too soon and that she is still a sophomore due to the time spent away from school during the pandemic. This has only added to her apprehension about moving on from La Salle and going off to college. "It's just so weird to me that I'm graduating, and it just really hasn't set in," she said. "I'm ready to move on, but I just feel like I missed out on so much stuff."
Rask's advice for underclassmen as a senior at La Salle: have fun. 
"Just don't take yourself too seriously," she said. "It's four years, and of course it's important. Do your homework and go to school and study for your tests. But have fun with it. Make relationships with your teachers and your friends and be stupid. You don't really have anything to lose."