Helping Students Become "Their Best Artistic Selves," Ms. Cha Asokan Earns Lasallian Educator of the Year Award
Growing up, art teacher Ms. Cha Asokan remembers feeling embarrassed that she was one of the only Indian kids attending her elementary school.
"My mom was a phenomenal chef," said Ms. Cha, as she is known to her students. "[She] would cook food, Indian food, [and] I'd shove towels under the door because I didn't want to smell like an Indian. I didn't want that smell on my clothes."
Looking back, this experience was "awful," Ms. Cha said. "People said a lot of things I won't repeat right now." However, it is a memory that is fundamental to her experience as a person of color. 
Over the four and a half years that Ms. Cha has worked at La Salle, she has shared numerous stories like this one with her students, describing her own experiences growing up biracial, and encouraging other students to share their stories as well.
As a result, sharing experiences and stories has become a crucial element of Ms. Cha's art classes at La Salle.
"I've always had a student-centered approach to my classroom and an equity approach — really valuing people's cultures and trying to get them to celebrate that, or at least explore it," she said. "And when I got here, it was like, wow, people actually cared about that."
Focusing on equity and embracing different perspectives is just one of the ways Ms. Cha has worked to elevate the art program during her time at La Salle. This year, her colleagues have chosen her as the Lasallian Educator of the Year, recognizing her as an individual who embodies La Salle's core values and is looked up to as a role model for others in the community.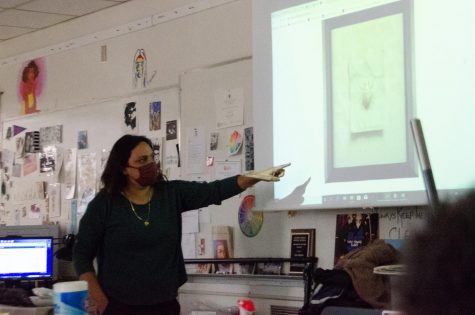 In the years since her grade school experience as one of the only Indian students in her school, Ms. Cha has come to appreciate that "Indian culture is beautiful," and this part of her heritage has become a large part of who she is. 
Ms. Cha's Indian heritage comes from her father, who worked on a small rice farm in South India, while her mother is Irish.
"I've been traveling to India my whole life," Ms. Cha said. "My dad was just like, 'Okay, the best education I can give my kids is to let them see the world.'" 
Because of her frequent travels to South India, Ms. Cha has formed relationships with family members who live there, and developed a connection to the musical arts. Her eldest aunt, known as Chachi, in South Indian, got her Ph.D. in the veena, an Indian chordophone instrument. 
"I just remember vividly how sometimes little beetles would crawl out of it, because it was in the upstairs music room in my house on the farm in India," Ms. Cha said. "We had to do the sandalwood prayer paste [during] the puja, before she would even play the instrument." 
In addition to the musical influence Ms. Cha received from her relatives in South India, Ms. Cha was also influenced by music while growing up in New York City.
"Music, at that time, was so crucial to culture, that I was lucky to be in their center where a lot of it was happening," she said. From a young age, Ms. Cha was able to attend different musical shows and concerts, and she eventually became classically trained in the flute. 
Although Ms. Cha was primarily interested in musical arts as a kid, she was introduced to visual arts when she took a woodshop class in high school. 
After attending New York University as a theology major for several years, Ms. Cha transferred to Loyola University in New Orleans, which is where she "really started taking art classes seriously," she said, "I fell in love with the wheel and throwing."
New Orleans, however, began "wearing" on Ms. Cha after a few years of school. "New Orleans is a tough town," she said. "I was a tough kid because I grew up in New York, but… I had lost a car in a flood there. I had gotten carjacked. I had gotten jumped in my driveway. I didn't let it really get me, because we were all safe, but it was just kind of wearing on me a little bit."
From New Orleans, Ms. Cha moved to Austin, Texas to finish up her bachelor's degree at St. Edward's University. She then attended the University of Texas, getting her certification in visual arts education and special education. 
While living in Austin, Ms. Cha met her husband Seth at the airport. "We met, and it was like meeting my soulmate, my best friend," she said. "We just talked and I ended up visiting, and we were engaged a couple days later."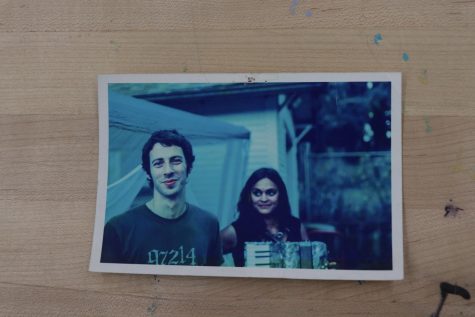 To be closer to her husband's family in Portland, Ms. Cha moved from Texas to Portland. Here, she worked as a special education teacher in Troutdale. 
After two years, Ms. Cha and her husband began to miss Texas, so she returned, and taught visual art in Texas for around 11 years. "By then, it was time to come back" to Portland again, Ms. Cha said. "We missed Portland." 
And just as she began to miss living in Oregon, she discovered the posting for an art teacher in a Milwaukie private high school. Ms. Cha sent in her application, "and the next week I was interviewing with Mr. Kuffner and Ms. O'Brien and Mr. Wild," she said. "Lo and behold," Ms. Cha started teaching at La Salle in February of 2018. 
"We were both really excited to come back," Ms. Cha said. Especially entering La Salle as an art teacher, "I was just excited to elevate [the program]."
"When I got here, there wasn't even a camera," Ms. Cha said. There was no computer, and no potter's wheel either. 
In an effort to grow the art program, Ms. Cha held a presentation for La Salle parents, sharing her goals on expanding the scope of visual arts at the school. It was at this time when Ms. Cha received her first anonymous gift for the art program, "a substantial amount of money," she said. Since then, Ms. Cha said she has received several sizable grants to improve the art program.
These grants, Ms. Cha explained, have been used for new seating, lighting, and supplies for the art classroom. Modern wooden tables have replaced the paint-splattered, black metal tables that were once sprawled throughout the art room, and several new tools sit against the walls. 
Despite the expansion of the art program at La Salle, 2019 was very difficult for Ms. Cha. "I couldn't imagine a harder year," she said. "And then 2020 came."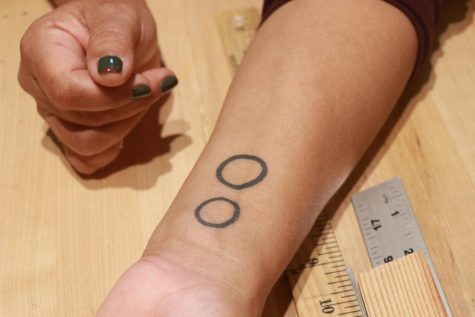 Ms. Cha's parents passed away unexpectedly in 2019, and it was "just devastating," she said. "My mom and dad were forever crucially in my heart, and in my existence, and I owe everything to them." 
"They're like my best friends," she said. But in the midst of this challenging time, "my students were just the most rock-solid people you could ever imagine."
Ms. Cha recalled students in her advanced classes helping out with her Art Foundations classes, sharing their knowledge on printmaking and helping to keep the program going while Ms. Cha was away. 
"Just little things like that" made such an impact on Ms. Cha, she said. "I definitely felt it."
To commemorate the loss of her parents, Ms. Cha got a tattoo of her parents' wedding rings onto her left forearm. 
Mirroring the rings, she has a string of yarn emblazoned on her right forearm. This yarn connects Ms. Cha to one of her sisters, Nisa, who is four years older than her. 
"Whenever people say, 'who is your favorite teacher,' my sister is my favorite teacher," Ms. Cha said. "She is amazing." 
Ms. Cha recalls how when they were young, her sister once sat her down and said, "Cha, let's make a deal. I'll be nice to you, and in turn, you be nice to me."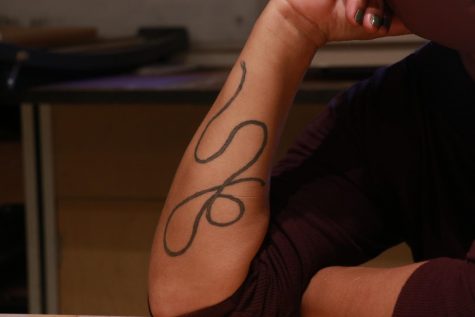 That small conversation changed how Ms. Cha viewed relationships. And now, she uses the same philosophy with her students: "Take care of each other," she tells them. 
Ms. Cha views her teaching as "collaborative," she said. "I'm the teacher and I definitely show people how to do things, but instead I would rather walk around and help people do the things that they're trying to do." 
Ms. Cha remarked on how it is "funny" that visual arts have been able to impact her so greatly, as "visual art used to not make much sense to me," Ms. Cha said. "I didn't get it, I didn't get the depth of it. So studying art really opens that up for people, like how to look at things."
Today, Ms. Cha uses a book that was created by an art school in Germany to guide her teaching practices, particularly around drawing. Because drawing is a skill that did not come naturally to Ms. Cha, she strongly believes it is something that can be learned.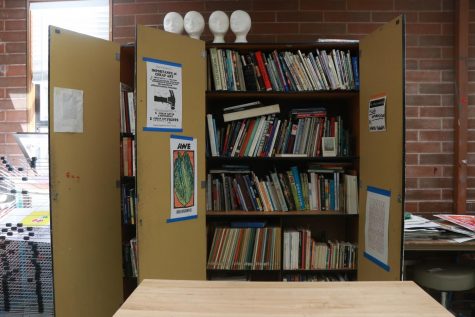 "I can kind of walk people through those steps because I had to go through them to learn, and it's totally doable," she said.
To Ms. Cha, teaching students to share their stories through a visual medium "is so powerful," she said. "I like seeing them realize that they're powerful, in the sense that they can do this." 
With the class of 2020, Ms. Cha completed her master's degree. As a part of this program, Ms. Cha was engaged in a project "doing research into equity and student voice," particularly using "storytelling through art as a navigational path towards improving equity in our school and in our classrooms," she said. 
As the main participants of Ms. Cha's final project, class of 2020 La Salle students created art pieces based on their own stories and experiences, and "the artwork that came out from that would make you cry," Ms. Cha said. 
Reflecting on her time at La Salle, Ms. Cha continues to encourage her students to share their stories through art. 
"This is a small art department," Ms. Cha said. "And we have an opportunity to grow it together."