Art for Advocacy: Artists Use Their Talents to Support the BLM Movement
After the death of George Floyd, and as the Black Lives Matter movement grew throughout the country, La Salle alumni Natalie Sharp '20 and Mollie Kuffner '20 wondered how they could contribute in their own way.
The result was an organization called Art for Advocacy, which is a group of artists who came together to create art pieces to raise money and awareness for the Black Lives Matter movement. 
Even though the students and alumni involved are from La Salle, Art for Advocacy is not affiliated with the school in any way. The group is not a school club, but rather a group of past and present students that happen to be part of the La Salle community.
The organization started with the rise of the BLM movement. "We were just like, 'I feel there's more that we could be doing,' but I was wondering how [we] could contribute in our own way," Kuffner said. 
During the 2019- 2020 school year, art teacher Ms. Cha Asokan had students focus on pieces surrounding social justice. "I was talking to Natalie [and] I was like, 'I have this idea, we should sell prints,'" Kuffner said. "We made prints for [Ms. Cha's] class and then we never used them."
Sharp and Kuffner then reached out to Annie Hoang '20, another artist and La Salle alum. These three then became the founders of  Art for Advocacy. 
Several other artists from the La Salle community participated in the organization, including senior Alyna Nguyen and alumni Abby Baines '20 and Bird Sanchez '20.
Nguyen discovered the group through Ms. Cha. "I [messaged] Cha when everything happened and I told her that I was interested in doing my own thing," Nguyen said. "Then she told me that Annie and all of them were actually going to get together at Natalie's house and she told me I should join them."
Nguyen's main reason for joining was due to COVID-19. "I took care of my grandparents so it was really hard for me to go out to the protests… when I also had to come back home and take care of my family," Nguyen said. "That was when COVID was really high and I didn't want to risk getting them sick. I was looking for another way to still support the cause, all while still being able to stay home and quarantine."
Instagram became the foundation for the start of the group. "I feel it was our version of a website for people to order stuff on," Hoang said. "It was really easy, because most of the people that we were reaching were young people who were on social media."
The group reached out to Ms. Cha to see if they could use some art supplies, then they had their first workshop. 
"I [went] and then got materials and they came to my house during quarantine and picked up printmaking stuff," Ms. Cha said. "I gave them some tips and then they kind of ran with it."
Sharp said that the first week of making and selling prints was crazy. "We started posting stuff about the different prints [we] were selling and…orders were coming in like crazy."
People were supportive of their idea and the founders were excited. "It was sick," Hoang said. "I remember there [were] so many [direct messages] to reply to, and then Natalie [also] had to mail a bunch of stuff out." 
Along with mailing prints to people, they also made house deliveries to those nearby. The group had people ordering prints to mail, pick up, and drop off from Oregon and California.
"[There were] so many… California orders. I don't even know how [they] found this account," Sharp said. 
The group met around five times over the summer to create the prints to sell, and even had a session where people could come in and put prints on their own clothing. 
All of the group's meetings were held in Sharp's garage and driveway while wearing masks, to ensure they were all respecting COVID-19 precautions.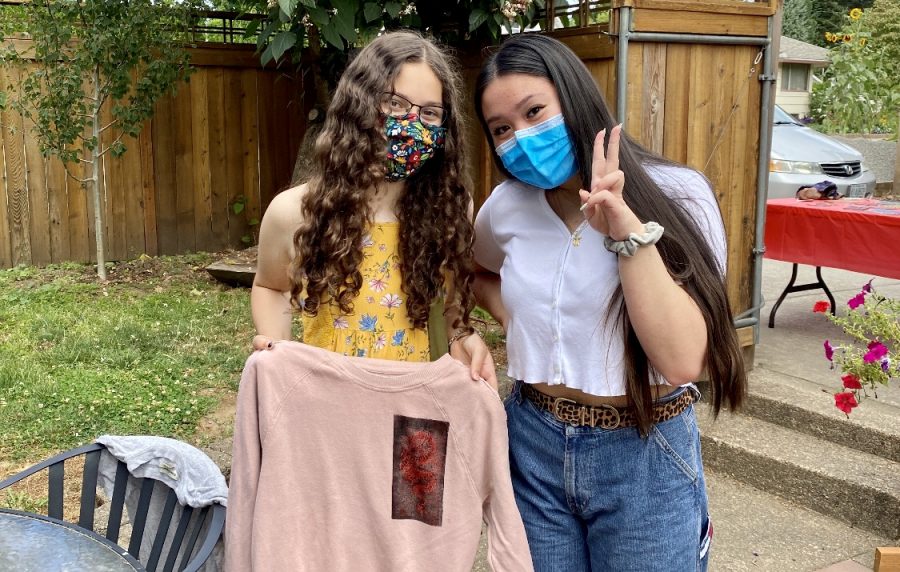 So far, the Art for Advocacy team has raised over $2,000 in virtual payments, not including cash donations. 
Buyers not only paid for the prints through the Art for Advocacy group, but also by giving the cost directly to a charity supporting the BLM movement and sending evidence of the donation.
"The idea was more to have people not even give us the money directly," Sharp said. "They could [donate] on their own [and] show proof."
Since 100 percent of the proceeds from Art for Advocacy go to the BLM movement, all materials for creating the art and mailing the prints were supplied and paid for by Ms. Cha and the students involved. 
"I was really proud of them for really taking a few steps further than just making art at school," Ms. Cha said.
While they have decided that all of the proceeds will go to the BLM movement in some form, the group has yet to determine which particular organization they will donate the money to. 
Art for Advocacy is currently taking a break, as most of the group is off at college, but that doesn't mean their work is done. 
They plan to eventually continue creating and selling what they can, and even talked about having a winter break printing party when everyone is back in town. 
"We could still do art and send it in and figure out a way to do it, even if we're far apart," Hoang said.
Nguyen believes that others should get involved with Art for Advocacy because it supports "different causes that they would [be] interested in and [it's] also a chance for them to share their art with not only other people but the world."
Nguyen also feels the group is a great opportunity to be with others that share your passions and views. 
Kuffner continues to urge others to participate in activism. "Follow the Instagram, keep donating, keep sharing posts, don't just stop," Kuffner said. "Even within the movement, do your part."