Art Classes Bring Healing And Creative Outlet For Students Through The Pandemic
With the coronavirus pandemic, the presidential election, the Black Lives Matter movement, and the multitude of other events occurring around the world right now, many students have had a lot on their minds. 
Looking for a way to cope with the effects of these current events, or searching for a way to express their feelings and make their voices heard while they are distanced from the community, many students have turned to La Salle's art program.
This year, art teacher Ms. Cha Asokan, known to her students as Ms. Cha, has worked to bring her art classroom to students' homes, allowing them to hone their artistic capabilities during digital learning and offering students a medium to share their thoughts and feelings in the midst of all of the changes taking place around them.
"Because we've been home, I think people are ready to be creative," Ms. Cha said. "They're ready to be like, 'Oh, well I have something to say, I have something to express, I have a voice,' and I think being an artist allows you to do that."
In an effort to replicate the experience of creating art in the studio, Ms. Cha has assembled art kits for her students, complete with sketchbooks, pencils, paints, and other art tools specific to each of the art classes she teaches. 
Art Foundations students picked up art kits from campus that contain a wide variety of basic art materials, while Advanced 2D and Advanced 3D art students received a more specialized kit of either pencils, paints, and pens, or clay, glaze, and wire, among other supplies. As the school year continues, Ms. Cha said that students will have the opportunity to pick up additional materials from the classroom as needed.
"The kits are there to kind of get the basics to them, as well as, as the year progresses, get more individualized [materials]," Ms. Cha said. "So one of my students might need fabric for something, and another one might need spray paint. It just depends on what the person needs."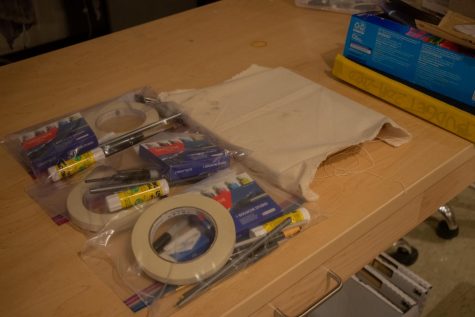 Distributing art kits has allowed Ms. Cha to teach most of the same art mediums to students at home as she taught in the classroom. Because of this, Ms. Cha has not had to make any major changes to her instruction or curriculum, besides adapting to teaching and demonstrating different art techniques over Zoom.
"I'm actually teaching the art class as if we were a studio class," Ms. Cha said. "Because I don't think that people signed up for art to do digital art all year."
While Ms. Cha's instruction has not changed drastically during digital learning, for many students taking art with Ms. Cha, their art class has taken on a different role this school year. 
For some students, after staring at a screen for most of the school day, art class serves as a refreshing opportunity to be creative and engage in learning that is more hands-on.
"It's great for my mental health, personally … to just sit back and feel like you're creating something that you're proud of, and that takes the stress off of your day for a little bit," senior Margaret Dougherty said. This year Dougherty is taking AP Studio Art and Advanced 2D Art.
Carson Frick, a sophomore taking Art Foundations, said he appreciates that his art class doesn't involve spending very much time on his device. "I can do [most art assignments] without having to stare at a screen for more hours like most of my other classes," he said.
As well as offering students a break from their more traditional classes during the digital school day, Ms. Cha's art classes have given several students an increased sense of community during digital learning.
"Especially now, with COVID, it's so hard to get together, and so being part of the art program at La Salle definitely provides another community in its own," said junior Gracelyn Rael, who is taking Advanced 2D Art and AP Studio art. "The AP crew especially, we've been able to talk to each other and still be able to bounce ideas off each other and talk just through art."
Senior Helena Brinker has also used art as a way to stay connected with her friends while she can't hang out with them as much in person.
"I'll draw something or I'll create something, and then I'll send it to my friends, and then I'll get feedback from my friends about… if they like it or if they think anything needs to be changed," Brinker said. "I've been connecting with more of my immediate friends that way."
Some art assignments have also helped students feel closer to their community during remote learning. This past month, several art students participated in "Inktober," an optional art project Ms. Cha introduced to her classes and suggested that they work on with their classmates. 
During "Inktober," which is a popular art challenge worldwide, artists are pushed to create an ink drawing for every day of October based on a daily prompt.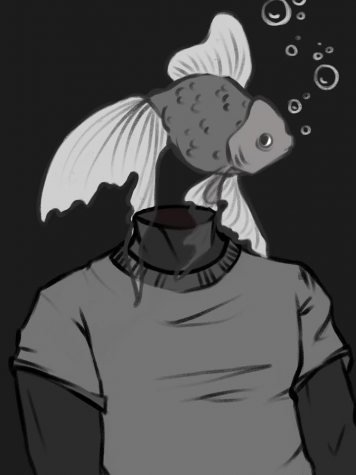 In addition to the optional "Inktober" project Ms. Cha presented to her classes, many art students are working on a social justice project. For this assignment, students have the freedom to create a piece of art about any social justice issue that they feel passionate about. 
In the midst of digital learning and the many social justice movements that have surfaced during 2020, many students The Falconer spoke with view this social justice project and other art assignments as a valuable way to express their thoughts about current injustices and bring awareness to topics that they feel deserve more recognition. 
Taking Advanced 2D and AP Studio Art, junior Tyler Tran has concentrated his social justice piece and much of his other artwork on mental health awareness, saying that in his artwork, he tries to focus on "representing certain people that aren't really represented because they have a certain mental illness."
Tran said that he is especially appreciative of the social justice project during digital learning because of the opportunity it provides him to convey his feelings about this issue and some of his experiences even while he is distanced from the La Salle community.
"I feel like sometimes when you're isolated, you don't really have a chance to talk about or think about certain things because you're not around people to really talk about [them]," Tran said. "I feel like you can use art to kind of translate how you feel at that exact moment. It's usually nice to get out your feelings."
Other La Salle art students have focused their projects on the Black Lives Matter movement, human trafficking, and a number of different social justice issues.
Although the social justice project is one assignment that some students feel is particularly effective at allowing them to share their emotions and bring attention to issues they are passionate about, there are many other ways that students in Ms. Cha's art classes have been expressing their feelings through their artwork. 
Last school year, at the beginning of the COVID-19 lockdowns, Brinker created a piece of artwork to represent the emotions that she and many other people were feeling. "That was how I expressed it was just all so chaotic," she said.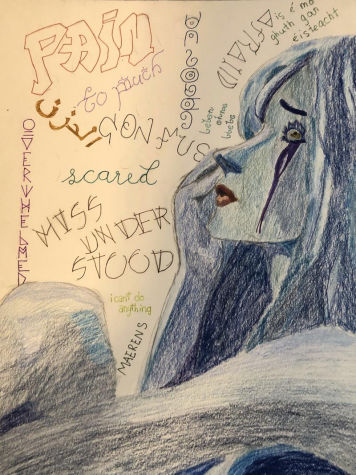 Dougherty, who creates art revolving around female empowerment and a number of other topics, is another student who has used her art as a platform to communicate her feelings during digital learning.
"This is such an important time for civil rights," Dougherty said. "How I express my concern for civil rights and my anger about all of the inhumane, awful things that are going on right now is through my art."
Ms. Cha reflected on the ability of art to generate discussions and help people share their emotions.
"Art is such a powerful form of protest, and it has been my whole life, but I definitely think that in the world we're living in now, as a communication method, it's really, really taking a critical role, especially in social justice issues," Ms. Cha said. "When you have people protesting, what are they holding in their hands? Sometimes, they're holding social justice artwork to get their point and their voices heard. So, you know, whether that's online or whether it's in person, I think [art is] creating a voice and a channel for people to communicate."
Through offering students the opportunity to partake in hands-on learning, allowing them to connect with classmates, and providing them with a medium to convey their thoughts, many students said the art program has been instrumental in helping them endure the issues they have faced.
"Art has helped me a lot," Rael said. "It's been treated as sort of therapy for me… COVID definitely brought on a lot of depression for me, and so being able to create stuff during that time and be able to put my emotions on paper or whatever medium I was doing, that definitely helped."
Rael is one of several students who value the ability to create art, especially during this time. 
"You can say so much and touch so many different people that you [wouldn't] using another medium of expression," Dougherty said. "I think it's super important."
Ms. Cha also recognized the influence art has on allowing people to support others and themselves.
"I've been brought to tears, I've gotten goosebumps with kids' ideas because they're just powerful, and I think that power is really coming from the fact that we live in a very hard time right now, and we need to support each other," Ms. Cha said. "I think that doing art is a way to support each other, as well as a way to feel mentally healthier about the issues that we're tackling…I would highly encourage people to be creative during this time, for mental health and just sanity."