Next Level Seniors: After Three Years on Varsity at La Salle, Noa Taylor Takes His Soccer Talents to Whitman College
Berkeley Park has become a staple in senior Noa Taylor's soccer career because it was where he first started to play — it all started with a couple of neighborhood friends to compete against and a goal to score on.
"I've had a lot of kids in my neighborhood that I have grown up playing soccer with," Taylor said. "We all kind of started off at the same point, which is pretty cool."
Years later, Taylor has now committed to play Division III soccer at Whitman College in Walla Walla, Washington. He is a part of a select few seniors at La Salle who have signed to play sports at the collegiate level, seniors that The Falconer showcases in the Next Level Seniors series. 
Taylor believes that he wouldn't be playing college soccer without the support he received from former head coach Seth Altshuler. 
"Seth really pushed me harder than I've ever been pushed, and he told me that he had confidence that I could go to college, if I wanted to," Taylor said.
With a desire to stay on the West Coast, Taylor started reaching out to different colleges the summer before his senior year. He said that the recruitment process was difficult due to the fact that the coronavirus led to the cancellations of tournaments that college coaches would usually attend. 
It was left up to Taylor to put in the work to be recruited, and so he ended up sending emails to almost 20 different schools. 
After connecting with the coach at Whitman, Taylor and senior Wade Nichols visited the campus where both the assistant and head coaches led a tour of the athletic facilities. 
"It was nice to get a kind of personalized tour of stuff that we would be associated with," Taylor said.
Taylor said that he liked how Whitman's campus reminded him of Reed College in Eastmoreland. 
"I've grown up [near] Reed College throughout my whole childhood and it's a really nice place to be," Taylor said.
The small student body at Whitman was initially something that made Taylor nervous, but after speaking with a few people, including Logan Warner '20 who plays soccer at Whitman, Taylor began to see the benefits of a smaller school.
"They said it wasn't really a problem, and if anything, there's more togetherness," he said. "I know it's a smaller school, so I'm looking forward to know more people than the average person does at another college."
Although Taylor hasn't decided what he wants to study in college, Whitman has math and science programs that interest him. "I know it's ranked pretty high for liberal arts schools, and I definitely wanted to put academics high," he said.
The summer going into his freshman year, Taylor said that he spent most of his time running and practicing in hopes of making the varsity soccer team at La Salle. "I put a lot of work in to try and get there, [but] I didn't get there."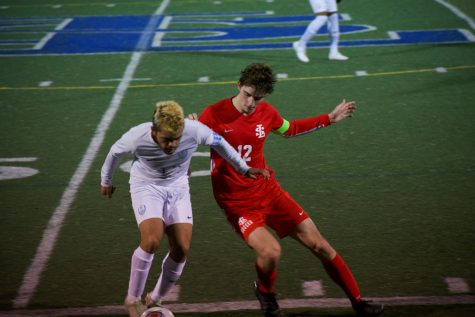 Although he didn't occupy an official spot on the varsity team his freshman season, he did swing up for a few post-season games and continued to put in the work that gifted him a spot on varsity the following three years and the role as captain for his junior and senior year. 
Taylor said La Salle soccer has a different feel than club does because of "the team chemistry," and that his team has built a camaraderie that is based on trust. "I think trust is probably one of the more important things in soccer, just like trusting your teammates helps everyone around you play better," Taylor said.
Looking back on his experiences in soccer so far, Taylor said that there was never a moment in which he thought he might quit because "I know how much I love it," he said.
For Taylor, the most rewarding part of playing soccer is the feeling he gets after winning against a team he had little confidence in defeating.
"When you're not expected to win, and you play insanely good, and everyone's playing at their best and trying their hardest and then you pull out a win," he said, "that's got to be one of the best feelings ever."
Going into his freshman year at Whitman, Taylor is hoping to earn a lot of playing time, and over the next four years, he wants to "have a big impact on the team," he said.