Student of the Week: Caden Persin
For sophomore Caden Persin, a strong teacher-student relationship goes a long way. Establishing an environment that promotes support and friendship in the classroom is something that he values in his teachers at La Salle.
Persin's favorite classes have been English throughout all of high school so far. Last year, he particularly admired his English teacher, Mr. Greg Larson. "He's just a great dude, and we would have super cool convos," Persin said.
Another teacher that Persin is fond of is his chemistry teacher, Mr. Matt Owen, whose class is one he found to be very enjoyable. "If you need help with something, he's more than willing to help," Persin said. "He loves helping you."
When reflecting on his experience with digital learning, Persin admitted that he was presented with some challenges. "[I've had] much less motivation to do stuff and more distractions," Persin said.
Aside from having to wake up earlier, Persin is enjoying the return to being in-person full time. "I like the face-to-face interaction with the teachers," Persin said. "It's easier to get help [in-person] than waiting hours for a Schoology message."
Since being back, Persin hasn't felt that the increased volume of students is especially overwhelming. "I mean, some classes are crowded, but there's really no choice for that," Persin said. "But I don't think it's too bad at all."
When he's not at school, Persin enjoys playing basketball, both at home and at La Salle. In striving to continue his athletic career, Persin plans on "working towards that goal of college basketball," he said.
After cancellations and delays due to the pandemic, Persin's basketball season is just now beginning. He is currently a member of the JV team and hopes to make the varsity basketball team when he tries out for the program this upcoming summer.
Something else that Persin is looking forward to this summer is receiving the coronavirus vaccine. Now that Oregonians 16 years and older are eligible to get the vaccine, Persin plans to sign up as soon as possible.
In addition to basketball, music is also something that Persin is particularly passionate about, with Drake and Kid Cudi being two of his all-time favorite artists.
Kid Cudi is someone that Persin admires greatly, both as an artist and as an individual. "He's the person that you can look at and just say, 'He's dealt with mental health stuff and he's made it,'" Persin said. "He's a sign to keep going, no matter what obstacle comes in your way."
About the Writers
Avery Rush, Assistant Editor
Avery is a junior at La Salle. In her free time, she enjoys going thrifting and listening to music. On the weekends, she likes painting and hanging out...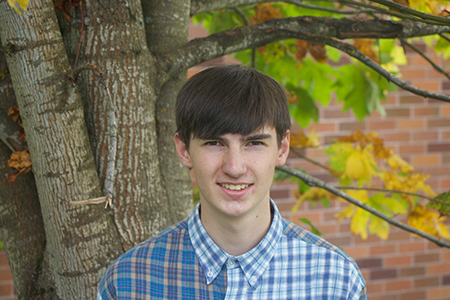 Isaac Brown, Staff Reporter
Isaac is a junior at La Salle. Outside of school, he plays recreational soccer. He is also interested in cars, fashion, and music. His favorite show is...