Next Level Seniors: Addi Wedin Perseveres Through Injuries, Committing To Play Basketball at Saint Mary's College
Despite two ACL tears, countless hours of training, and many early mornings in the gym, senior Addi Wedin has never considered giving up on basketball. 
Though some student athletes end up burning out, losing interest and passion for their sport over time, Wedin said throughout her basketball career, which has lasted since the youngest age she was allowed to play, she "never thought I wanted to quit."
From tagging along to her older sister's games and practices as a little girl to joining her first year-round club team, Wedin said that basketball has always "been a big part of my life." 
Now, Wedin has committed to play Division I basketball at Saint Mary's College of California. She is part of a select few seniors at La Salle who have signed to play sports at the collegiate level, students The Falconer showcases in the Next Level Seniors series.
Wedin verbally committed to Saint Mary's in July of 2020, and then officially signed in November. She said that committing to the school felt "relieving," as she was able to go into her senior year knowing that her college decision was already made. 
"It was just really refreshing for me, because it was kind of like, my hard work has paid off," Wedin said. "Now that I'm committed, I'm good to go and I need to just put in as much work as I can to get in the best shape as I can until I'm there."
At Saint Mary's, Wedin will join her older sister Taycee, which Wedin said is a "big bonus" of the school but isn't the main reason that she chose it over numerous other Division I schools from which she had received offers. 
She said that she was drawn to the school by its location and academics, as well as the coaches and players on the women's basketball team.
"[The coaches] always reached out to me from the very beginning," Wedin said. "We started that connection early. And I like all the girls there… I just feel good when I'm there."
Though Wedin has grown up playing basketball with both her sisters, her freshman year at Saint Mary's will be her first full season playing on a team with her older sister. 
The two were able to join together on the court for only a portion of Wedin's freshman year of high school, as during the summer leading up to it, she tore her ACL, putting a damper on her excitement to play on La Salle's team and delaying her ability to do so. 
Wedin was "devastated" by this injury, "because it was kind of just like basketball was my whole life," she said. "I was just confused why it happened to me because I had been working super hard, and I was really excited for high school basketball… I was so excited to finally be there. And so, I was just really sad all the time, and it was hard."
ACL tears are common across different sports, and one of the worst injuries for an athlete to endure. Recovery after ACL surgery can range from six to nine months, at times taking athletes out of play for a full year. 
Wedin said that her ACL injury before her freshman year was the biggest challenge that she has faced throughout her time playing basketball. For Wedin, the sport serves as a "getaway" and a channel for her passion for exercise, which helps her maintain physical and mental health. 
Basketball teaches her more than just shooting techniques, defensive strategies, and other tactical aspects of the game, Wedin said. Through basketball, she has learned about the value of teamwork and the importance of a strong work ethic, and about the feeling of success and the need for mental toughness in the face of failure.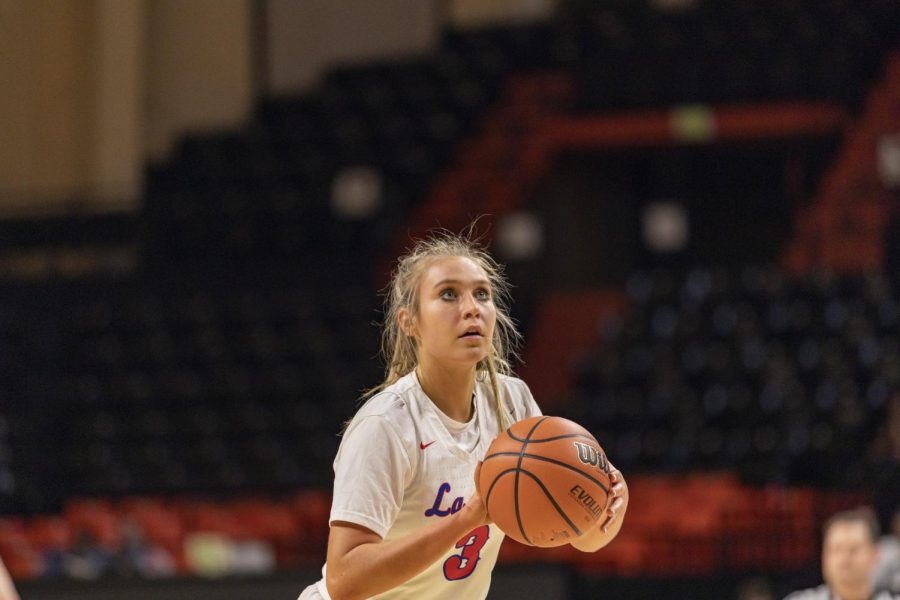 "I love it because it really pushes me and makes me stronger, because it can be hard and I have to fight through adversity," Wedin said. "I'm really competitive, and so all my games… they're all big deals to me, no matter if we're playing a team that isn't very good or is very good, I always take it very seriously. But I also just love it and enjoy it, and so I like being positive and being around my teammates and just having fun."
So when many of these aspects that compose her love for basketball were taken away by her ACL injury, Wedin said that she became "really upset" and her mindset entered "a dark place."
As she moved forward on the road to recovery, eventually getting back on the court at the end of her freshman season, Wedin was able to shift this mindset to find strength from a difficult situation — a value that she has carried throughout the rest of her high school experience, with support from her dad. 
"He's always the one who teaches me [that] when obstacles come your way, you really have the choice to think of how you think of them — either negatively or positively," Wedin said. "His words [have] helped me a lot [to] think of the positives of this and what I can do now to really help me get to where I want to be."
Wedin said that one lesson that emerged from her ACL injury and recovery was that "there's so many times in, not even just basketball, but in a lot of things in life, where if things are hard, you can either just choose to give up or fight through it. And I think it's definitely made me a stronger person, in all aspects of my life."
After she recovered, Wedin maintained her dedication to basketball throughout high school, playing for the La Salle girls team in addition to her club team, Cal Stars Basketball, which competes in the Nike Elite Youth Basketball League.
In the postseason of her freshman year, she helped bring the La Salle team to the state championship, where they took second place, falling to Marist Catholic. The following year, Wedin helped lead her team back to the championship, this time beating Springfield High School to win first place. Wedin, then a sophomore, was also selected for the first team all-tournament honor.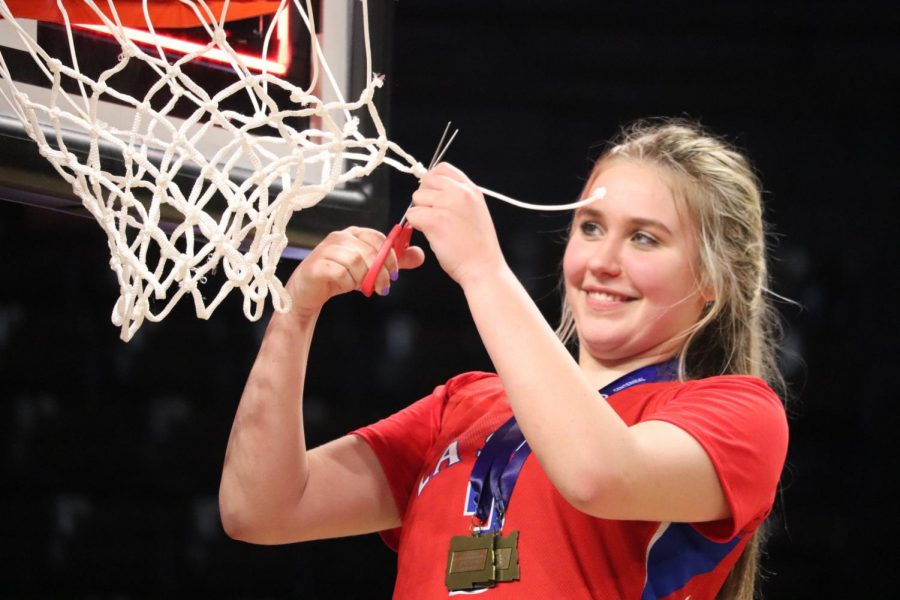 Last year, Wedin and her teammates made another playoff run, advancing to the semifinal round before OSAA cancelled the state tournament altogether due to the developing coronavirus pandemic.
During her sophomore and junior years, when Wedin was healthy throughout the entirety of each of the seasons, she earned first team all-state honors. 
With a track record of individual accolades and team playoff successes, Wedin's accomplishments in high school basketball and commitment to continue with a high level of play at Saint Mary's were bolstered by a tenacious work ethic and a consistent dedication to individual improvement and fitness.
Wedin's basketball grind doesn't just take place within the lines of the court during practices and games — and the time she spends training doesn't end there either. For Wedin, the work isn't over with the final buzzer of a game, or the moment she steps off the court and unlaces her basketball shoes. 
Instead, she trains outside of practice, lifting weights, going on runs, shooting on her own, and playing small two-on-two or three-on-three games with others. 
Even when gyms were closed due to COVID-19, Wedin managed to continue working out six days a week, with one rest day. Three mornings per week, she woke up with plenty of time before online classes began for a 7 a.m. lifting session and an 8 a.m. basketball training. 
"Sometimes I would go on a run, or do a lift at my house, or shoot with my mom," Wedin said. "I definitely have gotten used to it over time, just because it's kind of a lifestyle, and it's kind of just what I know and how I've always been. It definitely is hard at times, and it can be draining, but it helps a lot that I love it and I like the people I'm around who I train with… I definitely make sure I give myself some breaks, to kind of recover and just refresh everything."
However, Wedin's basketball pursuits have recently been impeded again by another ACL tear, this time on her opposite knee. 
"I tore my other one," Wedin said. "I'll be needing surgery, but we don't know for sure when, because with COVID patients, the hospitals are super backed up… I'm going to have to do that process all over again, but hopefully I'll be to the point where I'm starting to do more once I go to college in the summer."
Wedin said that with the challenges and abnormalities of 2020, she had spent the year trying to focus on improving herself — her mentality, her fitness, and her nutrition, looking to get "in the best possible shape I could."
"It was pretty devastating to do all that work and then find out I hurt [my knee] and just have to do that recovery process again," Wedin said. "But I'm really trying my best to just think of it as a positive thing, even though that's pretty hard to do… thinking of all the little things I can do in this time to get myself mentally ready for college, and just strengthening it so when I get back, I'm stronger than I was."
Because of the pandemic, OSAA shifted the athletics calendar so that winter sports will take place throughout May and June. By that time, when the high school girls basketball season rolls around, Wedin will not have recovered from her injury and thus will miss out on competing in her final year of high school basketball. 
"It's going to be really hard, just because it is my senior year and it's my last time in high school, and so I was really looking forward to it, especially just playing with the girls I was going to play with for the last time," Wedin said. "But I still do hope they have a season, and I'm not going to be selfish about it and wish I was playing, I'm just going to be excited if they get to play and I get to be a part of it… I'll still feel like I'm a part of the team and stuff. It'll be hard to not be out there with them, but I'm going to be excited to be cheering them on."
Wedin said that while she is disappointed about her injury, this time around feels different than her first ACL tear during her freshman year.
"I'm just a different person [than] who I was my freshman year," she said. "I feel like I look at things a little bit differently, and I know the process and I know I can get through it now. It just is a long process, and it still sucks, but I have a lot of support, and I know that I'm in a good place. And so, I have to fight through it every day to be positive, but I feel like I'm more mentally ready this time to just be okay from the beginning."
With a mindset of being intentional and positive in how she reacts to adversity, Wedin said that she wants to make the most of her last semester of high school, and to "do everything I can do to get myself to the best point and the strongest I can be."
Wedin said that despite how abnormal her senior year has been, she is grateful for the experiences she has had, as well as for the memories and connections that she has made through basketball.
"The girls on my team throughout the years, a lot of them are going to be lifelong friendships, and so I'm really grateful for that," Wedin said. "I'm also grateful for any challenges or obstacles I faced, because I feel like I learned a lot, and I feel like I'm a really different person than I was when I first stepped into high school."
About the Writer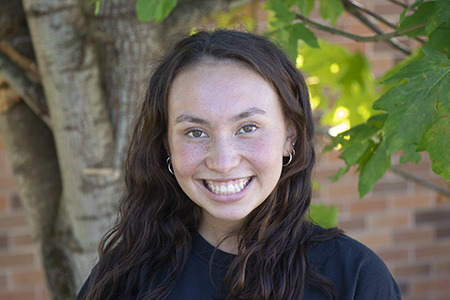 Maddie Khaw, Editor in Chief
Maddie is a senior at La Salle. She plays on the varsity soccer team and loves to read and write. She also likes to travel, hang out with friends and family,...