Girls Basketball Season Ends Early, Leaving Them No Shot at a State Title
It was on the day of the girls varsity basketball team's semifinal game that they learned that what they had been working for all season — a consecutive state title — had been taken away from them, all because of the coronavirus.
After defeating Corvallis 65-46 on Tuesday, March 10, the team's next game was set to take place on Thursday, March 12, at Gill Coliseum. If they won, they would advance to the final championship match against either Crater or Silverton High School. 
Initially, it was announced the night before the semifinal game that it was to be played without the presence of fans, with Governor Kate Brown banning gatherings of over 250 people. 
The news shook the La Salle community, with many students, staff, parents, and family members having planned to make the trip to Corvallis to see the game. 
"It started to really hit home for me that the state tournament wouldn't feel like one without parents, students, and school community members," Athletic Director Mr. Chris George said.
The next morning, more news came: It was that the game couldn't be played at Gill Coliseum, so OSAA began searching for another location for the teams to face off.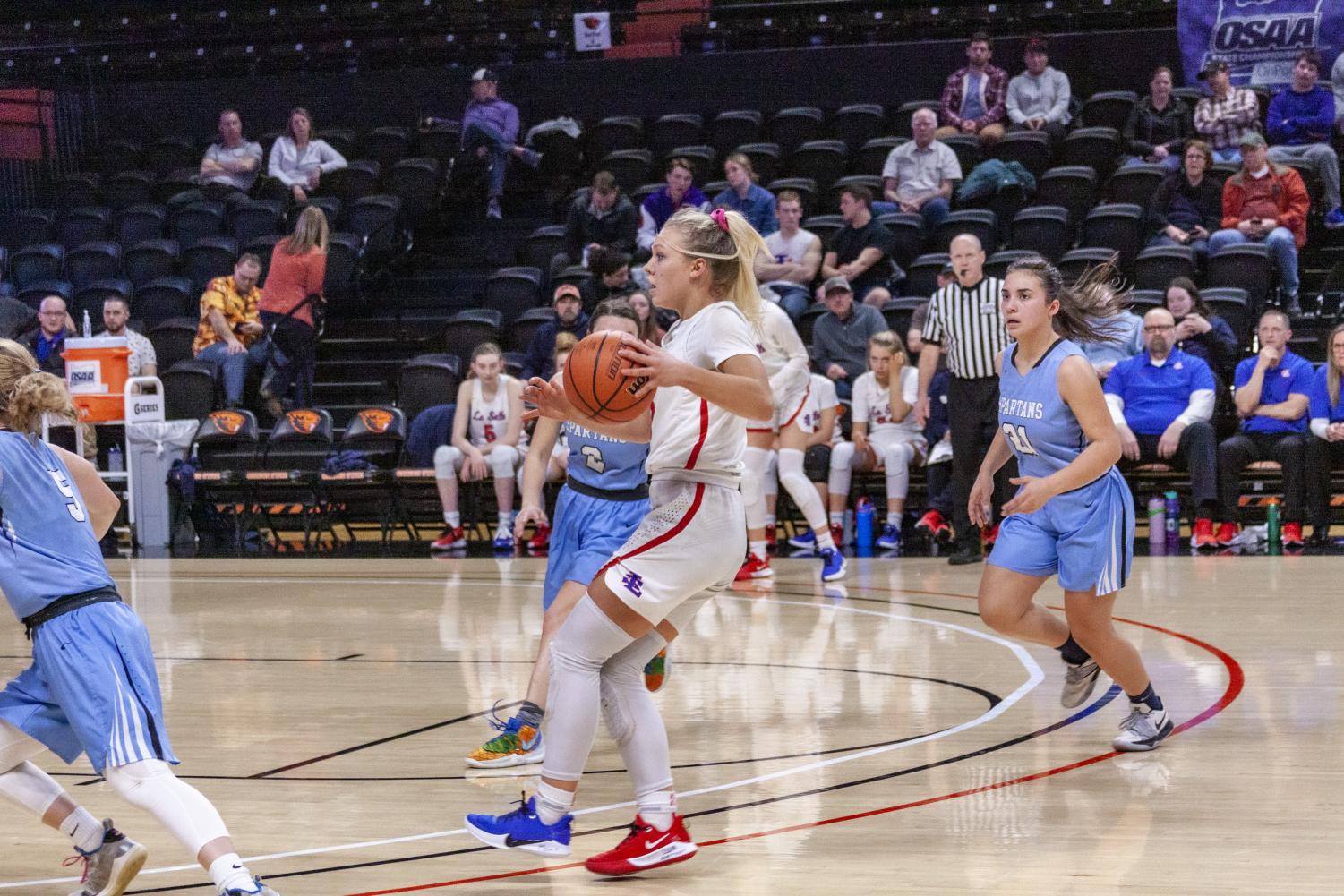 Unfortunately, however, after having second thoughts, OSAA determined that the state tournament was to be cancelled entirely, leaving no team with the opportunity of being named state champions. For some players, like senior captains Emily Niebergall and Lindsay Drango, the cancellation of the state tournament cut their high school basketball career at least one game shorter than expected.
This was the first time ever that an OSAA girls basketball state championship had been cancelled since they began in 1976. Across the country, 14 state tournaments were cancelled last week, and 19 were postponed until further notice. 
"I was just kind of shocked and devastated," Neibergall said. "I was so ready to play this basketball game… I didn't think that my game against Corvallis was going to be my last game ever." 
Drango described the moment when the team found out that the tournament had been canceled as a "very emotional experience for everyone."
The team had been waiting to find out whether a new location had been found for their game to be played, when they were called into a team meeting in the hotel room of their head coach, Kelli Wedin. 
Upon hearing the news of the tournament's cancellation, Drango said that, like Niebergall, she was "devastated."
"Honestly, I still kind of am," she said. "I just didn't know it was our last game when we were playing it, and this team means everything to me… I won't get to play with them anymore. It was just heartbreaking."
Leading up to the tournament, the team had increased their level of intensity and focus at practice.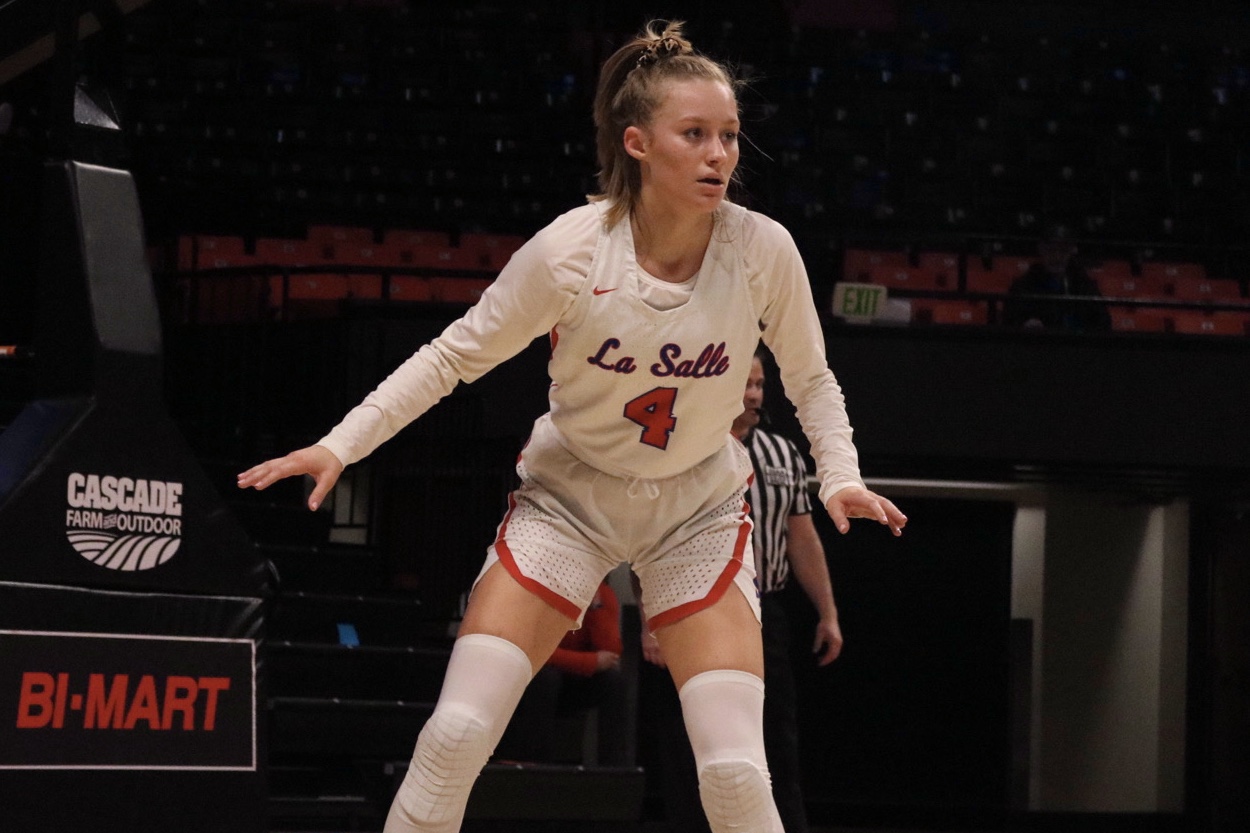 "We worked really hard," junior captain Addi Wedin said. "We didn't get a chance to show people what we could do and we didn't get a chance to win another state championship." 
Despite feeling that their hard work didn't achieve their desired end result, the team is proud of how their season played out. 
"There [were] obstacles we faced and we were in slumps sometimes, but overall it was just a really good season," Addi Wedin said. "We all got so much better playing together and I mean, we technically did end on a win."
Reflecting on her high school career, Niebergall said, "I've put so much time into the La Salle basketball program and those girls are my best friends. It's kind of sad to think that I'm not going to be there next year."
After being named the 2015, 2017, and 2019 state champions, the girls team and their many fans were disappointed to see their season come to an end without having the opportunity to work for that same outcome.
"It really saddens me to see the tournament canceled after so much effort, sacrifice, and teamwork was put forth in the last year," Mr. George said. "The girls basketball team has demonstrated the capacity to convert their hard work into many wins on the basketball court and I hope all our students can rise to this new challenge, and in the face of adversity, put forth immense effort, accept the hard sacrifices, and rally together with their peers to show great teamwork."