Next Level Seniors: Luke Strange Pursues a College-Level Soccer Career at Wheaton College
For senior Luke Strange, soccer has been a part of his life since before he can remember. While at first Strange wasn't completely confident that playing soccer in college was right for him, he said that once his senior season began, he was sure.
Strange is a part of a select few seniors who have signed to play sports at the collegiate level, students we are showcasing in our Next Level Seniors series.
During Strange's senior season on the varsity boys soccer team, they placed first in the state at the 5A level and had an undefeated season. "With so much success on the field, I know there was no way I could not keep playing in college," he said.
Strange will be playing soccer at Wheaton College, a Division III school in Norton, Massachusetts. He was scouted during a tournament in California with his club soccer team, the Westside Timbers. 
"They [happened] to be at that tournament and saw me play," he said. "A couple days after, the head coach emailed me saying they're interested."
Despite Wheaton College being far from home, Strange was able to visit the school's campus in February. He said that he "definitely [has] a vision of this year, or in the coming years — winning the conference and eventually going on to the National Championship tournament."
Strange's main goal for himself during his freshman season is to maximize his playing time and provide what he can to his team. "Hopefully getting a couple [of] goals, but I'd say getting minutes on the field and just contributing any way I can," he said. 
Throughout his soccer career, Strange says his two biggest supporters have been his mom and departing varsity coach and guidance counselor Mr. Seth Altshuler. 
Strange's mom is a commonly recognized parent in the La Salle community, with many students having seen her cheering on Strange and his younger brother at their games. "She [has] stood by my side with anything I wanted to do," Strange said. 
Mr. Altshuler is departing from the La Salle coaching staff this year as well as from the team of guidance counselors. He was Strange's coach for all four years of high school, and is moving on to a new chapter of his life the same year that Strange is heading off to college.
"Seth was there every single day for years," Strange said. "He played probably the biggest role than any coach I could say… He's awesome. He's leaving, but I know I'm lucky that I get to kind of leave with him."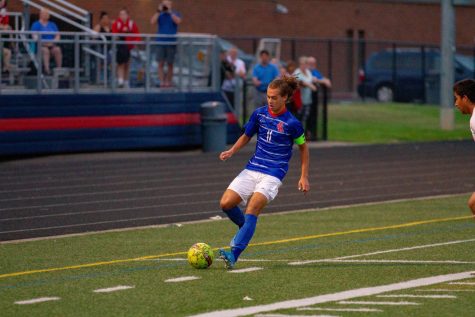 Strange is not the only family member who has made contributions to the boys varsity team at La Salle. His younger brother, freshman Quentin Strange, played on the varsity team this year, helping the older Strange, as well as his other teammates, secure their place as state champions. 
Strange believes that his passion for soccer has served as an inspiration to his younger brother and that he is somewhat responsible for his brother following his lead. "He's definitely taken after me, and [is] super good," he said.
When looking forward to his first season at the college level, Strange said that he is a little nervous, but more than anything, excited. "I'm super excited for an increased level, and just to play in a new environment," he said. 
Some of Strange's nerves come from the uncertainty that next school year holds regarding the coronavirus. While, as of right now, Wheaton College does plan to open, it is hard to tell what the urgency of the situation will look like in the fall. 
"It's definitely in the back of my mind not knowing whether [I'm] going to get that first season, or go to college," Strange said. "I've just been wanting to get back on the field really bad."
His biggest piece of advice to high schoolers interested in playing sports at the next level is to get an early start. "Reaching out definitely shows that you're interested in them," he said. 
While Strange's recruitment process was quick and Wheaton College contacted him first, he said that he advises athletes to reach out to schools themselves if they are interested in playing at a specific college or university. 
After 15 years of growing a deep love for soccer, he is more than excited to move on to the next step in his athletic and academic career. With support from coaches, family members, and the enthusiastic fans of the La Salle soccer program, Strange is taking this stride forward with a strong support system backing him along the way.
About the Contributor
Avery Rush, Assistant Editor
Avery is a junior at La Salle. In her free time, she enjoys hanging out with friends, listening to music, and spending time with her cat, Stella.