11 Years Later, Kid Cudi's "Man on the Moon: The End of Day" Still Voices The Struggles of the Teen Experience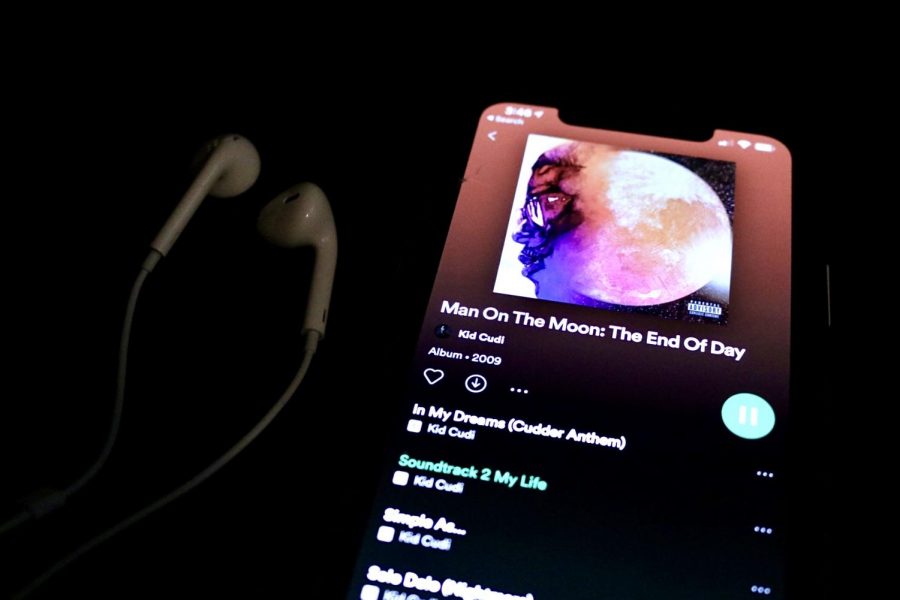 The following review discusses music with explicit content.
On his debut studio album, "Man on the Moon: The End of Day," Scott "Kid Cudi" Mescudi takes listeners on a journey through his thoughts during a time of struggling mental health as he mourns the passing of his father as well as his childhood. 
The album at first listen might sound like a bass-heavy, violin accompanied read-through of a self-deprecating diary; however, some people, including myself, have developed a deep personal connection to the underlying messages of Cudi's music. 
The album, which was originally released in 2009, discusses dark topics such as drug use, depression, and attempting to silence emotions when you might only feel like screaming. These subjects are first brought to the surface on the second track, "Soundtrack 2 My Life." 
Over the span of 3 minutes and 56 seconds, Cudi tells, in short, his life story. He brings light to an array of past regrets and emotions, from not spending enough time with his mom to dabbling in the world of hard drugs.
One line that often leaves a lasting impression in my mind comes from the chorus of this track. Cudi says, "I've got some issues that nobody can see, and all of these emotions are pouring out of me." 
Another song on this album that is a personal favorite of mine is "Pursuit of Happiness." While some of the other tracks are a bit more on the dark or serious side, this song always puts me in a good mood thanks to its hopeful lyrics and upbeat composure.
For those who value unique beats and captivating post-production sounds, a track to check out from this album is "Solo Dolo (Nightmare)." This song, while based on a dream, takes a turn and dives into the realities of a nightmare. The ghostly sounds of the organ are met with violins and chilling synths to create a creepy yet beautiful track.
While most of Cudi's lyrics are specific examples and experiences from his life, those who struggle from feeling like they are less than enough, or that they are alone, are likely to find resonance in his music. 
As someone who has suffered and still is suffering from mental health issues, I've come to understand that putting your emotions and feelings into words can often be the most challenging part of seeking help from others. Personally, Kid Cudi is the only artist I've found who has the ability to put my exact thoughts into lyrics.
I commonly find myself gushing over the therapeutic effect that this album has on me, and while it might be common for a fan to say that their favorite artists' music has been "life-changing" for them, my idolization of this album is far from stereotypical. 
In an article by Stereogum, writer Patrick Lyons points out that the Google search "___ saved my life", when filled with most other hip-hop artists' names, comes up with only a couple hundred results for each artist. However, Cudi boasts over 5,000.
The album as a whole was highly anticipated as Cudi's previous work on Kanye West's "808s and Heartbreaks" as well as his co-writing credit on Drake's track "Best I Ever Had," were both praised in the media. The record peaked on the Billboard Hot 200 charts as number four in 2009 and was nominated for three Grammy awards.
Stylistically, the album displays a methodic blend of spacey, futuristic synths, captivating beats, and angelic orchestra sounds. You won't have to look far to find the influence of Cudi's music in hip-hop records through the 2010s.
"Man on the Moon: The End of Day" broke and is continuing to break barriers in the world of hip-hop. From opening for Lady Gaga's tour to the headphones of a 14-year-old alone in their room, Cudi's sound and lyrics continue to inspire people from a variety of backgrounds.
About the Writer
Avery Rush, Assistant Editor
Avery is a junior at La Salle. In her free time, she enjoys going thrifting and listening to music. On the weekends, she likes painting and hanging out...