A Day in the Life of Mr. Kuffner
Almost every morning when students walk through the front doors, they are greeted by Mr. Andrew Kuffner, La Salle's principal and president. Mr. Kuffner spends his time at school serving the students and faculty by doing various things such as attending meetings, resolving problems, and just spending time with the students. His favorite part of his job, he said, is the connections he has made with other people.
Mr. Kuffner has been at La Salle for nearly 23 years. Even though he has only been principal for six of those years, he has taken up various other positions including president, vice principal, and his personal favorite, teaching. Mr. Kuffner said, "I started the same year Ms. O'Brien started and Mr. Wild. So we are the same class, if you will."
Being the principal was never his original plan, but he decided to pursue the role when the previous principal retired, because he finds it important to take the opportunities to serve that come up along the way. Mr. Kuffner said it is the "little invitations along the way" that got him to where he is now.
On being principal and president, Mr. Kuffner said, "I'd say [the job is] 50/50." He explained that 50% of a typical day consists of responding to questions that come up throughout the day from staff or students. The other 50% revolves around attending meetings with the vice principals about more prominent school matters such as school budgets or campus development.
"Part of my schedule is quite a number of recurring meetings," Mr. Kuffner said. "So I'll have a meeting with my vice principal, I'll have a meeting with the HR (Human Resources) director, a meeting with advancement, and with Mrs. Mickelson. So my schedule usually surrounds meetings, but I can be flexible on those."
Mr. Kuffner lives in North Portland, so it is a bit of a commute to Milwaukie, and he usually gets to school as early as 7 a.m. because his daughter, junior Mollie Kuffner, has zero period. On other non-zero period days, he arrives around 7:30 a.m. This may seem early to most students, but he is used to his early routine.
He enjoys starting a typical school day at about 7:35 a.m. by standing in the front entrance and saying hello and welcoming students as they walk in. "It's probably at least three days a week. I try to do [it] every day, but sometimes I have a meeting or someone in my office that keeps me from going out," Mr. Kuffner said.
After greeting students before school, Mr. Kuffner normally goes into his office and responds to emails. He said that technology is a huge part of his day and he will check his emails frequently throughout the day.
For lunch, Mr. Kuffner eats cafeteria food just like the rest of the students and staff. Normally, he enjoys the specials, but he said that you can't go wrong with a simple soup or sandwich. His absolute favorite food in the cafeteria is the pulled pork sandwich.
Because he enjoys connecting with the community, he frequently hangs out in the cafeteria during lunch. He said, "I always eat in the cafeteria… sometimes in between lunches, sometimes with A lunch or B lunch." During his lunches, he enjoys conversing with the staff.
A typical day for him ends at around 5 p.m., which means he will not get home until about 6 p.m., due to his long commute to North Portland.
Mr. Kuffner's favorite part of his job is definitely the students. He likes the community and the connections. Since his job is no longer in the classroom, he relishes opportunities to connect with students.
"If you work in high school, you have to enjoy being around kids in that phase of life," he said. "I was just talking with a kid in the hallway… high school is an intense, oftentimes wonderful [and] oftentimes challenging time of life, and I do enjoy being a part of those moments."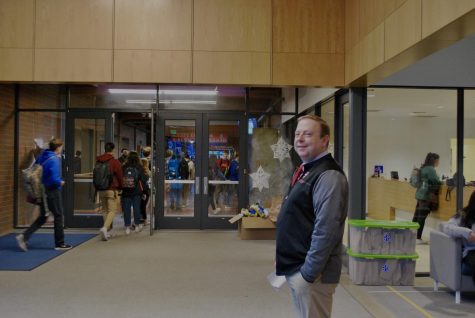 However, sometimes interacting with students is not an easy task for Mr. Kuffner, as young teens face many obstacles and occasionally get into trouble. Intervening and punishment is never how he wants to spend his time, he said, but sometimes issues come up that he has to resolve. Mr. Kuffner finds this one of the most difficult and least favorite parts of his job, but he said that he strives to approach these situations with an open mind and is ready to be understanding.
"I believe that we have good kids here, we don't have bad kids here, so we have to start from a place of goodness, [asking] what happened to make them act in this way?… There's always more to the story," Mr. Kuffner said. "Discipline is a responsibility of administrators and teachers… discipline is often just conversation like, help me understand [as I'm] just trying to uncover what really happened."
Mr. Kuffner is a very busy man who is constantly striving to better La Salle and contribute to keeping a community atmosphere. He said, "I try to be friendly, open, approachable, and genuinely interested in what kids are doing and what they're thinking. I always find things that I can learn from students."