Falcon Cross Country Takes Flight Toward Districts and State
Hang on for a minute...we're trying to find some more stories you might like.
The cross country season is well underway with seven meets completed; the boys' record stands at 5-2 and the girls' at 4-3. Although at the beginning of the season the teams had to cancel several practices and one meet due to air quality, they have continued to practice and improve their times so they can hopefully qualify for State at the 5A Northwest Oregon Conference Championship next Wednesday, October 25th.
According to Coach Rathmann, they must "finish in the top three in league at the district championship on October 25th" to officially qualify for state as a team, and they are hoping to close in on Sandy and Putnam for the number three spot. To qualify as an individual, "you have to finish in the top 7 individually in the league at district championships."
The team is continuing to improve with the efforts of the skilled, devoted athletes and dedicated coaches. Freshman Victoria Azar commented on how she has set a personal record in many races this year and how the coaches are great, leading the team to consistently improve.

According to Coach Rathmann, La Salle currently has five girls under 22 minutes in the 5k race, and three athletes, Andy Krueger (senior) and Brigid Hanley (junior) are looking "in position to try and get in the top 7" to qualify individually for state. For Alec Willard-Herr (freshman) to qualify individually, he will need to "come up with a big race next week to look at entering the top seven." But as Coach Rathmann says, "they have a goal of helping their team get there first," proving to be genuine team players.
The cross country team is always very supportive of each other, with everyone on the team "always cheering you on no matter how good or bad you are running", according to sophomore Franny Bengtson. This teamwork will bring the team together as one for the biggest meet of the season, districts, and hopefully state as well.
In addition to her team efforts, Brigid is currently ranked first in the district and eleventh in the state after breaking the school record of 19:39 on September 30th by .9 seconds.
Her original goal for the season was to beat 20 minutes, but was ecstatic when she beat that milestone and the school record by .9 seconds, and then continued to break her own record by running 19:18 on October 7, and 19:09 the following week. She now has a new goal of breaking 19 minutes for the rest of the season.
Although the girls team is very young this season, they all "work so hard, and there have been fantastic PRs all season," junior Brigid Hanley reports.
For Brigid, the "best part of the season has really just been getting to know all of these amazing girls and growing together as a team."
Next Wednesday, October 25th, the team will participate in the 5A-1 Northwest Oregon Conference Championship, so be sure to wish our Falcon cross country team good luck as they attempt to place in the top three at districts and qualify for state!

About the Writer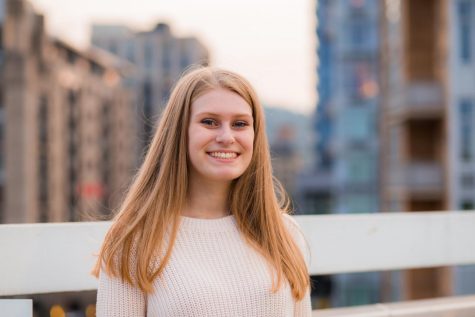 Natalie Sherrill, Staff Reporter
Natalie is a senior this year at La Salle. She plays tennis and likes to listen to music, play guitar, hike, and hang out with friends. Natalie is attending...