Spring Sports Coming to a Close, With Postseason Now Underway
With spring sports coming to a close and the postseason now underway, the Falconer checked in to all of our teams to see how the regular season went and how things are looking getting ready for the playoffs.
Softball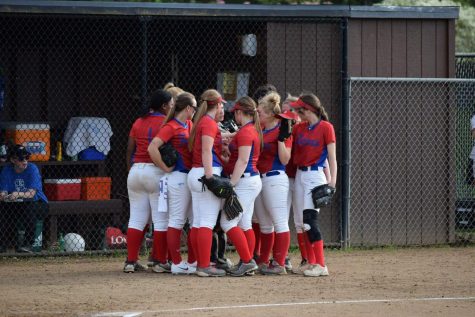 After having their best season in 5A, the Falcons look forward to heading to the state playoffs after losing in their play-in game last season. The Falcons finished the year 17-8 and 13-4 in NWOC play. They finished second place in the NWOC, just behind #7 ranked Putnam, who La Salle has gone 2-1 against this season.
Though the Falcons had an impressive season, they did not reach one of their goals, which was to win league. Their losses to Milwaukie and Hillsboro late in the season proved to be costly, because if the team would have won one more game, the league title would have been theirs. Getting second place in league is still a big accomplishment as they will get a first round bye and will use this week to prepare for the playoffs.
To prepare for postseason play, La Salle scheduled two games against #2 ranked Jesuit and #1 ranked Oregon City, both top contenders for the 6A title, this Wednesday and Thursday. No matter the outcome of these games, it will prepare La Salle for the top teams they will face in the playoffs, as these games will not affect their seeding.

As of now, the Falcons will face #5 ranked Silverton in the first round of the playoffs on Wednesday, May 24th.
Baseball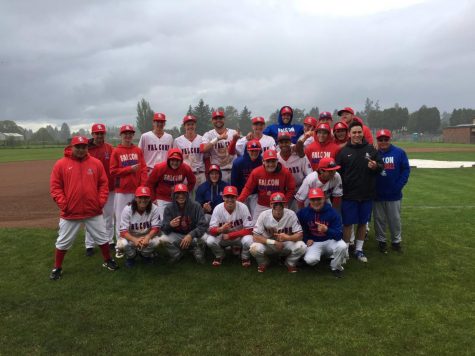 The baseball team has shown they are one the top teams in the state after winning the NWOC on Friday and finishing the season ranked #4 in state. The Falcons' difficult preseason proved to be effective in getting the Falcons ready for league as they finished the season with an overall record of 17-6 and 15-2 in league play. Like softball, the baseball team will have a first round bye and have their first home playoff  game on Wednesday, May 24th.
The baseball team has worked all season for this opportunity, and they know, with 12 seniors on the team, it is their best chance in several years to go deep into the playoffs.
The team's most impressive wins in league came in their series against #5 ranked Wilsonville and #7 ranked Putnam. Though they split both series 1-1, winning all other games in league helped secure them the league title. Senior Joel Simmons had the game winning hit against Wilsonville in their 1-0 victory, and the Falcons rallied to beat Putnam 11-0 after losing to them 10-3 in their first competition.
Congratulations to the Falcons on winning league for the first time in the 5A division!
Track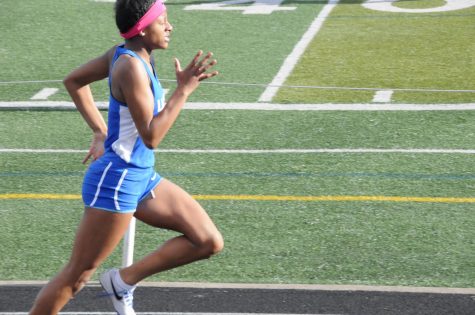 The La Salle track team is able to send six players to the state tournament after the Districts tournament on Thursday and Friday May 11th and 12th.
Senior Jordan Gloden qualified in in the 39" hurdles and even PRed in his race at districts. Sophomore Brendan Dexter PRed in the 1500 meters and also qualified for the state tournament. Senior Sean Hamel qualified throwing javelin and senior Jason Waters qualified in pole vaulting.
Junior Philicia Robinson qualified for two events. She will be participating in both the 200 meters and the 400 meters. Brigid Hanley will be participating in 3000 meters and also PRed at the district meet. Senior Teresa Tamashiro qualified once again in the pole vault.
The State Championship Meet will take place on May 19-20 at Hayward Field in Eugene.
Boys Golf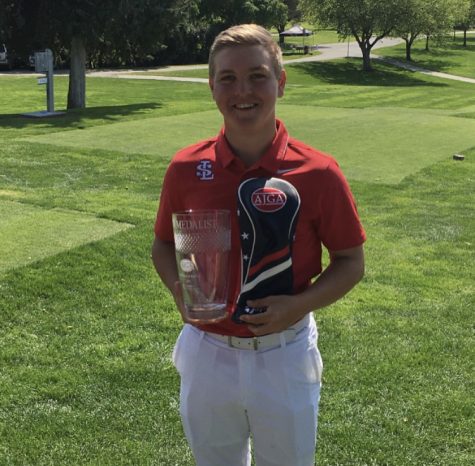 The boys golf team finished third in the NWOC and qualified for the state championships, which took place Monday, May 15th and Tuesday, May 16th.

Junior Matt Werner shot a 157 and finished in 5th place at the state tournament. Senior transfer Jonah Pemberton, who is committed to play Division 1 golf at Alabama State next year, shot a 160 and finished tied for 9th in 5A state. Congratulations to our La Salle golf team! 
Girls Golf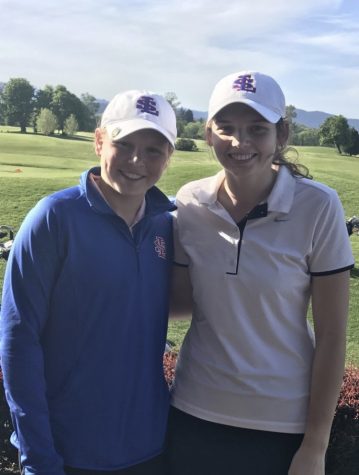 Though sophomore Emily Hawkins and junior Emily Miller came up just short of making it to the state championships, it does not take away from the amazing season both of these girls had. Emily Miller shot a 195 at districts and missed the cut for state by just two strokes. Emily Hawkins shot her personal best both days and finished districts with a 197, missing state by just four strokes. As the only two girls golfers at La Salle, they did an amazing job representing the school this season.
Tennis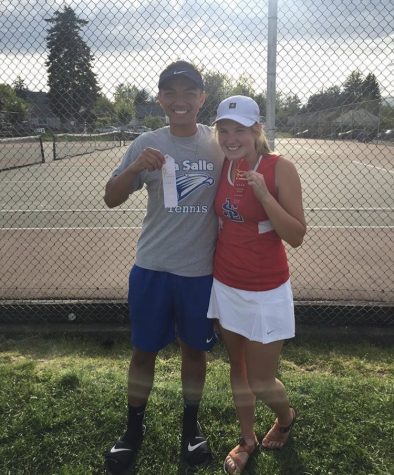 Boys Tennis
As a team, the boys tennis team placed second at the districts tournament, finishing behind Sandy. After sending nine players to the second day of districts, the team is able to send three players on to the state championships. Sophomore Nico Hey, who went to the state competition last year as a doubles player, will return again this year but as a singles player. Junior Ryan Dooris and sophomore Kyle Schraner will also be heading to the state championships as a doubles team.
The Falcons finished league with a season record of 5-2 and finished third in league and overall had a very successful season despite the sometimes difficult weather. 
The 5A state boys tennis championship will take place this Thursday, May 18th through Saturday, May 20th. Dooris and Schraner will face a doubles team from Marist Catholic in the first round. Nico Hey will face #2 ranked Rox Rogers from Ashland in the first round of State.
Girls Tennis
The La Salle girls tennis team also had a strong season and will be sending two singles players to the state championships. Senior Rachel Primack and freshman Ashley Smith performed very well at the district meet and earned themselves a spot at state.
The team finished the season with a record of 7-3, making it their 12th season in a row with a winning record. Rachel Primack qualified for state after going into districts ranked #2. Ashley Smith upset the #3 ranked singles player in NWOC after not even being seeded heading into the districts tournament.
The 5A state girl tennis championship will take place this Thursday, May 18th through Saturday, May 20th. Rachel Primack will face Emma Duval from Marist Catholic in the first round and Ashley Smith will face Sarah Forester from Crescent Valley.
***
Congrats to all of La Salle's athletes on an impressive spring season!
About the Writer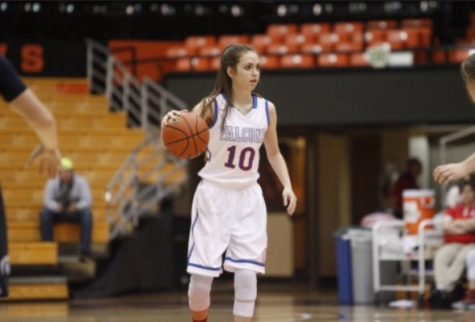 Hannah Sisul, Staff Reporter
Hannah is a junior at La Salle. She enjoys playing softball and hanging out with her friends. Hannah enjoys science and math and would like to pursue a...