Baseball Has Sights Set High with a Strong 3-0 Start in League
With three dominating performances in their first league games against Sandy, La Salle baseball has improved to 5-4 on the season, 3-0 in league, and is currently ranked #8 in the state. With a total of eight returning starters on varsity, the team is confident they will be able to make it far into the playoffs, after only making it to the first round of state last year.
The team has a lot of depth, and has 20 players listed on the varsity roster. Thirteen of the players on varsity are seniors, making this season their best chance to make it far.
Knowing that the team has an opportunity to go deep in the playoffs this year, the team scheduled a difficult preseason to test their abilities. They battled against three 6A schools in Oregon and finished 1-2 along with a 7-3 win over former league rival Liberty. Their 0-4 loss against Clackamas, the #3 ranked school in 6A, was not the team's best outing, but still proves they are able to hang with some of the best teams in all of Oregon.
Like the team did last spring break, La Salle baseball traveled to Phoenix, Arizona to play in the Coach Bob Invitational. The team played three games and finished the tournament 1-2. In their first game, the team picked up a 12-11 win against Millenium HS (AZ). In their next game, they played against Verrado (AZ), the #1 ranked team in Arizona, and lost 0-4, with seniors Matt Lynch and Levi Miles pitching. Their last game was against Apollo (AZ), and they a lost heartbreaker, 8-9, ending their preseason play.
Though looking only at their record over spring break may not demonstrate it, the team improved and got closer as a family. Along with playing baseball against elite competition, the team was able to go to the opening day for the Arizona Diamondbacks and watch and learn from some of the best players in MLB.
League play then started for the Falcons on Wednesday, April 5th against Sandy. After a 3rd place finish last year in the Northwest Oregon Conference, the team is hoping to improve their record in league and earn a first or second place ranking in the NWOC this year. Their toughest competitor will be Wilsonville, who is currently ranked 4th in 5A.
The team has started off league play 3-0 against Sandy. Sandy is not one of top teams in the NWOC and is only ranked #26 in state, but three wins in a row has given confidence to the team going forward in league play. La Salle is currently tied with Wilsonville for first in the NWOC, and the team is hoping to continue this momentum throughout the rest of league competition.
Several of the top contributors in the series against Sandy include seniors Matt Lynch, Bryce Falk, and Ole Arnston and junior Matthew Niebergall. Lynch and Falk both pitched in their 9-1 win against Sandy on April 5th. In their 8-3 win over Sandy on April 7th, Niebergall and Arston led the Falcons with two hits each and both played solid in the field as well.
The team's 18-3 win over Sandy on Tuesday, April 11th was an outstanding game, and everyone contributed to the win.
La Salle finished their series with Sandy on Tuesday, and will start a three game series against Milwaukie starting tonight at 5 o'clock at home. Milwaukie is ranked #27 in the state and is currently 1-2 in NWOC play. Although Milwaukie isn't a top team, getting several wins against them will help them at the end of the season when trying to clinch a top spot in the Northwest Oregon Conference.
"The team feels that if we play up to our potential then the winning will take care of itself," Niebergall said about the team's mentality going into the series against Milwaukie.
Make sure to come to support baseball in their home game tonight against Milwaukie or stay tuned to the Falconer on Twitter for the final score!
About the Writer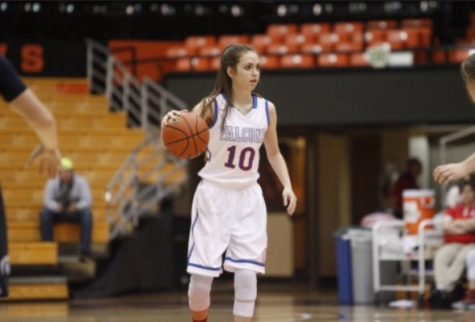 Hannah Sisul, Staff Reporter
Hannah is a junior at La Salle. She enjoys playing softball and hanging out with her friends. Hannah enjoys science and math and would like to pursue a...