Whether junior Dayanara Day has to face the Ticketmaster battle, or wait in line for three hours to get the best seat, she will do anything necessary to get into concerts due to her love for music.
In the past year, she has gone to 14 concerts ranging from pop to alternative to a little bit of rap. Her favorites have been Taylor Swift, Harry Styles, and Tate McRae. 
Having listened to Tate McRae since before she blew up on Tik Tok for her song "You Broke Me First," Day was beyond excited for this experience to see her live in concert on Oct. 11. Not only that, but she had the surreal experience of having a VIP pass and got the chance to meet Tate McRae after being a fan for such a long time. "I hugged her and I was so stressed I didn't know what to do, but she was the sweetest person ever," Day said.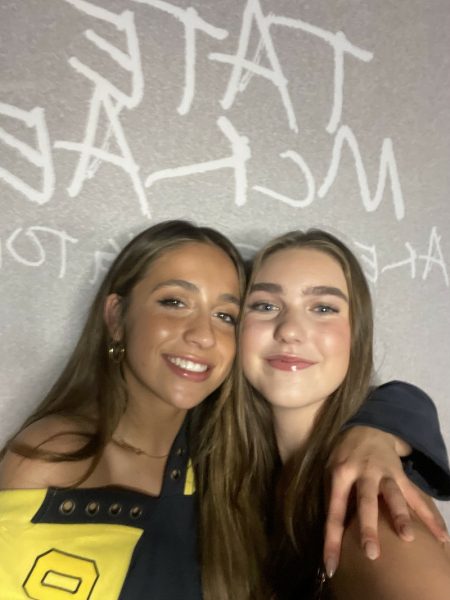 Although, for Day, all the concerts she's attended have each had their own unforgettable moments, the Gracie Abrahms concert was especially memorable as it was the loudest crowd she has been a part of. "Everyone's just screaming the lyrics, and looking back on videos I have sometimes I can't really hear her because everybody is just singing so loud," she said.    
Having the opportunity to connect with everyone in the venue by singing — or screaming — the lyrics was something that was very special to her. Also, having experienced that feeling with everyone had brought her a sense of euphoria.
The community that comes with seeing a concert or being in a fanbase for an artist is so immense that Day was able to make immediate friends when traveling to go see Harry Styles in Los Angeles. "Everybody that was there was there for Harry Styles," she said. "We explored the city and everyone was just there to see him." Because of this, Styles' concert in Los Angeles was her favorite in terms of concert atmosphere.
Day also gets to experience tears of joy quite often as a result of "either seeing someone you idolize or hearing songs that you idolize," she said. She vividly remembers watching artist Taylor Swift. "The second she came on stage I was sobbing, and I remember I didn't drink a lot of water so I was sobbing but no tears were coming out," she said.
For Day, the connection she feels to the lyrics are a big part of where her love for music originated from. "The artists are putting so much out there of themselves and their vulnerabilities in their songs, and being able to relate to it in some way is just really special," she said.
Recently there has been difficulties with getting tickets through Ticketmaster and similar to the rest of the world, Day hasn't been able to dodge this bullet. After getting out of school on Wednesday, Sept. 20, "I just sat in my car and hoped for the best," she said, referencing how she was not taking any chances on getting tickets for Olivia Rodrigo's new GUTS tour in August 2024.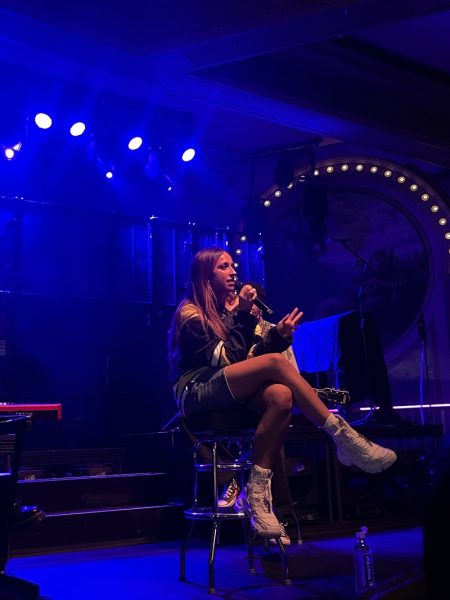 Since artists are putting their tickets on sale early, Day has had concerts scheduled for months in advance, but she's also been on the other side of it. She's bought a concert ticket the week of or even the night of a concert before. 
The battle for tickets isn't the only battle many avid concert attendees must face. If lucky enough to get pit tickets, they then must wait in line in order to get a good spot in the pit. This is yet another way the fans show their dedication and love for the respective artist. For Day, the longest she has waited was three hours for Melanie Martinez, and two hours for Gracie Abrahms.
This passion of Day's does not come at a cheap price. In the beginning, her parents would fund the passion, but once it got to a point where she wanted to attend more than 2-3 concerts a year, she started working in order to pay for the tickets. "It makes me feel good, because knowing that I can pay for something and then have a really cool experience and a memory is really important to me," she said. Day now works at Northwest Primary Care and says that many of her earnings go towards her passion for concerts.
The best seat Day has been able to get was for Tate McRae at the Crystal Ballroom in downtown Portland, where she was an arm's length away from the barricade. "It was honestly crazy because we were so close that I could see her shoes," she said.
During the concert isn't the only time Day is impacted by the lyrics of her favorite songs, she says that whether she's having a good or bad day, music makes it better.
In the future, Day hopes to see Rene Rap, and on a more unlikely note, Day hopes to be able to experience a One Direction concert someday.