Senior Gracelyn Rael Shares Her Experience Using Art as a Source of Hope and an Outlet for Personal Healing
Disclaimer: The following article includes mention of sexual assault.
For senior Gracelyn Rael, art is a form of storytelling that can be healing and connecting. "I realized that I can use art to help people and…to communicate and share with others," Rael said.
Senior Gracelyn Rael transferred from Clackamas High School to La Salle High School at the beginning of her sophomore year, before the pandemic. Rael transferred schools for the art program specifically, "looking for someone who could really teach art to me, who was really personal and kind of one on one, which is totally what Mrs. Cha does," she said. "She's been the best teacher I've ever had." 
Art started as a fun way to pass time for Rael, but then shifted into a more serious hobby as she came to La Salle, and "took off from there," Rael said.
Over the past two years, Mrs. Cha has not only taught her how to incorporate different materials into her work, but she has also helped Rael express her emotions and struggles through art, which has impacted her greatly.
"I can't even put [it] into words," Rael said.
Currently, Rael is in AP Studio Art and Advanced Art 3D, but she has also taken Advanced Art 2D. Although she has a hard time pinpointing her style because it varies, she generally describes herself as a collage artist and painter who strives for surrealism.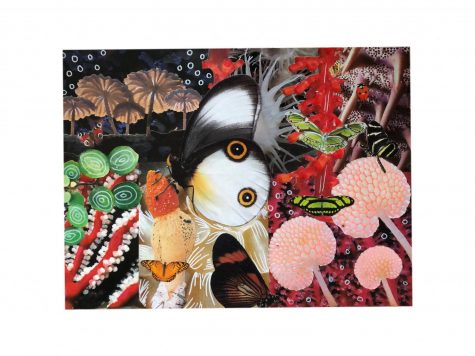 Rael takes inspiration from people like Salvador Dalí, Daniel Johnston, Van Gogh, and a variety of different artists. Movies and music serve as another source of inspiration for Rael.
"I just really try to put on paper what I'm feeling, and not necessarily have to stick to a specific style and not pinhole myself," she said.
Much of Rael's art is inspired by struggles with mental illness and trauma. She wants to help those who also struggle, because she "can relate to them," she said. Rael's goal is to also "strive to create more pieces that people can have a connection to."
Collaging is Rael's favorite medium to work in because she gets to "make a piece of art out of other people's art," she said. "At the same time, painting is very important to me because it's something original, that I can come up with from nothing." Rael said. 
This work is "a very time-consuming process," because you have to find images, cut them out, and layer them, Rael said. 
But time is not a big concern for Rael, as art "is my everything," she said. "It's all I do. It's all I think about."
To her, art is a way of healing and growth but also self-expression.
"It's helped me heal so much from what I've experienced," Rael said. "It's helped me see things in a greater way and in a bigger picture, and helped me come to so many realizations, and so art is a tool for me."
For Rael, her collages tend to be the pieces she is most proud of.
One piece she is particularly proud of is a four-part collage series on her "healing process from sexual assault."
"That was probably the most impactful piece for me because [it] gave me the chance to see things in a new way, and it also just kind of sparked my creativity in making more art about my experiences," she said.
Rael said she learned how to cope with her trauma through her art and communicate emotions in order for others to relate.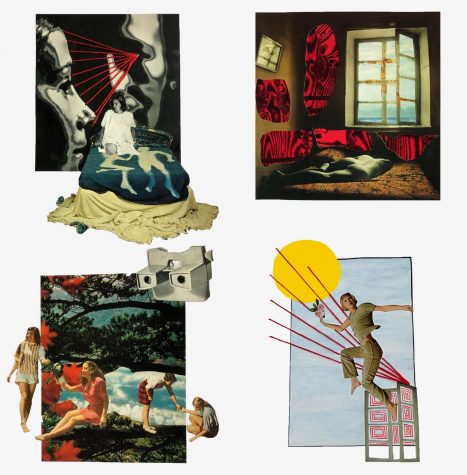 This four-part collage that Rael created was awarded an Honorable Mention in the Oregon Art Region's 2021 Scholastic Art & Writing Awards Competition.  
Every year, Rael participates in the competition and has received a total of six silver keys and five honorable mentions. She is also taking AP Studio Art which is "a competition, kind of, [because] you get scored on your portfolio," Rael said. 
She also shares her art through social media, specifically on an Instagram account with the handle @oasisartworks.
Social media is a "great way of sharing your art, just because it's so easy," Rael said. Students at La Salle and hundreds of other people follow the account and are able to see pictures of her progress and completed artwork.
Through posting her artwork online, Rael has received commissions and business opportunities. Over the summer she got a commission to do a mural for a distillery in Portland which is currently in the works. 
In aiming to share not only her art but her story, Rael wants people to feel connected to her pieces and feel the emotions that were put into them, and "interpret it from their own experiences," she said. 
While looking at her art, Rael wants people to "feel that there's hope and healing, and that they can use art as therapy to help them with things and help them through their life," she said.
Looking ahead, Rael is planning on taking as many art classes as possible in college, and hopes to later become an art therapist in order to help others.
"I just want people to know that art can be such an important tool, and can be therapeutic in so many ways," she said.
Rael's advice to students interested in taking art with Mrs. Cha is "take it," she said. "Take as many art classes as you can." Being around Mrs. Cha and her art community is "heartwarming," Rael said. "Experiencing her class can be so helpful and healing."