The Best Boba Shops Near La Salle
Milk tea, which is commonly referred to as bubble tea, with boba — small pearls that are similar to tapioca — has become an increasingly popular drink around the globe. La Salle students can often be seen visiting nearby boba shops after school, much like other students and people of all ages from across the world. Originally from Taiwan, U.S.boba tea shops have since spread to the U.S.
It's a great treat for those who want to go out for drinks, but don't enjoy coffee or don't want caffeine in their drink. Luckily for those who enjoy it, there are many boba shops near school. Although Clackamas Town Center, the local mall located next to La Salle, offers multiple different boba shops, that is not the only destination for students looking to get boba after class. 
Read on to discover both the best boba places in the area.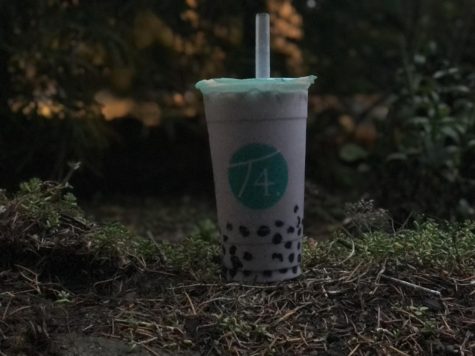 T4
Even on a Wednesday afternoon, T4 acquires a line of people waiting to get bubble tea. 
Located in the Clackamas Promenade on Sunnyside Road, it is just a five minute drive or 20 minute walk from La Salle. Their menu is very diverse with both drinks and food to offer. 
I was recommended by the barista to get a taro milk tea and I added the regular pearl boba, which is my personal preference. It was delicious, with an almost nutty flavor, and the purple color was a fun bonus. Their service was quick and overall a great expirience. 
T4's prices range from $4.25 to $5.50 for drinks with an additional 75 cents for toppings. My total came out to $5.50, which, in my opinion, was totally worth it. 
One thing that is especially appealing to me about T4 is you can customize both the amount of ice and the sweetness of the drink, making the experience personal to you. 
Due to the pandemic, they have opted to have no seating inside or outside of their shop. However, they do try to keep it lively with art and seasonal decorations. 
I would definitely recommend T4 to anyone. 
They make it personal to each customer and have an upbeat atmosphere. T4 is a dependable, personable, and fantastic choice when looking for bubble tea.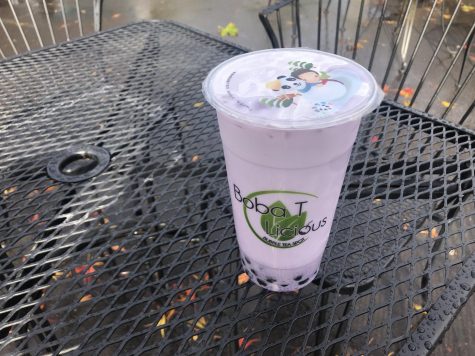 Boba T Licious
This Boba tea place is in Cartlandia, a food cart plaza just up the road from La Salle on 82nd Avenue. The carts have small picnic tables out front where you can enjoy your food or drinks.
From Boba T Licious, I got their taro milk tea with honey boba. The boba itself was great, with the right level of chewiness. This drink was also larger than drinks I have ordered from other boba places, at a cheaper price, and higher quality. 
Taro has always been a favorite flavor of mine and one that I would recommend for those new to bubble tea. 
Likewise to the drink from T4, the milk tea from Boba T licious cost $5.50.
On the side of the drinks packaging was an elegant logo for the shop and an adorable panda on the top seal.
I really liked this boba place. In addition to drinks, they have fantastic pork buns and other food. From the vibes to the drinks, I would recommend getting boba from here.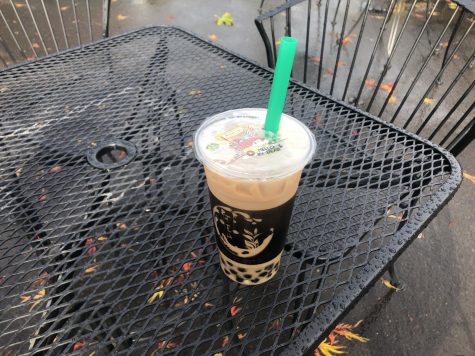 Bobablastic
Bobablastic is another boba food truck in the Cartlandia food cart center. 
Given the common weather patterns in Oregon, the outdoor seating doesn't sustain visits when rain inevitably comes. However, in the summer, the wire style tables and chairs could provide a perfect spot to post pictures of your drink and enjoy the semi-rare nice weather.
I tried their lavender creamy tea which was fantastic, however, the honey boba I got with it was pretty mushy. I liked how there was just enough ice to keep the drink cold, but unfortunately, they use small ice chunks that melt pretty quickly, which watered down the drink.
The drink, with boba, came out to a total of $6.75.
The cart itself looked very nice, but I think the aesthetic of the cart built up an expectation that was not met in comparison to the Boba T Licious cart across from it. 
Considering that it is very close to another boba place with better boba, I would not highly recommend this place for its boba tea. However the cart does have an assortment of treats, such as chocolate dunked cheesecake that I would have loved to try.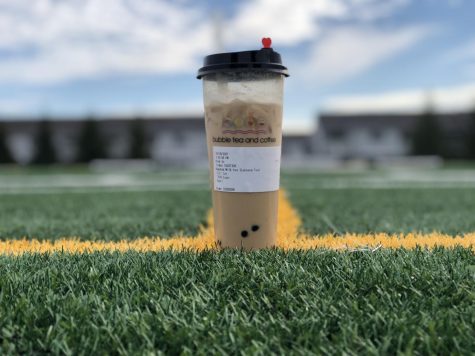 Bobo Bubble Tea and Coffee
From the first moment I walked into Bobo Bubble Tea and Coffee, I was glad to be there. It has a calming and joyous atmosphere about it that made me want to sit down and relax. To make my experience even better, the staff there was very friendly.  
Located off of 82nd Avenue next to the Michaels craft store, it is a three minute drive and a 12 minute walk from La Salle. It was much closer than I expected and you can also walk to it by taking Fuller Road. 
They recommended their roasted milk tea, and it has become my new favorite. It reminded me of the bubble tea I used to get as a kid. I also loved their cups, as they are reusable and come with a little heart shaped spill stopper.  
They have a lot of variety in their menu, with a wide selection of bubble teas and coffees. 
They have drinks called cheese cream teas, which were very intriguing. I have never seen anything like it before, and I'm not sure how much I would enjoy them, but you never know until you try it. 
All teas are $5.00 and toppings are 75 cents each, so the total comes out to $5.75, which is a reasonable price compared to the other shops. 
Additionally, Bobo has many places to sit with tables, booths, and a seating area around a fireplace. Since it has so many different types of seating it is comfortable for all. 
I recommend this bubble tea place to everyone, especially those who are looking for a cozy place to hang out. 
Bobo bubble tea felt like a real café where I could actually sit down and enjoy my drink. It was a nice change of pace compared to the other bubble tea shops I have been to. 
The uniqueness in their drinks will keep me coming back for more. 
Out of every shop I have ever been to, this is my favorite.