"No Time To Die": A Revolutionary James Bond Movie
Originally set to drop in theaters in the spring of 2020, the newest and last James Bond movie made its long-anticipated release more than a year later, on Oct. 8, 2021.
On opening weekend, "No Time to Die" made more than $55 million domestically and over $300 million worldwide.
This installation of the James Bond series also has the longest run time of any James Bond movie ever made, at 2 hours and 43 minutes. But the length of the movie in no way draws you out of the experience. 
With the second-highest production budget of the James Bond franchise — after "Spectre," at $250 million — the money was well spent putting together an action-packed movie, unlike anything the 007 fans have seen before.
As is common for James Bond movies, this movie featured an artful title sequence in which the title of the movie was worked into the song.
Billie Eilish released "No Time to Die," the song for this movie, in February of 2020, making her the youngest person to ever write and record a theme song for a James Bond movie, at 18 years old.
Although "Writing on the Wall" by Sam Smith is my favorite song from the franchise, "No Time to Die" easily makes my top three, sitting right before "Skyfall" by Adele.
While the song plays in the movie, viewers see classic elements of James Bond title sequences on screen. In James Bond movies, there are opening sequences that usually feature Bond's silhouette walking into the opening of a gun barrel and then releasing a shot from his own gun, followed by red filling the screen. In the most recent movie, it was evident how far technology has come in constructing beautiful title sequence shots that worked to foreshadow the movie's plot. 
Building on the classic elements of that sequence, there was a well-placed shot in the actual film where James Bond stands in a long round hall reminiscent of the title sequence shots, and Bond is viewed standing from through the hole of a gun barrel.
I adored all of the throwbacks and nostalgia that this movie utilized, making it a fantastic James Bond movie for longtime fans.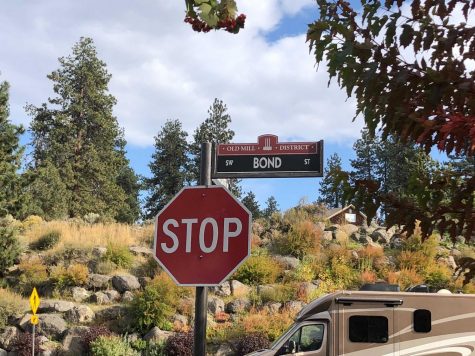 One aspect of the movies, while not vital to the story, that my family and I always love to see is the variety of gorgeous old cars. It simply wouldn't be a James Bond movie without 007 driving an old and classy car in a high-speed chase.
However, one ingredient to a James Bond movie that I did not miss in this movie was the expected fling between Bond and a random girl that has never been seen before, and won't be seen in any movies to come.
To my relief, "No Time to Die" gets rid of this part of the formula.
The poor female representation was the one part of older James Bond movies that I didn't enjoy, but due to nostalgia I always looked past it.
Instead of Bond charming a woman that has no relevance to the core plot other than providing motivation if she happens to be killed, Bond has what seems to be the stereotypical Bond relationship towards the beginning with Madeleine Swann. For those who are a part of the fandom, this character is recognizable from "Spectre."
When Lea Seydoux reprised her role as Madeleine Swann, she made Bond history.
By making Swann relevant to the plot, "No Time to Die" is the perfect James Bond movie for those who usually don't enjoy James Bond movies. Swann's part in the plot was refreshing. 
"No Time to Die" also has a female agent outside of the Queen's service. Ana de Armas played Paloma, a newcomer to the world of espionage.
De Armas also played Marta, the protagonist in "Knives Out." Daniel Craig also played a substantial role in that movie as a detective. 
In both "Knives Out" and "No Time to Die," these actors work well together and have great on-screen chemistry, whether it's as partners in a high-stakes undercover operation, or as interviewer and interviewee. 
Although this is the last movie with Craig as Bond, I would love to see Paloma as a recurring character as she continues to learn the ropes and gain experience as a secret agent.
In addition to Bond's romantic interest having plot relevance and Bond being able to work alongside a woman without her becoming a fling, "No Time to Die" made good on their promise to have a female double O agent. Lashana Lynch played secret agent Nomi.
Up until how they utilize Nomi, I love every other aspect of this movie. 
Early on, we learn that most people are or claim to be under the impression that Bond is dead, and in light of that, Nomi takes on the mantle of 007. 
When Bond discovers that he has been replaced as 007, we get hilarious interactions between other employees of the agency trying to comprehend Bond, the old 007, being back and walking alongside Nomi, the current 007.
We even get a little bit of witty banter between Nomi and Bond over the title 007.
As someone who grew up watching James Bond movies, I enjoyed that the passing on of this number title was something the organization did without Bond knowing.
When I originally heard that there was going to be a female 007, I wasn't happy with the idea of the number belonging to any character other than James Bond. A big contributor to that feeling was that it wouldn't be in character for Bond to give the title up without ample reason. Bond wouldn't have given up the number and I was worried they would do that resulting in an unnatural feeling to the character.
By having the number passed on without Bond knowing and having it be a call made by the organization after believing he died, "No Time to Die" was able to use this plot point as a source for some comedic scenes.
Even though this movie had lots of potential for a comedic rivalry between Bond and Nomi, there were very few scenes where they explored it. At one point, Bond tries to do the same mission as Nomi in his own way, resulting in a comedic butting of heads.
Throughout the movie in general, they failed to explore the potential of Nomi's character as 007.
It was disappointing to only see Nomi in action when Bond was beating her or they were working together, and it seemed like she served more as a sidekick. Yet even a good sidekick would have had more screen time than the writers gave Nomi.
Despite the talented acting from Lashana Lynch, the writers gave her barely anything to work with.
There isn't even a last name listed for Nomi on IMDB, which, unless will later have a warranted reveal, further illustrates how little work went into the character. 
The utter lack of work put into developing Nomi's character was evident across the story. Going forward, I hope to see Nomi grow into the role of 007.
Between classic Bond elements and refreshing female representation, this is an incredible James Bond movie for both returning fans and those who have been hesitant in the past.
Although I was disappointed by how the writers did little to expand Nomi's character, the movie was fantastic overall, from the well-choreographed fight scenes to the closure around parting with Daniel Craig's James Bond.