Student of the Week: Tatum Murphy
For junior Tatum Murphy, the last year has helped to shape the individual she is now.
"The past year has really changed me as a person," Murphy said. "I feel like I'm a completely different person. My priorities are different." 
Struggling to find motivation, Murphy found that when prioritizing and allowing herself to relax and spend time with her friends, she has the most success. 
"Don't take things too seriously, take time for yourself," Murphy said. "Nothing's really permanent. When I'm prioritizing myself and not taking things seriously, and actually having fun, [I do well in my classes]."
Murphy considers herself a visual learner, and stays on top of her work by keeping a planner and making to-do lists. Last March, when online school started, Murphy said she enjoyed the schedule of everything being due by midnight. 
"I really liked last year when we were able to do everything on our own because I am very independent and can motivate myself," Murphy said. 
After La Salle began offering in-person school, Murphy decided it would be good for her, as it would hold her "more accountable" and allow her to "actually feel like I got more out of my time," she said. 
Murphy's schedule consists of a few advanced classes — one of them being Honors Spanish 3 with Ms. Amy Gantt. Although Murphy disliked Spanish prior to taking it at La Salle, it has since become her favorite class. 
"When I started, I had Ms. Gantt my freshman year, and I really loved it," Murphy said. "Then I just realized I wanted to take it even after the [required] two years."
Looking forward to her senior year, Murphy forecasted for Anatomy and Physiology, Honors Spanish 4, and yoga. One of her main goals for next year is to take classes that will be enjoyable and challenge her, but not stress her out. 
"I feel like I'll [live] more in the moment, and I'm not going to be like, 'OK, so I have all of this [to do],' and not having to worry about [as much]," Murphy said. 
Outside of La Salle, Murphy spends lots of time volunteering with her mom for the National Charity League, an organization for mothers and daughters. 
"I like going to the Wichita Center — it's for families in North Clackamas that are [living] in low-income areas," Murphy said. "They have a food pantry and they collect clothes and donations." 
Murphy participated in one fundraising event for students where they filled backpacks with the school supplies each student needed. "It's very special," she said. 
When she's not at school, or babysitting her four-year-old sister, Murphy works at a local daycare caring for babies and young children. 
"I'm really excited for summer [and] to be able to work a lot more because I love it so, so much," Murphy said. "It's harder [to work] when I'm in school because [of] time, and it's only open during the week. It just depends on my schedule that week — I can work four days or I can work one day." 
From working at a daycare, Murphy has found a real love for caring for children and hopes to go into an occupation with similar work. 
"I want to go to nursing school [and] I want to be a pediatric oncology nurse [to] work with kids, and be a long-term caretaker," Murphy said. 
Murphy's mom has also inspired her to go into the medical field since she is a nurse and works in the NICU with premature infants.
"I always knew that I wanted to do [something like that], but I've always had a really hard time deciding what I wanted to do," Murphy said. "After I started working at the daycare, I realized I want to do something like that for the rest of my life. I want to work with children."
After La Salle, Murphy is not sure where she wants to go for college, but she does not plan to stay in Oregon for the rest of her life. 
About the Writer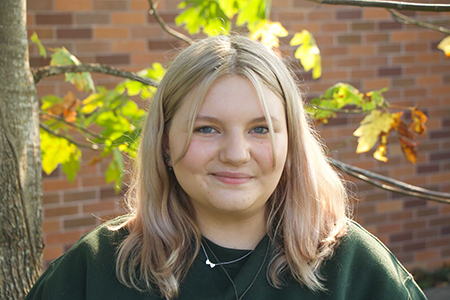 Avery Eldon, Staff Reporter
Avery is a junior at La Salle. In addition to serving as the club moderator for the Menstrual Advocacy Club, she is a part of the Service, Mental Health...