Day of Silence: Why I Participated
Towards the end of my last period on Thursday, April 22, a friend asked if I'd like to help them hang some posters around the school for the Day of Silence. 
Before April 22, I had never heard anything about this. So I did some research, and gathered that the Day of Silence sounded like an important opportunity to show support for the LGBTQ+ community.
Day of Silence is a student-led demonstration that a college student started in the mid-90s and has since grown nationwide.
Participating in the Day of Silence entails taking a vow of silence for the school day to draw attention to how harassment and bullying towards LGBTQ+ students has silenced some of their voices.
After school that evening, I joined some friends and classmates to help hang up posters promoting Day of Silence, which would take place the following day.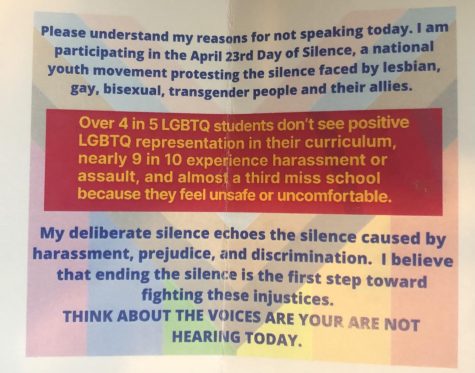 With my curiosity spiked I did a little bit more digging and discovered GLSEN.
GLSEN is an organization that helps make school environments safer for LGBTQ+ students. They help to run this demonstration through sharing news on how to participate and this year hosting a virtual assembly for students to collectively break their vow of silence at 7:00 p.m. ET.
The morning of the Day of Silence, my friend and I helped to hand out cards at the entrance in the Saalfeld Athletic Center, for students choosing to participate.
As sleepy students piled through the double doors, caffeine yet to set in, most barely took notice of the cards we were handing out for those who wished to take part in the vow of silence.
Staying silent definitely made this process more difficult.
Many students assumed we were checking for a green screen on the SchoolPass app to signify they were safe to attend school or skimmed the text with a confused look.
The abundance of students that had no clue what the day meant comforted the part of me that felt a twinge of guilt for never hearing about it. 
This made me wonder how big of a deal this could be, if it was such a mystery to La Salle's population. Generally when things are important, you see postings on social media stories or you at least see that a decent number of people understand what's going on.
Although it was seldom that I saw cards from that morning in the sides of backpacks or in hands as I traveled in between classes, seeing that other students had taken the vow felt empowering and made me proud of my school. 
Nevertheless, sometimes the silence felt like a burden.
In between periods I would see friends in the hall and couldn't call out to them or I was asked a question and tried to use charades as a means of communication, and that's one of the important takeaways I got from spending the day without speaking: silence can be a burden.
Sometimes silence is prompted by harassment and bullying that targets LGBTQ+ students.
The brushing over of LGBTQ+ voices in curriculum can motivate them to stay quiet. I can't recall a time when health classes covered something beyond the heteronormative and binary perspective without it being a guest speaker that was leading the lesson.
The Day of Silence puts a purpose behind not using your voice and draws attention to those who don't on a regular basis because of the aforementioned reasons. 
Even if you are not a part of the community, I think that it's especially important that allies experience this because they don't have those shared experiences of students that don't feel safe at school because of who they love and how they identify.
Later that day I attended the "Break the Silence" virtual rally, hosted on GLSEN's YouTube channel.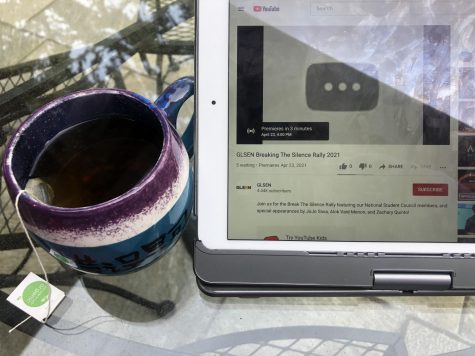 For this year's virtual rally hosted by GLSEN, the theme was "My Silence, My Story." Three guests came to speak during this premiere and share their experiences.
Zachary Quinto was one of these guests who spoke at the virtual rally and who is best known for being an actor in Star Trek.
"On that day that interview came out, I also wrote a piece and put it online just further explaining my motivations and having an opportunity to tell my story myself," said Quinto in reference to when he came out out as gay during an interview in 2011 with New York Magazine. "I remember the feedback… that I got from people in my life and strangers from really all around the world who were so supportive and encouraging and I felt so seen and valued."
As someone with fame, Quinto was subject to judgment and support from more than just friends and family. Receiving open support from total strangers was a given and made easier by his status.
High school students, especially those who aren't ready to or aren't in safe circumstances to come out, don't get to experience this. However, the Day of Silence gives members of the LGBTQ+ community and allies alike the opportunity to show their support.
Specifically hearing how seen and valued Quinto felt from the support he received from people he did and didn't know really highlighted for me how important that solidarity in silence was.
Alok Vaid-Menon, an American author, shared their story about how it was an obstacle to be accepted by their friends and family.
The final guest speaker was celebrity and dance performer Jojo Siwa. Siwa shared her experience about how coming out was for her as an influencer.
Seeing how this meant so much to celebrities further showed me how impactful this can be to showing people you support them by just taking one day out of your year to be silent with a purpose.
Despite being someone who is normally quiet, it was a struggle to not talk all day, but I wouldn't trade the experience. If anything, I hope that as time goes on more students at La Salle will join the movement so that we can make the community at our school a safe and welcoming place where everyone feels seen and accepted.