New Marvel TV Show Introduces a Female Rendition of Hawkeye
Disclaimer: Speculation based on the comics may lead to spoilers
Based on the comics, the torch of Hawkeye is likely to be passed on to a younger hero, a female Hawkeye, during the upcoming TV series.
Believed to be released later this year, Jeremy Renner will be reprising his role as Clint Barton in the new Hawkeye television show, but this time, he will not be the only star of the show. 
Despite the theories derived from Barton teaching his daughter, Lila, archery in "Avengers: End Game," it appears that the character Kate Bishop will be the star of this particular series.
In "Young Avengers #1," released in 2005, the comic series follows the next generation of superheroes. More recently Bishop has appeared in "West Coast Avengers #1," a comic series launched in 2018.
Since her debut with the Young Avengers, Bishop has had her own Hawkeye comic series and now is speculated to be the star of the upcoming TV show.
IMDb has listed Hailee Steinfeld, who you may know from "Pitch Perfect 2" or the recent TV show "Dickinson," as the actress set to play Kate Bishop. 
On her Twitter, Steinfeld posted a picture in costume, showing that the series will be keeping Bishop's iconic purple palette for her superhero apparel.
As of now, there is one teaser trailer and an extended version.
Released in late December of 2020, a teaser trailer reveals that Nick Fury kidnaps Bishop and asks who she's working for. 
During the trailer, Bishop is seen on a computer looking at suit designs similar to that of War Machine's — suggesting the possibility of James Rhode, the Marvel Cinematic Universe's (MCU) current hero under the name of War Machine and then later on Iron Patriot, making a cameo throughout the first season.
Crossing over from the upcoming Black Widow movie, actress Florence Pugh has also been confirmed to join the Hawkeye show as Yelena Belova, who in the comics, takes up the title of Black Widow. 
In the Hawkeye comics by Matt Fraction, Barton takes Bishop up as his protégé as Bishop also acts as his voice of reason, forming a great dynamic.
Another confirmed character for the series happens to be Lucky the Pizza Dog, an adorable golden retriever whose title comes from the dog's favorite snack being pizza bites.
The comics introduce the dog during a run-in Barton had with the Tracksuit Draculas, a mobster group, where Lucky is hurt. Following the battle, Barton went to extreme measures to bring Lucky to a vet.
No Marvel masterpiece is complete without a villain to push our beloved heroes.
Maya Lopex, also known as Echo, will be played by Alaqua Cox. Like Barton and Bishop, Echo is also a vigilante with her niche being the ability to copy (or echo) someone else's moves.
Echo's father is Crazy Horse, also known as William Lopez, who will be played by Zahn McClarnon. In the comics, Crazy Horse is employed by the infamous Kingpin.
"Agent Carter," another Marvel series that aired in 2015, introduced the villain Madame Masque, who also plays a role in Bishop's story. 
Madame Masque employs Bishop's mother Eleanor in the comics, although the readers are first led to believe Bishop's mom is dead. With Wynn Everett already cast as Madame Masque, there is a door open for a crossover in the series.
It will be exciting to see another female hero join the MCU. After reading the first few comics, I'm excited to see where this show goes.
About the Writer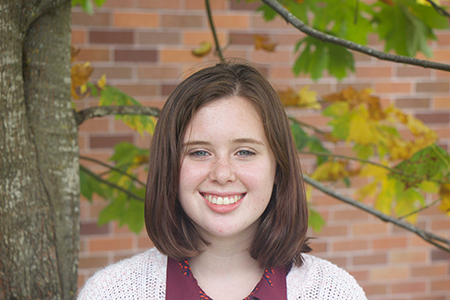 Avery Marks, Staff Reporter
Avery is a sophomore at La Salle. Outside of school, she enjoys hiking, reading, and listening to music.