"It Means Everything": Competitions Return Amid an Altered Fall Sports Season
Just over a year after school sports and activities were shut down at the beginning of the COVID-19 pandemic, fall athletes have finally been able to return to the fields, courts, and tracks to compete for La Salle again.
To organize a fall sports season this year, La Salle athletic directors and staff met with other 5A and 6A school leaders in the Portland metro area to create conference schedules for each of the teams.
Fall sports teams — including football, volleyball, cross country, and girls and boys soccer — are part of the Oregon School Activities Association's season two, following a long season one from Aug. 31 to Feb. 21, during which selected sports were allowed to train, but not compete. 
"I told the guys, last Friday I woke up with tears of joy, because, if you would ask the month before, honestly I didn't think we were going to have a season," head football coach Aaron Hazel said several days after the first football game of the season. "I'm just so excited, and our kids have been out there, working their tail off to have a chance to get out and compete."
With the commencement of the season two schedule, fall sports teams began weekly practices on Feb. 22, and competitions on March 1 that will continue through April 10. This schedule was implemented across all sports with the exception of football, which was allowed to begin practices a few weeks earlier because of safety concerns. 
In the final week of competitions from April 5 to 10, each sport will have a different culminating event, which is up to school leaders to organize. As of right now, La Salle's cross country team is the only fall sport that will be able to participate in an official district competition, but Athletic Director Mr. Chris George and other coaches are working to set up final competitions like local tournaments or specially-organized competitive matchups for the other fall sports teams. 
Accompanying this shortened fall season is a plethora of guidelines and regulations. Although specific sports have individual rules around spectators, travel, and occupancy levels, "the biggest thing we keep coming back to with kids and coaches," Mr. George said, "is keep your distance and keep your mask on."
"We're trying to help kids and coaches understand [that] if a person has [COVID], and you are closer than six feet for longer than 15 minutes, it doesn't matter if you've had your mask on or not, and it doesn't matter if you're inside or outside," Mr. George said. "We're still being told by our county that the exposed persons that were with the affected individuals will have to quarantine." 
As Mr. George and other athletic leaders continue emphasizing the importance of masks and distancing across all sports, coaches and players have had various experiences adapting to these new regulations. 
For some players who have become accustomed to wearing masks while training during the pandemic, "it's almost a part of the uniform at this point," said senior Molly Jenne, a player on the varsity girls soccer team.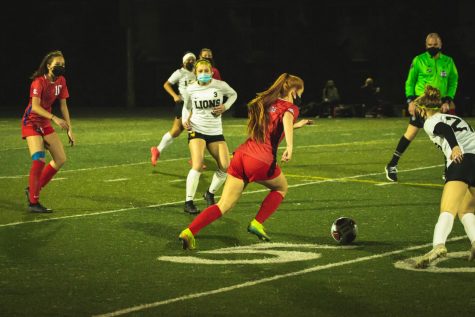 Similarly, guidelines like social distancing have not had too much of an impact on some teams, according to senior and cross country runner Ben Scott-Lewis, who added that "our team's done a really good job of staying connected, despite the precautions."
However, some regulations — and masks in particular — can pose difficulties, especially for sports like cross country that require a high level of physical exertion. 
"You're really pushing your body to the limit," said Mikel Rathmann, head cross country coach. "We can pull our masks down and do a quick breath, but in the end, you're still running a 5k as hard as you can, so there's really no room to catch your breath."
Mr. George understands that it can be difficult to wear masks during athletic activities, and said that masks are likely "the hardest part" of the regulations this season.  
Although Mr. George recognizes the difficulties of adhering to mask regulations, he also knows and highlights the importance of masks in limiting spread of the virus. "We're asking our athletes and our coaches that if you need that full breath, step away from others, take that full breath, and then go back to wearing a mask," he said. 
Along with new coronavirus precautions, fall sports players and coaches have experienced a number of other differences in their season this year, one the most significant being the extended preseason during OSAA's season one, during which some teams were allowed to spend more time preparing for their season. 
"The long preseason definitely helped us get to know each other," senior and soccer player Pel Marks-Bienen said. 
Jenne also appreciated that during the preseason, her team "really learned all of each of the playing characteristics of each person, so we know exactly what they're going to do when they get the ball," she said. "I think that in itself has benefited our team."
Similarly, Coach Hazel said his team has "been forced to really become tight and really sacrifice for each other." Because participation numbers in football are down this season — a trend that is reflected in several other sports as well — Coach Hazel said "it's just not an option for guys to just be there for themselves… The positive sides to having low numbers is that we have kind of taken care of some of that team bonding, just by necessity."
After the extended preseason that has involved lengthy preparations and bonding for some teams, the ability to return to a formal sports season has been met with excitement and gratitude for many. 
For Marks-Bienen, being able to have a soccer season "means everything, honestly," he said. "We've been waiting for this for a long time, so it's really really good to be back out there. I know everyone's super excited… Sports are a great outlet for a lot of kids, and it just really helps them cope with everything that's going on, all the changes."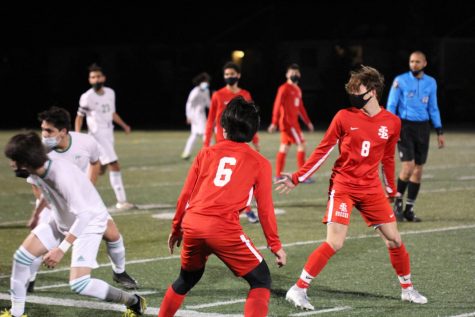 Junior volleyball player Peyton Stephens feels that being able to play sports "makes my mental health better," she said. "I feel more motivated, and I feel like I'm doing something productive instead of just sitting in my house during school." 
Though the official seasons have been shortened, junior Natalie Pfleger, who plays soccer, said that she is glad to be able to compete "even if it's only for a little while." 
Pfleger said that having to take a break from soccer made her realize how she may have previously taken it for granted, and heading into this season, she is more grateful for "the trainings and the games, and being able to see my friends," she said. "There's still days that I'm like, 'I don't really want to go to practice,' but… who knows, COVID could get worse or something, and something else could happen, and then I'm not going to be able to play."
An air of gratitude and excitement is a common theme among the athletes in season two sports, including senior and football player Michael Drenner. "Everyone who has been playing, especially the seniors, we are so thankful even though it's pretty tough… but it's still just such a blessing because football is just amazing," he said. "Football just makes you the best you can be." 
For Coach Hazel, having a football season "means everything… These kids need it so bad — not just our team, but all athletes, and all high school students need the opportunity to get out, whether it's play sports, or be in the band and play at the game, or be in theater and perform," he said. "We're social beings. We need that opportunity to get out and do what we do best."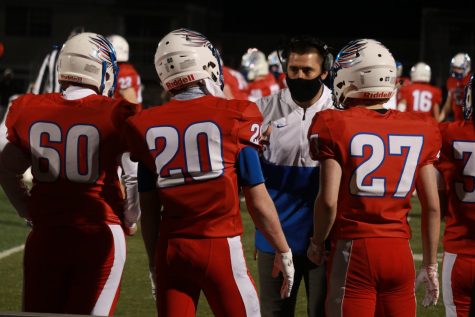 So far, all sports have had at least one competition as part of their season two schedule. While many players and coaches are happy to be competing again, some report that games and meets this year have felt unusual in some ways. 
"It still felt like a football game, and it was really tough and there's the same kind of drive that you have to have, but [not] having fans in the background — even though it kind of turns into white noise while you're playing — it's way different," Drenner said. 
Similarly, Marks-Bienen has also felt disappointed over the lack of spectators at his soccer games. "We're still focused, obviously, have our heads in the game, so the adjustment hasn't been huge but we're definitely missing the support," he said. 
As the season progresses, some sports are gradually gaining spectators at their games.
"We have a lot of talented athletes, that's for sure, so I hope that people are trying to watch them online when that happens, and then as we can, get more and more people back on campus to watch games," Mr. George said. 
Even with its unusual nature, Pfleger said that enjoying the season is important to her. "I feel like a goal this year is to have fun too," she said. "Since it is a short season… still make it fun while working hard."
Making the most of the season is also important to Coach Rathmann and the cross country team. "My main goal as a coach is that people enjoy being physically active and will want to do that for the rest of their life," he said. 
For junior Erin McGinnis, this cross country season provides the opportunity to step away from the pressure of competition and refocus her mentality on enjoyment. 
"I'm not as worried about, you know, beating certain people, because I have no idea how much they've trained in the past winter, and so it's not really a fair comparison," McGinnis said. "It's definitely a time for me to step back and just really focus on enjoying it for myself and really just having a good time, because that's really in the end what matters."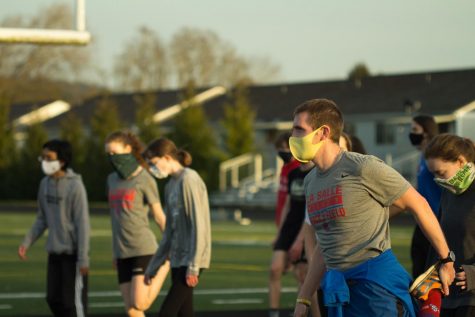 Cross country is planning on having four races throughout the season, with less competitors per race than a typical season would bring. According to Coach Rathmann, larger cross country invites typically have around 200-300 competitors, but are significantly smaller now.
"La Salle tends to do races with as many other teams as we can," Scott-Lewis said. "As an extra COVID precaution, this year we're doing a couple of dual meets… a lot less athletes are out there on the course." 
One challenge Coach Rathmann has faced surrounding this shorter season is balancing chances to compete with opportunities to train. "You kind of sacrifice opportunities for 5Ks for extra training, to try to prepare for the best 5K you can at the end of the year," he said.
For the football team, there won't be the typical  potential to compete in a championship as a culmination of the season. However, Drenner said that one focus of his is to "have fun with what you have," and that he hasn't lost the motivation to improve. 
"In my eyes, it's have fun, but play hard," he said, "[and] get better as quickly as we can."
Mr. George said he is "impressed with the perseverance and the maturity a lot of our kids and coaches showed throughout a long period of time to just kind of keep the faith and stay hopeful and stick with it," he said. 
In addition to individual and team goals, Mr. George said that the safety of the athletes and coaches is a priority as season two continues. 
"We don't want our sports to be ignorant of all of the safety and health protocols we have to have in place, so that's number one," Mr. George said. "Number two is to have fun. I've talked to our coaches a lot about [how] our priority needs to be making sure kids are having an enjoyable experience, and they're having a good time."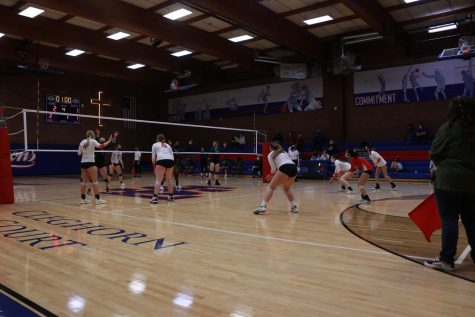 Mr. George said that it can be challenging if there are losses of games, or if precautions make the season feel different than expected. "But, knowing where we've come from with COVID," he said, "and that we lost the privilege of playing sports competitively, we can't dive back into an ultra-competitive environment and ignore the fact that we're happy to be here. We're grateful we get to do this." 
Stephens also acknowledged that players want the season to feel normal, but "it's not going to be normal," she said. "You have to be happy that you're even playing sports at all. So I think just staying positive just helps… like 'We're actually able to play,' and not, 'Oh I wish we had spectators.'"
Coach Hazel also emphasized the importance of being positive and present throughout this season.
"We have another saying of 'Be where your feet are,' and this [season] was not a sure thing," Coach Hazel said. "I think we've learned that nothing is guaranteed, and so to be really present, be in the moment, and appreciate what you have, and work to get better, and to make sure that you're not taking any second for granted… I would say that's kind of the biggest thing or impact that you can take from this season right now."