Editorial: Amid a Stressful World, Take The Time To Be Thankful
2020 has been a year like no other — no doubt about it. 
It seems like each month has brought a new distraction or stressor to our everyday lives. The COVID-19 pandemic has undeniably influenced every single person's life, and has been a topic of conversation for months. 
As we near eight months of living through a global pandemic, we could all use a break — a break from digital learning, from paranoia, from stress, and worry. Though we can't wait for a break to come, it is important that we move away from the headspace stress creates, where focusing on downsides becomes the default.
With Thanksgiving approaching, we all need to exhale, take a breath, and be appreciative of the good things in our lives. Take a moment to say thank you. Say thank you to your family, friends, teachers, and other important figures.
Use this time to be especially grateful for opportunities. For example, cherish the opportunity for education. Though most of us would rather be learning in a classroom, at La Salle, we are fortunate to have technology and the ability to continue learning. UNICEF reported in August that around 463 million kids in school globally couldn't access remote learning when COVID-19 closed schools. 
We experienced a smooth transition as our education went digital. It's possible for us to learn from home, lowering the risk of virus transmission. We should be grateful for health, safety, and for those who are working to protect us. 
Appreciate your home, too. As of August 2019, 2,037 people were sleeping outside on a given night in Multnomah County alone. The wildfires that burned across the west coast in September have left many without housing as well. As temperatures get colder and COVID-19 cases surge in Oregon and nationwide, take a moment to be grateful for shelter and warmth. 
Everyone has been impacted in one way or another by the pandemic and other events from the past few months, maybe even the past year. Whether it be politically, socially, physically, or mentally, people have gone through a lot. 
It can be hard to think positively when day-to-day news feels heavy. Despite this, we should not overlook the good things in our lives — the things or the people that have made the hard days better or the rough patches smoother. 
Along with showing our gratitude, we should also show our support for people who need it right now. Acknowledge the privileges in our lives, reach out, and strive for a stronger community. 
We all have things to be grateful for, and during this time of thanksgiving, we all need to take a deep breath, set aside our worries for a moment, and say thank you. 
About the Writer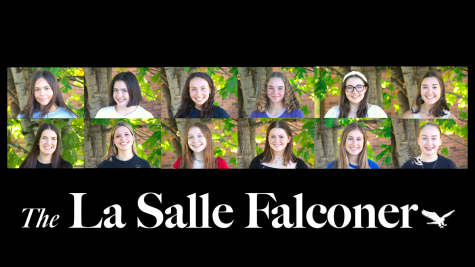 The Editorial Board,
The editorial board of The La Salle Falconer is composed of the students in Advanced Journalism, who make all decisions about the publication's content....