Next Level Seniors: Alexis Kemp Elevates Her Softball Career by Committing to Regis University
Senior Alexis Kemp has been playing softball for eleven years, and she has now committed to play at Regis University.
She is a part of a select few seniors who have signed to play sports at the collegiate level, students we are showcasing in our Next Level Seniors series. 
"I can't really remember a time throughout my softball career where I wasn't pitching," Kemp said. When she was seven years old, her parents signed her up for her first club team. "It was the only sport I kind of fell in love with."  
Throughout her softball career, Kemp said that her biggest challenge was setting herself apart from the local competition and being her own player. "I think that that's made me a lot better of an athlete because I've been able to… push through that." 
This growth helped Kemp through the recruiting process, especially when she struggled to get in contact with coaches. "I kind of started to think that maybe I wasn't going to be playing in college, and that was really difficult," she said.
But then, she received the opportunity to commit to Regis University through a camp she attended on their campus during January of 2019. Everyone else except for her and one other player had canceled last minute, but Kemp decided to go anyway and was offered a spot after the coaches saw her play for around 30 minutes. 
"It was kind of surreal, just because it all happened so fast," Kemp said. "I definitely wasn't going out to Denver and looking to commit… I mean, obviously, I was very interested in the school, but that wasn't something I was expecting to come out of that visit." 
After she returned home to the rest of her family, Kemp accepted the offer over the phone. On November 13 that year, she signed her letter of intent. "It was nice to do it at school because a lot of my friends could come," Kemp said. She signed her letter alongside seniors Jackie Blakely and Nina Timmen, who have also been showcased as Next Level Seniors.
Kemp said that the main reason she was interested in Regis University was their small campus size. "Everything's within walking distance, [and] you're going to recognize a lot of people," she said. 
She also appreciates the competition within the softball team at Regis. "One of the things [the coach] said was that we have D1 caliber girls at a D2 level, and I think that was probably the biggest thing for me," Kemp said. "As I talked to more schools, D1 wasn't really something that was on my radar, I just wanted a school that was good for me." 
Kemp has also been in contact with many of her teammates at Regis University, and she will be sharing a dorm with one of her teammates while majoring in health and exercise science and minoring in Spanish. 
"For the longest time, I wanted to be a teacher," Kemp said. She wanted to teach math, but halfway through her senior year, she changed her mind and decided to go into physical therapy. She also said that at some point after college she would like to coach softball. 
In order to continue growing her softball skills despite the current quarantine, Kemp has been pitching at home with her dad, as well as attending virtual sessions with her trainer through her club team's training facility. 
The club team that Kemp is a part of is called "The Bat Company," which she has been a part of for five years. "I absolutely love it," she said. "It's literally like a second home to me… All the girls are my family." The team has players from a variety of locations, such as Eugene, Hood River, and Washington.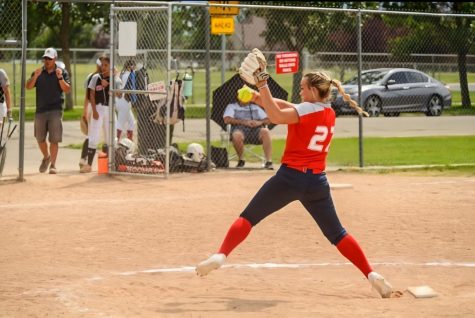 But this year, due to the COVID-19 outbreak, her senior softball season was canceled. Despite Kemp "seeing it coming," she said that when she found out she was still "a mess."
"A part of me wishes I gave more in my high school experience, just because I always liked club ball way more, and high school was just kind of there," she said. "[And] I think procrastination kind of progressively got worse as I got older." 
Kemp said that she misses school "every day," and encourages underclassmen who still have next year to not "take things for granted."