Next Level Seniors: Nina Timmen Chooses to Continue Her Decade Long Volleyball Career at Baker University
For senior Nina Timmen, volleyball has been a major part of her life since she was young. She began playing in third grade on her elementary school's team, but had been surrounded by the sport for years beforehand because her older sister played as well.
Timmen is a part of a select few seniors who have signed to play sports at the collegiate level, students we are showcasing in our Next Level Seniors series.
Next fall, Timmen will be playing volleyball at Baker University in Baldwin City, Kansas. "I love the sport, I love the campus, and I love the coach, so I think all of those things combined definitely helped me make the decision," she said.
Timmen has played club volleyball for Athena Volleyball Academy for eight years. She was also a part of La Salle's varsity team during her sophomore and senior year. Her junior year, Timmen was cut from the varsity team, so she decided to take the year off rather than playing on the JV or JV2 team due to the fact that she was not guaranteed a spot on either team and didn't want to go through the rest of tryouts to be cut again.
When Timmen was cut after being on the team the previous year, she questioned if she should even continue playing volleyball. After a couple months of deliberation and talking things through with her family, she decided that she loved the sport too much to just quit, so Timmen played another club season with Athena. "[Being cut] makes you question your whole ability to play a sport," Timmen said.
Returning to tryouts her senior year was a difficult decision for Timmen to make, as she didn't know the new coach and was nervous for the outcome. "I had friends that helped me become comfortable," she said.
Timmen did not seriously consider playing volleyball after high school until later on in her high school career. "Junior year, I started to take it seriously and I was like, 'I do love the sport enough to continue,'" Timmen said.
With help from Athena, Timmen was put into contact with different schools across the country that were looking to recruit new players. She then attended volleyball camps at three different schools in Texas, Tennessee, and Kansas.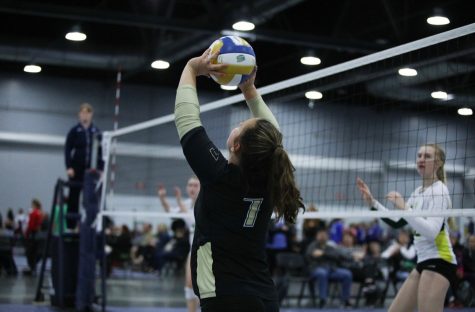 Immediately after returning from Baker's camp last summer, Timmen emailed the coach, and they began the recruitment process quickly after that. When she received an offer from Baker, Timmen was shocked. "Because of what happened my junior year, I never really envisioned myself going that far," Timmen said.
Along with playing volleyball at Baker, Timmen is planning to major in sports management with a minor in social justice in hopes of working as the head of community outreach for a major sports team. This would combine her two favorite things — sports and helping others.
Timmen's role model throughout her volleyball experience thus far has been her older sister, Gabrielle. With a six year age difference, Timmen was able to gain a lot of knowledge and advice from her sister, especially because she played volleyball at an out of state college.
"She explained how much dedication [and] hard work it takes," Timmen said. "It's going to be harder sometimes, [and] I just have to keep pushing through."
While Timmen may be attending college far from where she grew up, her sister lives in Kansas City, so she won't feel too far from home. Additionally, Timmen has always wanted to go out of state for college. "I want to explore," Timmen said. "Traveling is one of my favorite things to do, so I figured that staying at home wouldn't help me grow."
With her senior year ending in an unexpected way, Timmen said that she is going to miss football games, volleyball season with her old teammates, and her friends. In addition, she is going to miss office secretaries Ms. Judi Powell and Ms. Rhonda Fisher because she has known them since she was in the third grade.
While Baker University is on the smaller side with around 2,800 students, offering a smaller campus and environment, it also offers new scenery and a community that Timmen is looking forward to. "I'm excited to live in a new place, and I'm excited to meet new people," Timmen said.
Timmen's biggest piece of advice to students at La Salle is to "go with the flow," she said. Things are going to change, but she said that it is important to be able to accept this change and grow from it.
"Everything happens for a reason," she said. "Just realize that you're going to be okay."
About the Writer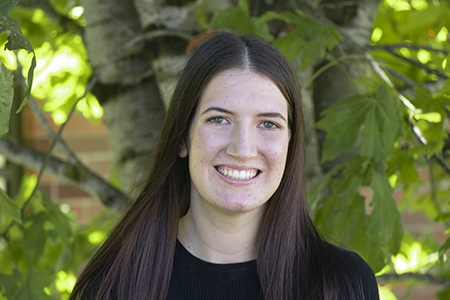 Mallory Middendorff, Editor
Mallory is a senior at La Salle. She enjoys participating in Spirit Club and Volunteer Club. In her free time, Mallory enjoys hanging out with friends,...