Next Level Seniors: Karter Cook Takes His Soccer Talents to Westminster College
Senior Karter Cook ended his high school soccer career as a state champion during the 2019 season. Now, he is looking forward to the beginning of his collegiate career. 
Cook is a part of a group of seniors who have signed to play at the collegiate level, students we are profiling in our Next Level Seniors series.
He has signed to continue playing soccer at Westminster College.
For Cook, he has always aspired to play college soccer. "It's always been a goal for [me] since I was a little kid," he said. "Being able to play [in] college is a big accomplishment for me because it's always just been on my mind."
Growing up, Cook played soccer for the club team Eastside Timbers up until this last season when he switched to the Westside Timbers. Even from a young age, while playing on club teams, Cook always worked to play on the most competitive team possible. "I wanted to push myself," he said. "I wanted to play on the best team."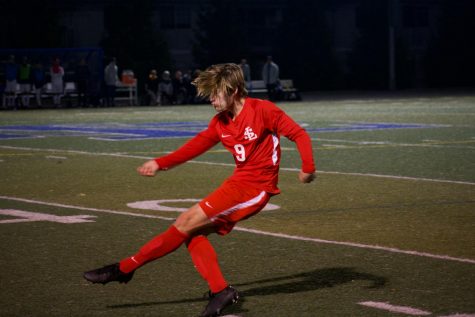 One of the reasons Cook chose to come to La Salle was because of the intensity and passion within the soccer program. Just like with club soccer, Cook wanted to play on the best team that he could join, and he felt that at La Salle, he was able to "play on the best high school team."
During Cook's time at La Salle, he and the rest of the current group of seniors helped leave an impressive legacy in the boys soccer program. 
Although Cook spent his first season playing at Clackamas High School, he transferred to La Salle after his freshman year. In his sophomore year, the boys soccer team made it to the state semifinals, where they lost during penalty kicks. In his junior year, the team had an undefeated season up until the state championship game, and placed second overall. In his senior season, Cook and the Falcons had a 17-0-1 record, and won the 2019 state championship. 
Throughout his high school soccer career, Cook earned both all-league and all-state honors. He received first team all-NWOC twice, along with two second team all-state mentions. 
Looking back, some of Cook's favorite memories have been playing with many of the same teammates since he was young. "I'll definitely miss playing with my best friends since I was five years old, like Luke, Sky, and Quintin," he said. "I'll miss the amazing memories [that] I have playing on that field, all the playoff wins, and running into the crowd of all of my best friends."
Reflecting on all of his memories throughout his time at La Salle, Cook said, "I don't think I'll ever forget them."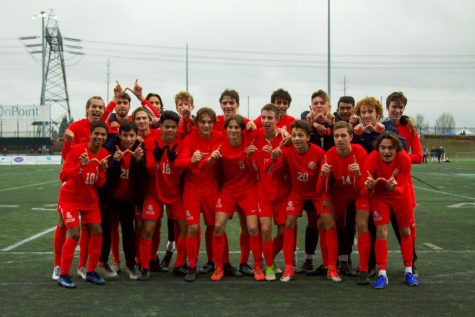 The next part of Cook's journey takes him to Westminster, a Division II school in the heart of Salt Lake City, Utah. 
Cook first connected with the coaches about six months ago after they saw him playing at a club tournament in California. "We just started talking and then he wanted to get me out on [an] official visit to play with the team," he said.
In early February, Cook had an official visit on the campus. Soon after, he announced his verbal commitment to Westminster, and officially signed a few weeks later. 
Though he had offers from other schools, Cook felt that Westminster was the most ideal fit for him. Along with liking the coaching staff, he said "I felt like I fit [in] really well with the players there." 
Outside of soccer, Cook is ready to take advantage of the snowy weather in Utah, and "is looking forward to snowboarding [in] Park City in the winter and [going to] the ski resorts."
While the COVID-19 outbreak has brought some uncertainty to the fall semester and soccer season, Cook said that as of right now, he is still planning to leave for Westminster in early August. He will start conditioning and training on campus until the middle of September when the regular season starts.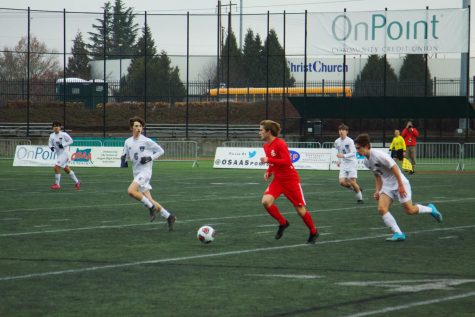 In order to prepare himself for playing soccer at the collegiate level, Cook has been spending time during quarantine working out, and tries to find time to train every day. "[I'll] get a couple guys around and kick the ball around, and [work] out and go on runs every day as well," he said.
Overall, Cook feels that he is prepared for college both physically and academically. "I know it's a faster and more physical game [in college], but I feel like I could pick it up really fast," he said. As for school, Cook said "I [feel] like La Salle has prepared me for college, so I'm not too worried."
About the Writer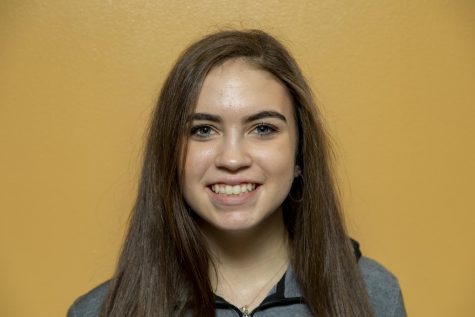 Mandy Sisul, Assistant Editor
Mandy is a junior at La Salle. She plays on the varsity basketball team and she is involved in the outdoor and spirit club. Outside of school, Mandy enjoys...