Admissions Director Ms. Katie Allen Remains Inspired With Her Career After 13 Years With La Salle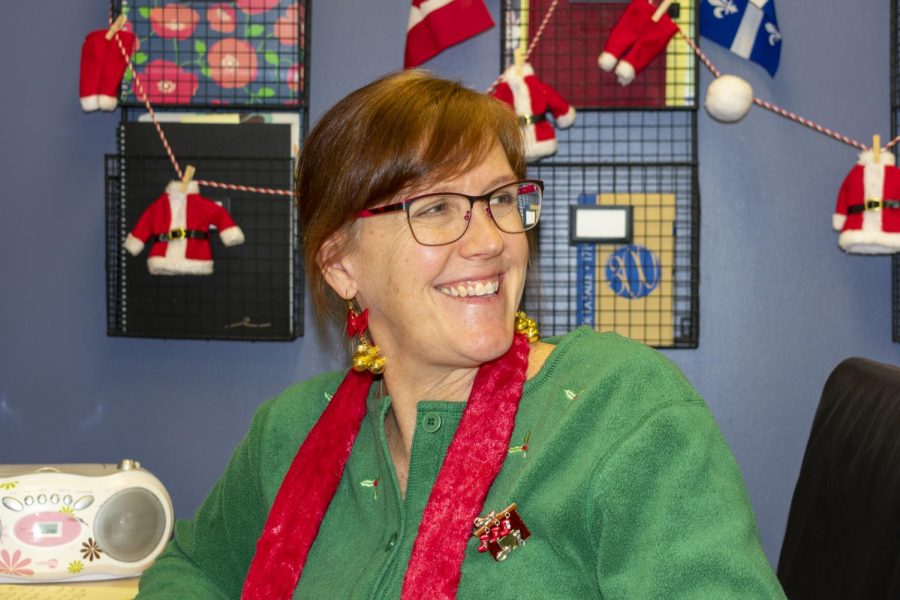 When transitioning from middle school to high school, the application process can be one of the many things that might be overwhelming for some students. Making the decision of where you would like to spend the next four years of your life can be a very stressful task.
At La Salle, potential students are guided through this process by Admissions Director Ms. Katie Allen, who has been working at La Salle for 13 years. Ms. Allen said that her time working at La Salle has been inspiring for her and that she has gone down a career path she never thought she would take. From running a pizza cafe to admitting future students to La Salle, Ms. Allen has always done what she loves. 
Ms. Allen grew up in Massachusetts. Her father attended a Lasallian school in Providence, Rhode Island, which was an all boys school. When she was young, she was always curious about the La Salle magazines that would arrive in her mailbox.
When she graduated high school, Ms. Allen and many of her friends decided to start a restaurant. Located on 22nd and Burnside, the group named the shop Pizza Oasis. After a while, the only remaining members of the original group were Ms. Allen and one other member. After selling Pizza Oasis and buying a coffee shop on 37th and Hawthorne, Ms. Allen opened and ran Oasis Cafe where she served pizza, gelato, and coffee for 25 years. "It was really fun," she said. "It was not a career I ever expected to do."
After graduating from Colby College in 1986, Ms. Allen moved to Oregon. She volunteered at Saint Ignatius and had her children enrolled there. She had recently heard about La Salle, and was curious if the La Salle she heard of in Oregon was connected to the Lasallian school in Rhode Island.
Turns out, it was.
Ms. Allen realized that her father was still very close with the friends he went to school with. She was interested in La Salle and wanted to know if two schools on opposite sides of the country could feel the same. So, she applied for the admissions director position.
Unfortunately, Ms. Allen did not get the job after becoming one of the final candidates for the position. Even though this was upsetting for her, she decided to go back to school to become an elementary teacher. About three months into her studies, she received a phone call from former La Salle President Denise Jones, saying there was a position open to be her assistant. Ms. Allen said that she had to accept.
After being the assistant to Ms. Jones for eight years, the job she originally applied for opened back up. Ms. Allen applied, and got the job. She has been working as the admissions director for five years. "I thought, okay, this is what I'm meant to do," she said. 
Ms. Allen's job requires two important requirements: to promote La Salle to prospective families, and to shepherd potential students through the application process. She visits Catholic grade schools and shares all the wonderful things La Salle has to offer. She also gathers documents, teacher recommendations, and transcript for review. She shares the info with the admissions committee, which consists of the school counselors, administrators, learning specialists and Ms. Victoria McDonald. 
Ms. Allen encourages prospective students to become involved in the La Salle community even before they apply or are accepted. To know what La Salle is all about, she believes students should attend sporting events, watch the school plays and musicals, come to Future Falcon Night and read The Falconer. "It's really important to see how a community interacts with other schools as well," she said.
Being able to watch students grow and graduate is Ms. Allen's favorite part about her job. "I get to watch them for four years and when they graduate, they are so different and they're confident," she said. "They know what they want in [the] next steps of their lives."
As part of her role as the Admissions Director, there are times when applications must be declined. Although it is hard to decline an application, Ms. Allen takes the time to personally call each family or student, and let them know exactly why they were not able to be accepted. "I personally call every family… and [I] explain that unfortunately, we're not able to offer their child admission to La Salle," she said. 
When it comes to making a good application, Ms. Allen says it takes hard work and dedication. "A good application for La Salle is a student who is trying hard," she said. "There are also applications where students [may] have struggled a little bit, but we can still serve those students really well, but they just have to be invested."
A typical application for an incoming freshman starts off with the shadow program, Falcon for a Day. After visiting, students can submit an application if they choose, which consists of four main questions: Why do you want to attend La Salle? What role does spirituality play in your life? What activities are you involved in? How do you see yourself playing a role in the La Salle community? 
Ms. Allen typically goes through about 300 applications for incoming freshmen every year. "We generally accept about 85 to 90 percent of students," she said. "By the time they apply they know whether or not they would be successful here."
The most rewarding part of Ms. Allen's job is experiencing the community she preaches about so often. She loves getting to know her students, eating lunch with them, and meeting with them during breaks and after school. "It's pretty neat to see kids come in and have no idea what their interests are but by the time they leave, they know a lot more about themselves," she said.
About the Writer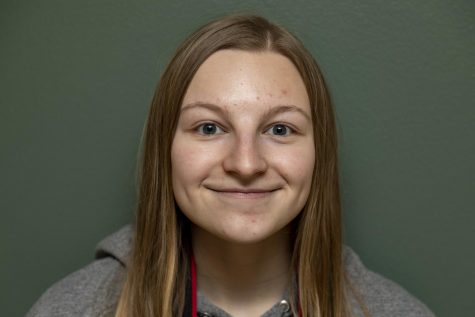 Hailey Reeves, Staff Photographer
Hailey is a senior at La Salle. She has a chinchilla named Tutter and a hamster named Peach. In her free time, she enjoys riding horses and spending time...