With Retirement Approaching, Mrs. Denise Jones, Educator of the Year, Leaves Lasting Legacy at La Salle
Hang on for a minute...we're trying to find some more stories you might like.
"This year's Lasallian Educator of the Year is… Mrs. Denise Jones." When Mr. Kuffner made this announcement in early September, many students looked around confused.
"Who's that?", some students said.
Many students may not immediately recognize or even know who Mrs. Jones is. However, throughout her nearly two decades at La Salle, she has made a significant impact on the school in her role as President, both behind the scenes and in many areas more widely noticed and appreciated by the community.
In addition to leading the school out of significant financial debt and instability, she has helped to dramatically increase financial aid, oversee the modernization of the school campus, institute the Signum Fidei program and the STEM Academy, and grow the student body to a full enrollment of approximately 700 students. Under her leadership, the school also changed from La Salle High School to La Salle Catholic College Preparatory, as part of an effort to better communicate the school's unique mission through its name.
This is Mrs. Jones' seventeenth and last year at La Salle. She has announced that she will be retiring at the end of this school year, a decision that she shared with the staff last spring. In apparent recognition of her lasting legacy here, the staff voted to give her the Educator of the Year award, which will include her delivering a speech at the Heroic Vow assembly that takes place tomorrow.
Her journey to becoming President almost fifteen years ago did not begin on the most conventional or straightforward path, coming from a background working first as a nurse and then in hospital administration.
Mrs. Jones was first introduced to the school as a parent when her oldest child Robert entered the school as a freshman in the early 2000s. At a school event, she was telling the President at the time, Mr. Greg VanderZanden, how much she loved the school and how she saw La Salle delivering on its mission. The very next day he asked her if she wanted a job at La Salle, which led to Mrs. Jones first entering into the La Salle staff as foundation director in 2001.
"I thought I was going to work for [Mr. VanderZanden] forever," Mrs. Jones said. However, two years later, Mr. VanderZanden "got tapped by the Christian Brothers to open a [Cristo Rey] school…just like De La Salle North, but down in Tucson, Arizona."
It was Mr. VanderZanden who "encouraged me to apply for the President role, which was unusual because most President roles were held by an educator and I'm not an educator," Mrs. Jones said. "I [had] a very untraditional path to this seat."
When she was encouraged to apply for the job she was worried that the current teachers wouldn't "buy it", as she has never taught students younger than twenty-five, and she says that she was very surprised when she was announced as La Salle's new President in 2003.
"I was the very first woman President to be named by the Christian Brothers in the whole district. So the Brothers were very proud of that," said Mrs. Jones. "We were the first school to be all lay-led so the whole administrative team did not have a vowed priest or a vowed brother or anything. It was a bunch of firsts for this school, but I always say this school has always been the school of firsts."
Since Mrs. Jones was not an educator, she experienced some challenges throughout her first couple of years: "First I had to learn a lot about education," said Mrs. Jones. "A lot of my program development and leadership, things that I did in hospital administration, were transferable but I would say the first year I just sort of watched the teachers and watched Mr. George, the principal at the time."
Mrs. Jones said that La Salle "was known as this really community [and] family based school" when she took her position as President. "It wasn't known as the most rigorous, academically innovative school. People chose it for the community." However, Mrs. Jones wanted La Salle to not only be excellent in faith, athletics, and community, but also to be the best academic school. This was her very first goal.
"It's like writing a book, and I had three chapters," she said. "Chapter 1 is five years, Chapter 2 is another five years, and Chapter 3 is another five years. I just sort of plotted out the work that needed to be done, and what needed to happen first."
Chapter 1 (2003-2008)
During the first five years of her position, Mrs. Jones' main concerns were "How do we become recognized as the academically excellent program for college prep in faith based circles?" and "How do we become people's first choice?" These two questions helped frame her goals to focus on the curriculum and the excellence of the teachers, leading to the beginning of La Salle's big professional development effort, which still continues to this day every late start Wednesday.
Throughout these first five years Mrs. Jones' goal was to "focus on the classes that best prepare kids for college." She noted that La Salle does not offer many electives "kind of by design." She wanted La Salle to offer classes that would best prepare students for college, and she further helped design the curriculum to really support that concept.
Chapter 2 (2008-2013)
Now well into her development plan for the school, Mrs. Jones dedicated much of the next five years to accomplishing full enrollment and greater stability for La Salle.
A big part of doing this, she said, was letting the community know what La Salle was about and getting the school's name out there to the public. Mrs. Jones felt that after the first chapter of her time here, the school had a really good product that deserved to be of service to as many students as possible. She wanted La Salle to reach full capacity, up to the approximately 700 student cap the school decided was the best fit.
Mrs. Jones strived for La Salle to have an atmosphere that would be attractive to high school students, and she "didn't ever want it to feel like it wasn't full and vibrant and exciting", but that instead students would walk into the school and say, "oh my gosh this place is just alive."
Chapter 3 (2013-2018)
The last chapter, and final step of Mrs. Jones' journey, was sustaining what the school had built up so far, mostly focusing on the financial aspects.
She is proud to say that, "currently tuition has gone up the slowest it ever has and La Salle has given out the most financial aid it ever has." When Mrs. Jones began her job as President, La Salle provided about $600,000 in assistance per year, but this year La Salle provided about $2.3 million. Her goal was to make sure that the school had strategies for how to deal with bad years and tough times, so that if La Salle does go through a rough period, not one student should ever know. "We are really honorable to the mission of access," she said, "and that makes me proud."
Mrs. Jones stated that the more diverse and "very real" student body La Salle now holds is made possible by financial aid, "so everybody can come [to La Salle] all along the continuum." Over her time, Mrs. Jones said that La Salle has increased the diversity of the school tremendously, and it now "exceeds the reflection of Portland."
***
Now, almost fifteen years later, Mrs. Jones has reached the point where she has accomplished a majority of her goals, above and beyond helping to make the school better academically, and she has made plans to retire. "I told the board chairs almost a year and a half ago [that I was planning to retire]" she said, a decision that was then announced to the whole school community earlier this fall.
Mrs. Jones said that her decision to retire was combination of things. A few years ago she thought, "I should probably think about retiring. I need to make a good transition plan to make sure that a couple things are in order so that whoever the president is, it's sort of just seamless so it's not a big interruption."
When Mrs. Jones first took the position as President, she told the board chair who hired her that "ten years will be my max, because I don't know if I'll have more than ten years worth of ideas." However, as the years went by, Mrs. Jones found that she got so invested in the school that she kept thinking to herself, "Oh, I just have one more thing." One thing that Mrs. Jones noted that she will not able to check off her La Salle bucket list was getting a second gym built.
Mrs. Jones has a philosophy that "there is a right leader for the right time," which is another reason why she made the decision to retire at this point in her career. She reflected that the President's position probably takes a different type of leader for the coming years, given the rapid changes in "how education is being delivered, how technology is impacting that, [and how] 21st-century learning [is breaking] down old archetypes of time and place and space…. Sometimes you have to be self- reflective enough to say 'I might have been a good leader here, but it's time for a different leader.'"
"I think that so much of [her legacy] is hidden," said Mr. Kuffner. "When she was hired as president we had a significant debt. We had taken a bridge loan to finish the science wing. Now we have no debt and that is one part of her legacy that would be hidden from everyone."
Reflecting on her legacy, Mr. Kuffner praised her work of the continuous improvement relating to financial aid, the school's attention "to serve a broad spectrum of students financially and academically", as well as her work with the Signum Fidei program. "She championed the creation of that program in the school," he said. "Those of us that work close with her recognize those [these things] are very powerful and have transformed to some degree the school." Mr. Kuffner added that things like that "don't happen by chance; it happens by someone intentionally paying attention and building a system that does that."
Mrs. Jones said that she is certain about one thing, which is that she absolutely does not want the new President coming in with any problems, but instead wants to ensure for a smooth transition. She emphasized that the "that's the next person's problem" philosophy is definitely not one that she follows. To her, that shows a lack of commitment to the greater mission and vision. If everything works as it is planned, the new President will not have to worry about past problems, but instead, with a pre-planned transition, will be able to implement his or her vision for La Salle's development.
On a more personal level, Mrs. Jones' parents are growing older and need her help. She is the only child, out of six, who lives in Portland. "I could just feel the pressure of this job because it takes up a lot of time," said Mrs. Jones. "[My parents] need more time. So happily I am going to help them."
Although Mrs. Jones is retiring from her job at La Salle, she is not sure that she is fully ready to actually retire from working altogether.
Next year Mrs. Jones said that she promised her husband that "I would take one whole year off. He thinks I'm kind of a crazy adrenaline project girl, which I kind of am." In addition, she said she is excited to spend more time with her grandson and her second grandchild who is coming soon.
Since Mrs. Jones will be spending a great amount of her time caring for her parents, she has also thought about renewing her nursing license in the future and potentially doing hospice care. "I used to [be a] pediatric trauma and flight nurse, but now I'm old so I [want to care] for old people. Hospice care has a dimension of clinical and spiritual that I like, so I'm thinking about that."
Throughout her time at La Salle, she easily says, "my favorite part is the kids." Even though her job position is not one working directly with the students, she still feels that she has a connection with the student body. Because she works "behind the scenes", she said that she is able to take a step back and really observe the livelihood the students bring to the school.
Mrs. Jones believes that high school is a very important part of life, and the school as a whole is responsible for making sure the students are on the right path and thinking about a plan for their life. "There is really deliberate work to be done in high school and it's a very short time," she said.
She truly enjoys watching the growth of the students from freshman year all the way up to their senior year, and thinks it is a privilege to accompany their journey throughout four of the most important and life-changing years of their life. She truly trusts the path La Salle puts them on and believes strongly that it sets them up for success later in life. "I've been here long enough [to see that] 99% of all those kids come back [to visit] and they're just great," she said.
On top of the enjoyment she gets from watching the students develop, and being able to call many of them out by name in her annual speech at the end of the year Senior Presentation, she loves working with colleagues who are "here for all the right reasons." She believes that at La Salle, "you always feel like you are supported in a real way." Whatever the scenario, Mrs. Jones said that the staff at La Salle are "authentically good… I think you don't get that very often."
The outstanding staff that has been built at La Salle is something that she credits Mr. VanzerZanden for. Having worked in a lot of places, she said that she always amazed by how he was able to bring together such a great group of people. Mr. VanderZanden told her to "hire the people that are here for all the right reasons," and that is something that she values and has worked hard to put into practice during her time here.
"That's my job, to make sure you're surrounded by really good people," she said. "A really important part of what makes this place home is good people."
In her job as President, she explained that the role she most enjoys is program development, especially the "visionary strategic planning" involved in identifying a new direction for the school to move towards. The two program developments that she is most proud of at La Salle are the STEM (Science, Technology, Engineering, and Math) Academy and the Signum Fidei program. "I so fundamentally think that is who La Salle is," she said. "We are a community of inclusion."
This aspect of her job, identifying big-picture changes and working to implement them, has allowed her "great creative licenseship". Mrs. Jones believes that these programs really set La Salle apart from the other schools in the area. "I love working on programs where we are sort of the leaders, [and] there is nobody else doing it yet".
In reflecting about what she will miss most about La Salle and the community, she became visibly moved with emotion. With tears in her eyes, she said, "Probably on a very personal level of just that great sense of feeling like you belong. I'll miss that part. Like someone was expecting me and I belonged… I'll have to go find that somewhere else, right?"
La Salle is now well on its way in conducting a nationwide search for a new President, with the Board of Trustees currently considering applicants for the job. "The position closed on October 31st and so far, the process is going according to plan," said Mrs. Mary Neil, Director of Human Resources. "We are in the beginning stages of reviewing applications and scheduling interviews. According to our timeline, we anticipate an announcement sometime in the Spring. It all depends on going through our process, interviewing the candidates, and the Board of Trustees making a final decision."
Mrs. Jones believes that the biggest challenge the new President will face is "to lead the vision of a school into a completely unknown [time for] delivery of education. The president will have to be somebody who is comfortable with not knowing [exactly what the future will hold and comfortable with] some level of risk-taking."
"I got a lot done that I wanted to get done," she said. The ten-point checklist she had made for herself fifteen years ago is still in her binder to this day. "I got done eight of them," she proudly said.
Mrs. Jones is proud that the school is so healthy, saying that "it's true to its mission, it's a fun place to go to school, I hope, and it's an excellent education. I'm proud of that." Over the years she was able to help shape the direction of the school, but she emphasized that this was done with the help of many other people, who were instrumental to the successes that have been achieved.
"I got to lead it," she said. "So when you lead it you get credit for a lot of people's good work. A lot of people made [all of this] happen."
Of those people who have been a big part of Mrs. Jones' time at La Salle, one she made a significant impact on is the current principal.
"I have learned a lot from her about what it means to be a leader," said Mr. Kuffner. "Not just leadership qualities in terms of being able to articulate a vision; those types of things I have learned a lot about [from Mrs. Jones], but just her person, her integrity, her willingness to see her role as more than herself. She is one hundred percent [that] it's more about the students and the school."
Now, after almost fifteen years as President, "it is somebody else's turn," Mrs. Jones said. "There will be somebody dynamic with tons of new energy and ideas [who] will keep the school moving forward."
Something that her dad always told her was to "'always leave a place better than how you found it'… I think I left it better," she said. "I was blessed to be here for so long."
"I think lots of people have a hard time letting go of something they love," she said. "But it's really because you love it that you let it go."
About the Writers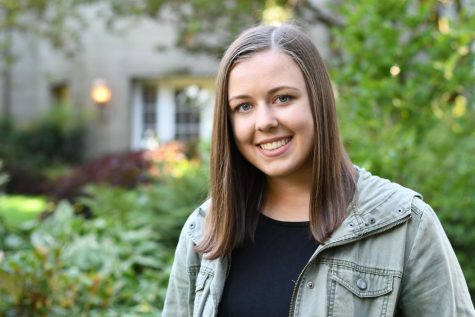 Katie Moreland, Editor
Katie is a senior at La Salle. In her free time she loves to hang with friends, dance, hike, and go shopping. Next year, she wants to go to college out...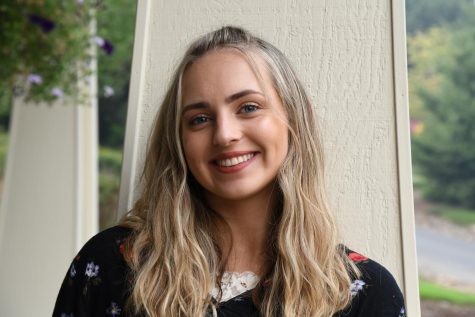 Kendal Shride, Editor
Kendal is currently a senior at La Salle. She is a competitive gymnast and will be attending Azusa Pacific University to compete on their Acrobatics and...