"You Can't Take It with You" Gets Ready to Bring Laughter to La Salle
Hang on for a minute...we're trying to find some more stories you might like.
"You Can't Take It with You" is La Salle's fall production that gives an exclusive look into craziness and chaos of the Vanderhof family. Written by George Kaufman and Moss Hart, this play brings a new perspective about acceptance and love within a family, while proving that nobody in the world is perfect. 
The play revolves around Alice Sycamore as she tries to hide her eccentric household from the view of her fiancés posh family. She finally brings them over for a dinner party with her chaotic family, everything begins to spiral out of control in every way possible. Fireworks, snakes, bald caps; you name it, the Vanderhofs have it.
Due to its physical comedy and overall type of humor, "You Can't Take It with You" offers a different genre and style of play than what has usually been produced by the La Salle drama department in past years.
Last year, the fall play, "Our Town," offered a very serious and deep message to its audience. "This year we just felt like it was the right move, the right tone, to just have a play that was funny, [and] that was a celebration of people and individuality," said drama teacher Mr. Michael Shelton.
This comedy brings surprising humor to the entire audience. "There are jokes that are not so appropriate, which I think… students of La Salle might find really funny since [they] never really see that on the stage," said senior Alison Paguio. "There's just a bunch of different things for everyone, and I think it'll be really really fun."
Though the characters are very extravagant and outgoing, the audience will be able to personally make connections to the characters. "I feel like there's at least one character that you know in real life from the show," said junior Egan Arntson. Arntson thinks a lot of people will be able to relate to Penny Sycamore because she is often unaware of the sarcasm that others use in their jokes.
The majority of people will come and see the play only once, but Arntson encourages everyone to come and see the comedy more than one time. "I'd say watch it twice if you really enjoy it the first time because when you go back, you'll pick up small things throughout the show that come full circle by the end of the show," Arntson said. 
While the play is intended to get the audience to laugh, "You Can't Take It with You" offers a deeper meaning on the importance of family and acceptance. "I think… probably most all of us can relate to the idea of our families having their own craziness, and loving that, but also at times being embarrassed by that," said Mr. Shelton. "Who you are made to be is worthy and matters."
The play runs for two weekends, opening this Friday, Nov. 8 at 7 p.m., with the rest of the shows taking place on Nov. 9, 15, and 16 as well. On Sundays, Nov. 10 and 17, the shows will be at 2:30 p.m. Tickets can be purchased online in advance or at the door. 
About the Writer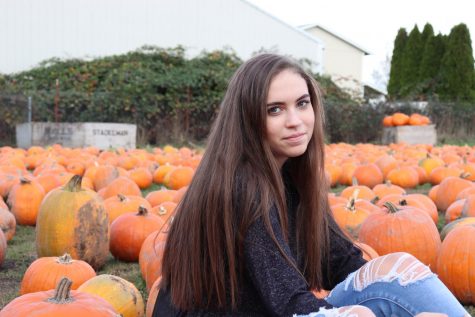 Mandy Sisul, Staff Reporter
Mandy Sisul is a junior at La Salle. She plays on the varsity basketball team and she is involved in the outdoor and spirit club. Outside of school, Mandy...