A Story Told Through Memories: The Timeless "Our Town" Comes to La Salle
"Our Town," La Salle's fall play, opens this Friday, Nov. 9, for a run of six showings. It is an adaptation of the 1938 Pulitzer Prize winning drama by Thornton Wilder.
The play chronicles the lives of two families, the Webbs and the Gibbs, in a small fictional town called Grover's Corners in New Hampshire. Emily Webb and George Gibbs's love story is the heart of the play. "Our Town" has several unique aspects such as the way the play is told, the fact that no props are used, and characters that allow for an interactive audience experience.
The play is told through the memories of the characters. One of the characters is a "Stage Manager," played by junior Alison Paguio, who acts as a narrator and a commentator, interacting with the audience.
"[I'm] excited for the audience experience; there are surprises within the way the actors and stories are integrated within the audience," said drama teacher Mr. Michael Shelton. "[The] audience will hopefully see it as different and unique."
"I love the message of the play," said Mr. Shelton when asked what inspired the choice. "[It's] a play that deals with the worth and value of each human being."
In the words of the fictional Stage Manager, "This is the way we were: in our growing up and our marrying and in our living and our dying."
The absence of props is something that the actors have struggled with. "It's been difficult, because I've never had to pantomime," said senior Rachel Jones, who plays the female lead Emily Webb. "For example, there is this scene where I carry books and I have to kiss the dad on the cheek and drop the books, but there are no books to drop, which makes it difficult."
This is the essence of the play, said Mr. Shelton, explaining that "symbolically, [if you] take away the props it's just the person that matters, the connection."
On Nov. 8 at 5:30 p.m., there is a preview where you can pay any amount to attend.
The play officially opens Nov. 9, with other shows taking place on Nov. 10, 11, 16, 17, and 18. The Nov. 11 and 18 showings are at 2:30 p.m. and the other showings are at 7 p.m. Tickets are available for purchase as of now, and they will be available at the door. They are $12 for adults and $10 for students and seniors.
About the Writer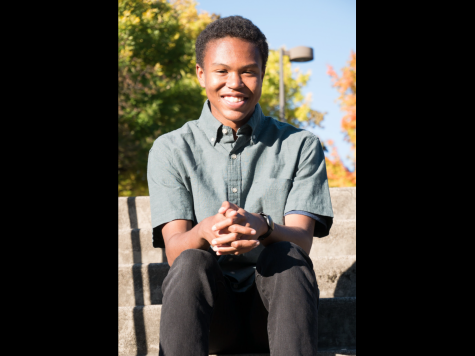 Nehemiah Jackson, Assistant Editor
Nehemiah is a senior at La Salle who loves playing soccer and the color green. In the summer you will most likely find Nehemiah working with kids in a...