Officer of Faith Evans Brackenbrough Reflects on His Evolving Experience and Faith Journey
Hang on for a minute...we're trying to find some more stories you might like.
Throughout his four years at La Salle, senior Evans Brackenbrough has been known as a role model for faith: Evans was an altar server for school masses at La Salle his freshman through junior year. As a junior, Evans also took leadership initiative in Mr. Darmody's refugee housing project, and he has been a hard working member of Lasallian Ministries during his senior year. It is fitting, then, that this school year, he was chosen to take on the position as La Salle's Officer of Faith, a position that has given him the opportunity to be a leader of faith for students.
"I felt that there were a lot of messages and things that I've learned throughout the years regarding my faith and how it applies to my life that I could share," Evans said. "Given the opportunity when it presented itself, it just fit for me just being able to speak about my journey in front of everyone."
As Officer of Faith, Evans speaks before each school mass and helps plan the masses by choosing the readings, responses and themes. He also assists with retreats including Journey and the senior retreat. Most of his work in this role is in writing and choosing prayers for assemblies, prayer services and events at La Salle "Pretty much anywhere there's a prayer [as part of one of these activities] I either found it or wrote it," he said.
Stepping into the position of Officer of Faith was a natural step for Evans in his faith journey. He was raised Catholic, so it has always played a large role in his life. However, Evans has grown in his faith considerably throughout his life, and especially in high school.
"For the longest time it felt like my parents' religion and not necessarily my own," Evans said. However, between his sophomore and junior year, Evans had to face new challenges in his life at home after his dad was injured, and went through a hard recovery. "There was a lot of weight on me in our family, so my faith grew a lot during those times of tribulation," he said.
Evans' faith grew even stronger after a powerful experience he had at a youth conference in Spokane, Washington, which he recently attended between his junior and senior year. "I felt this very powerful youth movement that I had never really felt before," he said. "At this youth conference there were 1,200 of us high school kids, and it felt like there was so much energy that I could add to, so that was a powerful experience for me, and it made me feel like this faith was my own."
As a result of this impactful experience, Evans decided to take the next step in his faith journey by being confirmed this year. "I wanted to choose for myself," Evans said.
Evans has encountered challenges in his role as Officer of Faith, especially with writing prayers and reflections that will be relevant and interesting to all La Salle students.
"I understand La Salle is not 100 percent Catholic, and that if I were to get up there and talk about the deeper meaning of the allegory I would lose a lot of people," Evans said. "I have to take a step back from my own experiences and think about what someone would want to hear that doesn't usually listen to that kind of stuff, and then apply that to high school, so that's kind of tough."
Evans has found it difficult at times to talk about his faith in high school "Initially it felt like I shouldn't be as open about my faith because it kind of carries the connotation of not being very cool," Evans said. "What I've found though is that I think people respect you more if you know who you are and you're comfortable with who you are."
Serving as Officer of Faith has pushed Evans to step out of his comfort zone in terms of opening up about his own personal faith. "It definitely has given me that platform to open up and learn more about myself," Evans said. "After speaking at mass and then someone comes up and talks to me and we have a dialogue, it reinforces that I'm doing something good and that I'm helping other students who maybe aren't as comfortable speaking about their faith."
Evans intends to continue practicing and growing his faith throughout his life, and has made sure that he will have a community to share his faith with when he heads to college next fall. "I think that one of the things that really demonstrates what my faith means to me now is that I only applied to Catholic colleges," said Evans, who will be attending Seattle University. "The faith aspect integrated into the school means so much to me, so that was a big part of the decision."
After college, Evan wants to continue his faith by giving back to the community at Christ the King that was so important in building the foundation of his faith.
Reflecting on his time as Officer of Faith this past school year, Evans is grateful for the opportunities it has provided for him to learn and grow as a leader and a Catholic. "It definitely has given me that platform to open up and learn more about myself by talking to other people and giving reflections before mass," said Evans. "I've learned more about myself and my faith by writing about it, by putting it down, and just talking to other people who are on similar paths.
About the Writer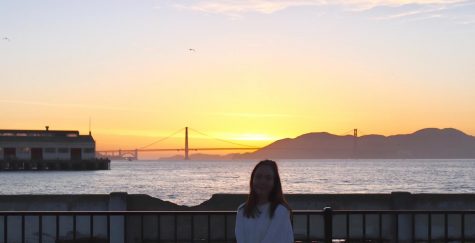 Peyton Hedges, Editor in Chief
Peyton is a senior at La Salle who participates in student council and the outdoor club. In her free time she enjoys spending time with her friends, family...