Mr. Darmody: The Good Samaritan
Only in his second year at La Salle, Mr. Darmody has already made a lasting impression on his students through his big personality and giving spirit.
Hang on for a minute...we're trying to find some more stories you might like.
Although a fairly new addition to La Salle, joining the staff in 2016, Mr. Darmody has already made a big impact on the school and community. With a strong love for teaching and devotion to volunteer work, there is one word that perfectly sums up what Mr. Darmody is as a person: passionate.
Mr. Darmody graduated from the University of Portland with a bachelors in English, and well as his masters in theology from the University of San Francisco. Just this past year he recently received his masters in school administration from the University of Scranton in Pennsylvania.
Mr. Darmody has been teaching since 1997, beginning his teaching career at a K-8 school in San Francisco called St. Anthony's where he taught junior high for five years. Afterwards, he moved on to become a high school teacher, teaching all Religious Studies classes and campus ministry at another Lasallian school in San Francisco called Sacred Heart Cathedral Prep.
Throughout his teaching career, Mr. Darmody has spent great amounts of his time volunteering in Chile. The first time he volunteered in Chile was during the 2000-2001 school year where he lived in an orphanage to work with children there. He then went back a second time throughout the 2014-2016 school years, except this time his whole family came along with him to do an immersion sabbatical, studying and volunteering. Although these years he spent in Chile weren't within the classroom, he says that "I still count them as teaching."
To spend years at a time volunteering in a different country shows how dedicated he is, and how important the aspect of volunteering is within his life. When asked what his inspiration was to go back and volunteer in Chile, Mr. Darmody said, "The inspiration was that we could". Mr. Darmody and his wife came into some unexpected family money, and decided that "we wanted to go do something for others with that money", so off they went to live abroad to volunteer and help people. 
Currently, Mr. Darmody teaches Religious Studies, Morality, and Ecclesiology at La Salle. Mr. Darmody says he was inspired to come teach at La Salle in the Religious Studies department, as that specific topic is "definitely a vocation for me because I get to teach about something that I feel like affects everybody whether the person in my class sees themselves as a religious person or not." Whether someone has a religion to turn to or otherwise, Mr. Darmody believes, "we are all people of faith".
Growing up, the Catholic part of his education was just as important as the purely academic parts, which has lead him to greatly believe in the value of Catholic education. Religious Studies "invigorates" him and he thinks it is a very important building block for students. Regardless of the subjects he is teaching, Mr. Darmody believes it's more about the opportunity to be in a Lasallian community, and to work with students because, "I think it will make a difference in their life even if it doesn't make a big difference right now".
Mr. Darmody reflects that he never had that one moment in his life where he thought to himself, "I'm going to be a teacher". Instead, there were many other voices in his life suggesting this career path and "recognizing something in me that I might have some talent for before I saw it in myself". After having a succession of volunteer experiences working with kids and realizing how much he enjoyed it, those experiences "helped me form some draw towards teaching". Mr. Darmody decided to listen to those voices and give teaching a try, and now "it's been my only career and I've stuck with it".
When asked about what his favorite part of teaching is, Mr. Darmody jokingly says, "Oh, it's messing with the students for sure". Although he wasn't being serious, I, as a former student of his, can attest that he does have some fun messing with his students from time to time. As for his real answer, Mr. Darmody says he loves those moments where he gets to "share a piece of myself with my students", along with a joke. He also enjoys sharing their potential with them, whether it's their understanding of a new idea or challenging his students to see themselves in a new way.
"
"It's just that kind of sharing," he says. "It's the building of relationships, it's the 25 to 30 students at a time in a classroom as a community, it's the one on one relationship, it's the 130 students I teach as a whole, it's all of La Salle."
"It's just that kind of sharing," he says. "It's the building of relationships, it's the 25 to 30 students at a time in a classroom as a community, it's the one on one relationship, it's the 130 students I teach as a whole, it's all of La Salle". All of those different levels of community are by far Mr. Darmody's favorite part of teaching.
On the topic of community, Mr. Darmody shares that he believes La Salle is "a really desirable place to be". He says that almost everybody gives the sense that they want to be a part of the La Salle community, "from every student to every faculty member I can think of", and he notes that the people within La Salle create the kind of community that is "gathered around the same mission".
Last year in his Ecclesiology class, Mr. Darmody decided to incorporate the concept of service and volunteering into his junior classes. While the Ecclesiology classes were studying the Catholic Church, he had the idea to try to help students to see the Church in a different way. He reflects that all his students are familiar with Catholicism to some degree, including mass, the physical church, and the sacraments, but "there are other parts of the Church that are hard to access", he says.
Through his relationship with Catholic Charities, he reached out to an acquaintance of his that works for the non-profit, and proposed the idea to have his students go on a small field trip to Catholic Charities in order to "simply see what they do, the services they offer, and understand their philosophy, their model of service to the world, and that they're doing it all through the motivation and support of the Church and individual donors."
All four of his morality classes took the trip to Catholic Charities in Portland on separate days to help develop that better understanding. Some classes learned about different aspects of what Catholic Charities does, so they could then share that information with the rest of his classes so they could receive the full knowledge of the services Catholic Charities provides. A few of those classes learned about the work Catholic Charities does with welcoming refugees to our country, and then helping them find housing and jobs here in the Portland area specifically.
"I was inspired", he says, "as well as many of my students were inspired to help [these refugees], so we created the La Salle Refugee Welcome Project last year, which was totally voluntary". The project was set outside of the grades and work of his class, which allowed the students that wanted to participate to join, and those that weren't interested wouldn't be graded down. To provide assistance with a living situation for the refugees, "we did things like fundraising, and soliciting donations such as furniture and houseware". To welcome refugees into the country, those who wanted to participate greeted refugees at the Portland airport when they first arrived.
Mr. Darmody says that the La Salle Refugee Welcome Project will be implemented again this year, and will be "something for juniors to look forward to, but really all students are welcome to participate with us in the second semester". 
If ever in need of advice, Mr. Darmody is definitely the right person to go to, as he is full of wisdom. A piece of advice he would like to give all students is, "find a way to give yourself a way" to give. Mr. Darmody believes the most important thing that we're called to do in life, whether you're religious or not, is to give, because it sometimes goes against our instincts as human beings. "We have to find it and commit ourselves to it and make it a conscious part of our life to be givers". To Mr. Darmody, "finding your way" is different for each individual person. It might be immersing yourself in a "volunteer service program, or showing some patience to a friend, or supporting your parents when they need support". Finding your way to give, in whatever way that works and is most effective for you, as well as challenging you to grow, is what Mr. Darmody wishes for all his students.
Throughout his time here at La Salle so far, Mr. Darmody has become a teacher who resonates with students long after they have been in his class. As a passionate teacher with a dedication for volunteering and serving others, Mr. Darmody is the epitome of what La Salle stands for. As a former student of his, I, along with many of my peers, can say that we were beyond lucky to have been taught by him, and to learn not only the material he teaches, but life lessons that we will continue to reflect on and live out for years to come. 
***
If you are interested in being a part of the La Salle Refugee Welcome Project, contact Mr. Darmody for details to join the Schoology group for updates and information.
About the Writer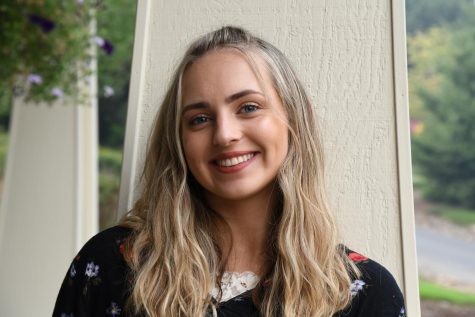 Kendal Shride, Editor
Kendal is currently a senior at La Salle. She is a competitive gymnast and will be attending Azusa Pacific University to compete on their Acrobatics and...