Choosing a College: How to Pick the Right School for You
Hang on for a minute...we're trying to find some more stories you might like.
After applying to multiple colleges, I thought the worst was over. Little did I know, deciding what to do with the next four years of my life would be just as stressful and confusing as applying. Now on the other side of this process, I can offer some reflections to juniors (and underclassmen) who are starting to think about what lies ahead.
Some seniors go into the college application process knowing exactly what school they want to go to—I did not have this mentality. I knew what I wanted in a college (on the smaller size, not located directly in a city, offers a good communications major, extracurricular activities), but I had no idea what school would be the best for me. As the acceptance letters started coming in, I realized just how clueless and lost I was on what school I wanted to go to.
By April 1st (the latest date colleges could let students know about their acceptance status) I had seven colleges to choose from. There were two that I could cross off the list right away simply because they were too expensive, coming in at more than $60,000 per year. Considering my remaining options, I realized just how much there is to think about when choosing a college.
Here is a brief list of things I considered:
Academics: Do they have my intended major? Will I be challenged enough? Can my AP credits transfer?
Financial situation: Did I receive a decent amount of scholarships and financial aid? What will the cost of tuition be? Will my family or I have to take out any loans?
Life on and around campus: Are there any sports or clubs or activities that I can and want to participate in? What is the atmosphere like on campus? What are the dorms like? Do I like the surrounding city and area?
When I finally considered all of these things, I narrowed my choices down to my top two schools—the University of Portland and the University of San Diego. This gave me some reassurance about making a decision, seeing as both are good schools that had what I wanted in a college, but I still had no idea how I was going to decide between the two.
There were pros and cons to both schools and I could honestly see myself excelling at either school. What made it even more challenging was that after scholarships and financial aid, the cost per year was about the same.
I realized that I could not make this decision on my own. I decided that I needed to talk to people who knew me well and cared about me and could offer me advice. I had long conversations with my parents and close friends and this helped me immensely and gave me much clarity.
They advised me to think about the feeling I got when I visited each school, and to go with my gut. After considering this, it all became clear which school was right for me. All of my stress disappeared as I felt as confident as ever in my decision. What once gave me an intense amount of anxiety (college) now gives me excitement and hope for the future.
Now officially committed to the University of Portland, I am able to look back on the whole college process and reflect on how I came to my decision.
I have condensed all I have learned into five main tips:
Visit the campus
Ask questions
Seek advice from close friends, family, and mentors
Take your time to make your decision
Go with your gut feeling
I cannot stress enough how important it is to visit the campus. The way you feel when you are at the school is a huge indicator of if you can see yourself spending the next four years there.
Asking questions is also very important because you want to know all the facts and information you need before you make a decision. This may seem obvious, but I know that I often forgot that I could simply ask the admissions office and other faculty at the school about what life at that college would be like.
Seeking advice from those who care about you is what really helped me to make my decision. The people who know you best truly will offer you the best insight. Not only that, but sometimes it is just helpful to be able to talk out what you are feeling in terms of your decision.
Taking enough time to make a decision is hugely important. While it may increase stress as you get closer to the dreaded decision day, I speak from personal experience when I say that this decision is something you do not want to rush. This was especially important for me as my number one school changed wildly and multiple times throughout the whole process as I started to realize what I wanted and needed in a school.
Finally, go with your gut. You hear this advice all the time for all sorts of situations, but I think it is especially true when picking a college. When I finally sat down and thought about my future, it became clear that my gut was telling me where to go. As someone who had an immense amount of stress and anxiety about choosing between my top two schools, I cannot put into words how impactful it was to just simply listen to my instincts.
Applying to college was one thing, but choosing a college was a battle of its own. It may have taken me some time and a lot of stress, but I ultimately was able to come to a decision that I have never been more confident in. Choosing where to spend the next four years of your life is intimidating, but I can say now that it is not impossible, and when you finally do decide, your entire mentality about college will change as the stress disappears and the excitement begins.
About the Writer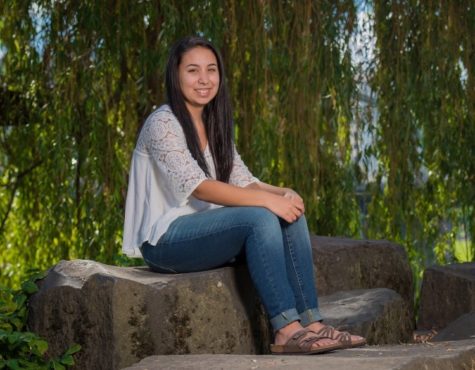 Maddie Pfeifer, Editor
Maddie Pfeifer is a senior this year at La Salle. She enjoys soccer and track and is also involved in many clubs at La Salle. She plans on majoring in...