College Application Process Amplifies Stress of Senior Year
Preparing for the Future Can be Quite Overwhelming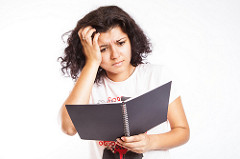 Hang on for a minute...we're trying to find some more stories you might like.
Frustrated. Stressed. Hopeless. Overwhelmed. Panicked. Terrified. These words perfectly describe the ominous college application process that seniors like myself must endure if we want to have a future of any kind.
I don't think it's too much of a stretch to say that everything rests on these applications—my future depends on getting into a good college and receiving a quality education. Adults often tell seniors in high school that they should not stress so much or that everything will be okay, no matter what happens. The reality is however, that I am not exaggerating when I say my future depends at least partially on where I end up going to college, and I think many of my peers would agree with me. The pressure to succeed has never been higher than when I was filling out my applications and frantically typing away on my laptop.
This has easily been the most stressful time of my life. For instance, having my parents constantly pestering me about if I had completed my application was infuriating. The pressure they put on me to finish my application was at times too much to bear, especially considering how much pressure I had already put on myself. In addition, thinking about the possibility of not getting accepted into my top choices was/is terrifying.
Having now made it to the other side, I can say that the college application process is unlike anything I have ever done before—it is much more time consuming, stressful, and at times confusing, than I would have ever thought. Up until the day I applied, my house was often filled with yelling, arguments, and tears as the stress affected not only me, but my parents too. As I talked to my friends about the stress I was experiencing, I found out that I was definitely not alone, as they felt the same unbearable anxiety as me, and their parents had also put immense pressure on them to finish their applications.
It was extremely difficult to think about applying for colleges this past summer before I had even started my senior year. The stakes were at an all time high, considering that I see my entire future weighing on my applications. I thought junior year was stressful, but it was nothing compared to applying for colleges.
Seeing as I have completed and submitted applications for seven colleges, I would say that I have a fairly good understanding of the whole process.
What I have learned throughout this stressful time is to get your application done early, figure out what you need to do and what you need to send to colleges before you start, be as organized as possible in every way that you can, and despite how difficult it is to do, try not to stress so much.
For those who don't know, here is a quick overview of the whole application process, along with my takeaways:
SAT and ACT: Most colleges want you to take the SAT and/or ACT before applying to their school. Good news for those who have yet to take the SAT: the new version, in my opinion, is easier than the old version. Being a decent test-taker, I went into these two tests without much preparation and was generally happy with my scores, so I don't think you need to necessarily feel pressured to study extremely hard for these, depending on your previous test taking experiences.
Common App: Many colleges have their applications uploaded on what is known as the Common App. You will have to write one essay that will be submitted to all colleges you apply to. Take it from me, do not put this off. This essay is one of the more important components of your application and you should write about something you're passionate about—but not too passionate about—otherwise you'll end up like me, having to remove over 400 words to meet the 650 word limit. That definitely was not fun.
Writing Supplements: Along with your Common App essay, many colleges will have some short answer questions or additional essay prompts they may want you to answer. This is your chance to show the schools you are applying to why you want to go there. The questions range from silly and carefree to deep and insightful. My main take away: a lot of colleges apparently are really interested in knowing what your favorite book is.
Letters of Recommendation: Asking a teacher to write a letter explaining how amazing of a student you are may seem very awkward and uncomfortable—probably because it really is. However, if you ask a teacher who has seen you grow as a student and who generally likes you (I'm not quite sure why you would ask a teacher who doesn't like you), your letter should be fairly good. I personally asked teachers who know me well, and I asked several teachers who collectively have taught me a wide range of subjects. They have seen me and my strengths, and they have seen me struggle. A lot. But remember that growth is the key here. You don't have to be great at the subject for the teacher to write a good letter.
Financial Aid: There is not much I can say about this aspect of the application process except: FAFSA. The Free Application for Federal Student Aid is a great way to try to lessen the costs of college, which we all know can be outrageously expensive. Scholarships are also a great way to earn some more money towards college. You may have to write an essay, make a video, or even something as simple as coming up with a 140 character tweet. Either way, there is a wide range of topics, so you should be able to find at least one scholarship that fits you, but the reality is that this is just one more thing to add to your to-do list.

When I did finally get all my materials in order, I applied. Submitting my applications one by one was a relief—until it dawned on me that I would now have to wait anxiously to hear back about acceptance and financial aid.
At this point, I have been accepted into two of the colleges to which I have applied, with scholarships from both, which has definitely lessened the stress. However, I am still extremely anxious as I wait to hear back from other colleges. It is very frustrating that some colleges will send out acceptance decisions in December, while others wait until April, considering that decision day is May 1st. This just prolongs the stress that has already been steadily building.
As I step back and look at the whole process, though, I have a few reflections. First, I am extremely glad that I started the process over the summer and completed my SAT and ACT testing my junior year; this gave me ample time to focus on writing my essay and answering all questions.
When I really think about it, the whole concept of college is quite intimidating. My future is at stake with these applications. Attending a school like La Salle, which proclaims itself to be a college prep school, makes students like myself put even more pressure on ourselves to succeed and get into the best schools.
It is scary to think about moving on and leaving high school behind, but this application process is one I will never forget because it has opened my eyes. The reality is that applying for colleges makes everything more real—but I have since realized that this is necessary. It is important to understand that senior year is the beginning of the end, but you have a whole future to look forward to and that in and of itself is exciting and a reason to take a breath, and stop stressing so much. Hard work truly does pay off, and I believe that spending the last four years challenging myself to get a high GPA was worth it. When I step back and think about where I am and where I am going, I am hopeful for what the future holds, no matter where I end up next year.
Creative Commons Photo Source: https://www.flickr.com/photos/[email protected]/7658298768
About the Writer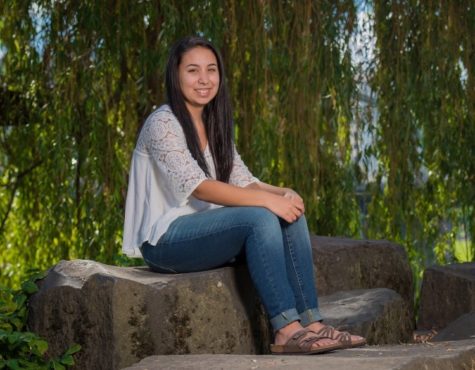 Maddie Pfeifer, Editor
Maddie Pfeifer is a senior this year at La Salle. She enjoys soccer and track and is also involved in many clubs at La Salle. She plans on majoring in...