With Back-To-Back Wins, Basketball Teams Head to Quarterfinals at Gill
After impressive performances in the first round of the playoffs, the La Salle girls and boys basketball teams are both headed off to Gill Coliseum this week for the state quarterfinals. Boys basketball will play on Tuesday, March 7th at 3:15 and girls basketball will play on Wednesday, March 8th at 1:30.
Both teams looked solid in their first round performances. Boys basketball won easily, defeating Mountain View 72-46 on Friday, March 3rd. Girls basketball won 59-35 over Central on Saturday, March 4th.
The boys came out ready to play on Friday night. They started strong in the first quarter, getting a lead as big as 20-4, but then the momentum seemed to have shifted as Mountain View cut it to a 33-25 lead at halftime. However, the Falcons were able to quickly gain momentum after the half, helping them separate early in the 3rd quarter, earning themselves a 72-46 win and a ticket to Gill Coliseum.
All five starters contributed to this 1st round playoff win. Jason Burns led all scorers with 17 points and Jonah Pemberton followed closely with 16. Seniors Matt Berger and Ange Toku also scored in the double figures for the Falcons. Senior Stew Robertson hit three 3s and finished with nine points. Sophomore Jace Norton also fired up the crowd after hitting three 3-pointers coming off the bench for the Falcons, finishing with nine points as well.
The Falcons are seeded 5th heading into the quarterfinals at Gill Coliseum. They will face #4 ranked Summit in their first game on Tuesday, who finished the season with an overall record of 20-2. This game will be a challenge for the Falcons, but if they keep up the energy, they should be able to keep winning in the tournament.
On Saturday night, the first half for the top-seeded Lady Falcons was not as strong as usual. It was scoreless for the first four minutes of the game, with the first points coming from senior point guard Aleah Goodman, who finished with nine points. Freshman Emily Niebergall kept the Falcons in it at the start, hitting a three at the end of the first quarter, putting the team up 7-6, and ending the game with nine points.
Taycee Wedin, who was recently featured in a lengthy Oregonian story, had a very uncharacteristic first half as well. She is known for her shooting, being #2 on the state's all-time 3 point scoring list, but ended scoreless in the first quarter after attempting several field goals. However, when she found her stroke in the second half, she seemed unstoppable. Wedin, a junior, ended with 23 and helped La Salle break open the lead in the second half.
Although the Falcons finished strong and ended up beating Central 59-35, their first half struggles show there is still work that can be done. The Falcons will need to play strong in the quarterfinals against #9 Putnam because the road only gets harder from here, as the Falcons are expected by many to win the state championship, and as a result, have a big target on their backs.
This season has been amazing and very fun to watch. Both the girls and boys teams will be contending for a top finish in state. Good luck Falcons, and congratulations on what have already been very successful seasons!
About the Writer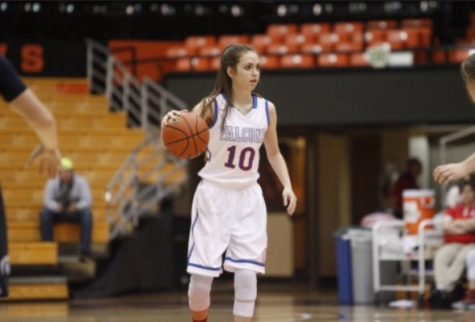 Hannah Sisul, Staff Reporter
Hannah is a junior at La Salle. She enjoys playing softball and hanging out with her friends. Hannah enjoys science and math and would like to pursue a...