Senior Transfer Jonah Pemberton Contributes to Boys Basketball Standout Season
Although he has only played for La Salle for one season, senior Jonah Pemberton has been able to contribute in a big way to the success of the team, which has earned a #5 ranking in state heading into the playoffs this weekend.
Before coming to La Salle, Pemberton attended Lincoln High School in downtown Portland. After his former coach Sean Christensen transferred to La Salle, Pemberton decided to join. After being at La Salle for over half a year, he says that he is really enjoying his time here.
While Pemberton has received a lot of attention on the court these past fews months, his real strength is in golf. He is committed to play Division 1 golf at Alabama State next year. When asked about why he chose golf over basketball, Pemberton says that "I know I am better at golf and didn't have any offers with basketball yet."
Pemberton didn't think transferring to La Salle his senior year was difficult at all. He feels he has been able to fit right in and has made a lot of great friendships.
There is no doubt that Pemberton has made a huge impact on the team this year. He has helped the Falcons earn an overall record of 17-5 and a record of 12-2 in the NWOC, ending the regular season with a 2nd place finish in league. Last year, the Falcons went 9-16 and 7-9 in league play, and finished in 6th place in the NWOC.  
Pemberton has been an athlete all of his life. He has played basketball since the 3rd grade and has golfed since the age of 7 or 8. He has played sports all throughout his high school career and will continue to play at the collegiate level as well.
At La Salle, one of his most memorable performances was his game against Parkrose on February 14th. He scored 43 points and scored a game-tying three at the end of the first OT to tie the game. He ultimately led the team in a 90-89 victory after the two overtimes.

As the basketball season heads into playoffs, Pemberton has high hopes for his team. He wants to win state and end on a good note as a senior. Pemberton is looking forward to winning games at Gill and getting out of school for four days if they make it.
Pemberton says that he knows what it takes to win this postseason. The team started the year off slow, but he is confident in the team's abilities for this post season.
"To keep this up the team needs to stay focused," says Pemberton. "We need to have good practices and not be all over the place heading into these games." If the team is able to do this, Pemberton says that he is confident that they will be able to win.
About the Writer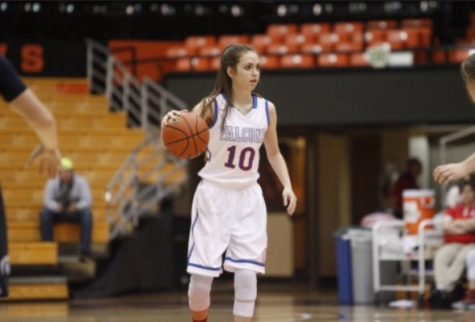 Hannah Sisul, Staff Reporter
Hannah is a junior at La Salle. She enjoys playing softball and hanging out with her friends. Hannah enjoys science and math and would like to pursue a...