After Impressive Seasons, Boys and Girls Basketball Look Toward Playoffs
After disappointing losses in the playoffs last year, both boys and girls basketball are looking to make a strong push in the state tournament this year. With a combined record of 39-7, both teams have been impressive in the regular season and are hoping to continue that into postseason play.
The girls basketball team has been astounding this year, heading into playoffs with a record of 22-2. They are undefeated against all Oregon teams, with their two losses coming from teams in California and Missouri.
They started off the season with two particularly impressive performances, beating #4 ranked Marist Catholic 64-29, and several days later beating the defending state champions, #3 ranked Silverton 47-32.
Additionally, their performances in several Christmas break tournaments, the Nike Tournament of Champions in Arizona and the Nike Interstate Shootout, caught the eyes of a lot of coaches. Two of their impressive outings include beating Cherry Creek (CO) 65-50 and beating Good Counsel (MD) 56-45. They also beat #1 ranked Southridge in the 6A classification 54-53 in the Nike Interstate Shootout. They finished the Interstate Shootout out by winning 67-34 against South Salem, becoming only the second 5A school to ever win this tournament.
Along with their impressive wins in the preseason, they have carried this momentum over into league competition. They have gone 14-0 in league play, claiming their 5th undefeated league title in a row.
The whole team has contributed to the success this season. Junior Taycee Wedin and senior Aleah Goodman earned co-players of the year and 1st team all NWOC. Sophomore Reese Timm earned 2nd team all NWOC, junior Colby Jansen earned 3rd team, and junior Isabella Crowley and freshman Kylie Burg earned honorable mention.
Boys basketball is also having a great season. After losing in a play-in game last year and not making it to the State Tournament, they have had their sights set on the postseason all year. The addition of senior Jonah Pemberton has made a big impact on the success of their season. He transferred to La Salle this year along with his former coach at Lincoln and current coach at La Salle Sean Christensen.
The boys team's current record is 17-5 and 12-2 in league, their only league losses coming from #1 ranked Wilsonville. Their most impressive wins have come during their league play. Their 90-89 win over Parkrose on February 14th was a thriller: Jonah Pemberton, who finished with 43 points, hit a buzzer beater to send them into a second overtime. They also beat Hillsboro 47-45 on February 24th for their final league game.
With impressive finishes in the regular seasons, both the boys and girls teams are in a good spot heading into postseason play. Girls are ranked #1 and will face the lowest seeded team in the first round, which should make getting to Gill Coliseum, the site of the State Championships, not very difficult. The boys are ranked 5th, and while that puts them in a fairly good spot, it unfortunately means that if they make it to the semifinals, they will most likely face #1 ranked Wilsonville, the defending state champions.
With playoff games rapidly approaching, here are the important dates to know:
Friday March 3rd: Boys 1st Round Playoff Game @ Home
Saturday March 4th: Girls 1st Round Playoff Game @ Home
Tuesday March 7th: Boys Quarterfinals @ Gill Coliseum
Wednesday March 8th: Girls Quarterfinals @ Gill Coliseum
Thursday March 9th: Girls and Boys Semifinals @ Gill Coliseum
Friday March 10th: Girls and Boys Finals @ Gill Coliseum
Stay tuned to the Falconer on Twitter and Instagram for full coverage as both teams head into the postseason!
About the Writer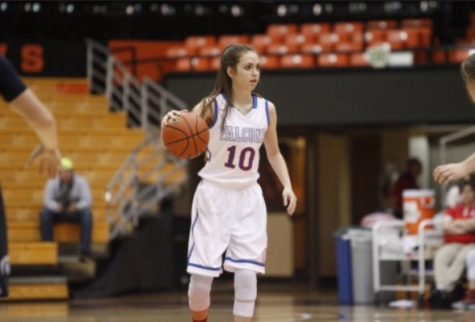 Hannah Sisul, Staff Reporter
Hannah is a junior at La Salle. She enjoys playing softball and hanging out with her friends. Hannah enjoys science and math and would like to pursue a...