iPads: The Teachers' Opinions
Teachers share their thoughts on the iPads so far
Hang on for a minute...we're trying to find some more stories you might like.
With school more than three months in, the Falconer decided it was time to take a look to see how the iPads are being used in their inaugural year.
Seven teachers plus teacher and network administrator Mr. Heineck were interviewed about how they have integrated iPads into their daily lessons and how they have affected their students' learning.
Mr. Heineck – Technology
"Initially at the beginning of the year, during the month of September, we were running into a lot of problems," Mr. Heineck said. However, this was largely due to a bug in the wireless network vendor that the school uses, and once the vendor was able to fix that issue, that overall school network has become much more reliable. At this point, Mr. Heineck says, "The network is running smoothly for almost 100% of campus use."
Overall, Mr. Heineck is pleased with where the network is at now. "Over 700 student devices on the network all the time and about 80 staff devices are on there at all times, so you've got about 800 iPads on the school network all the time, every day, and it's working pretty well. I think the vast majority of classes are using the electronic resources and getting a lot of value out of the electronic resource. [There are] some interesting activities that are unique to being able to have these resources in the classroom and there's unique learning that's taking place."
Mr. Heineck feels that altogether it "has been a 98-99% success at this point in the year, so I think we feel pretty good about that."
Mr. Stegner – History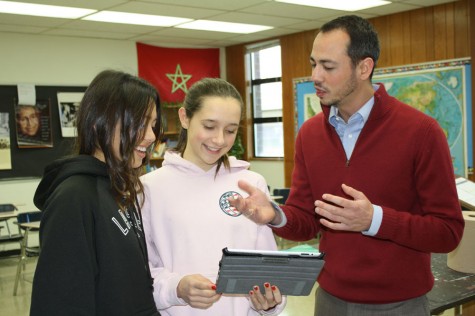 "The iPad has allowed me to make my classes almost completely paperless. Instead of making copies of readings and handouts I post everything on Schoology where students access them and put them in Notability. I enjoy using Notability for annotating texts and Google Documents for longer writing assignments. Although there are still times when I ask students to use paper and pencil, the iPad has mostly replaced the notebook and binder that used to be required for my class."
Ms. Coleman – Science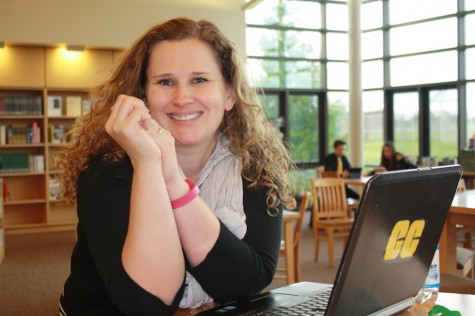 "My favorite app to use with students is Socrative. I like it because I can give quizzes and students get instant feedback. Additionally, I like to use it to pre-assess what students know before I teach a unit, then give them the same test later to measure what they learn. During the pre-assessment, the students are freaking out saying that they don't know any of the answers, but by the time they take it the second time, they are so much more confident because they were able to see much they learned."
"WiFi is my biggest struggle. No matter how organized I can be, if the WiFi is not working, it throws my lesson plan off. I do think the WiFi is working better than it did at the beginning of the school year and even at the beginning I was impressed with it considering it was our first time through to have 800 people on the WiFi. I thought it went actually pretty well considering it was our first time."
"I have seen a big improvement since they've done some patches to our different room connections. For the most part, internet works pretty well. Every once in awhile, it seems like in my bigger classes, I have issues sometimes with all the students connecting, but overall I think it's been a pretty positive experience."
Ms. Nitschke – Religion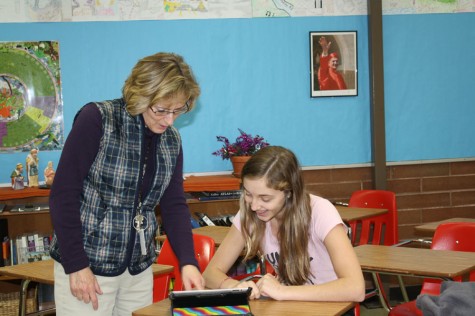 "iPads are great for group work. Students can open the assignment on Schoology, work cooperatively on Google Docs, do research if they need to, and then submit the completed assignment on Schoology. If we have a group discussion that requires writing and responding, we can do it in real time, and I can participate in the activity too. There are still issues that need to be worked out, but this ability to work together makes the assignments more interesting and fun."
Mr. Swanson – Math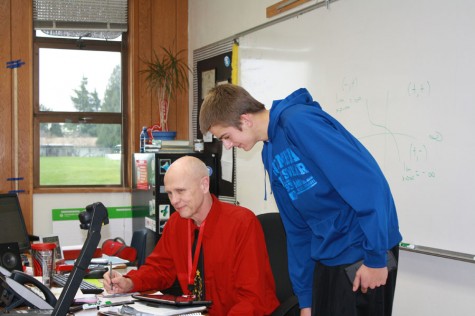 "For me, being able to adapt my instruction to include so much more technology has been both challenging and exciting. Any time I am asked to change, there is a steep learning curve and discomfort, and I have experienced both."
"I have never taught with iPads before so maybe I don't know the real before and after here at La Salle. However, as with everything kids have, phones, etc., the responsible students have learned to use the iPad as a valuable tool, but the less responsible kids have used it as a distraction."
Ms. Gantt – Spanish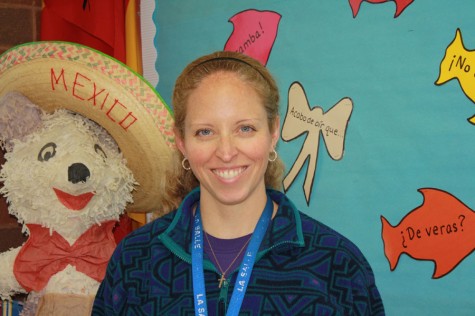 "My favorite app to use in class is Notability because we can use it to look at and annotate notes; it can be used as a quick check-in for understanding (much like what we have used white boards for before); and it can be used for a variety of activities involving paragraphs, tables, surveys, etc. Students also use Notability to complete the vast majority of their homework assignments. I find it to be very useful and versatile."
"For me, as a teacher, the biggest struggle has been staying connected to Apple TV during class. Sometimes, in class, what I have projected on the screen will just disappear! I can usually get reconnected, but each time that I have to do that it takes time away from instruction."
"As far as students are concerned, I think the biggest struggle has been with organization of assignments and information. I believe the majority of students are in much better shape now than the beginning of the year, but some still struggle."
Ms. McMakin – English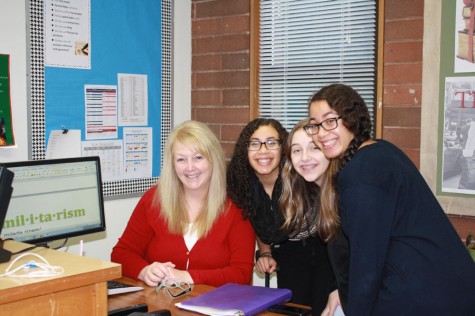 "The iPad is a great research tool. I love the fact that students have instant access to data during class discussions which has the potential to enhance learning and understanding. Everyone else had a whole year to plan this [but this is my first year at La Salle], so mostly what I do is a quick 'Everybody look this up' or 'Let's check Schoology' or research in class. I did use them to give a test, [and] I was very proud of myself."
Ms. Kessler – Spanish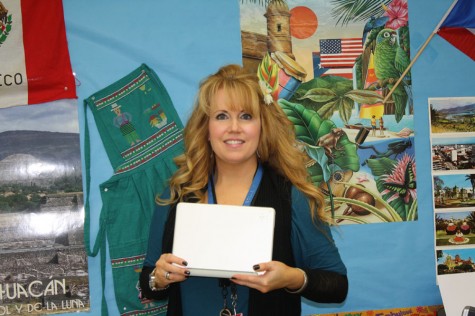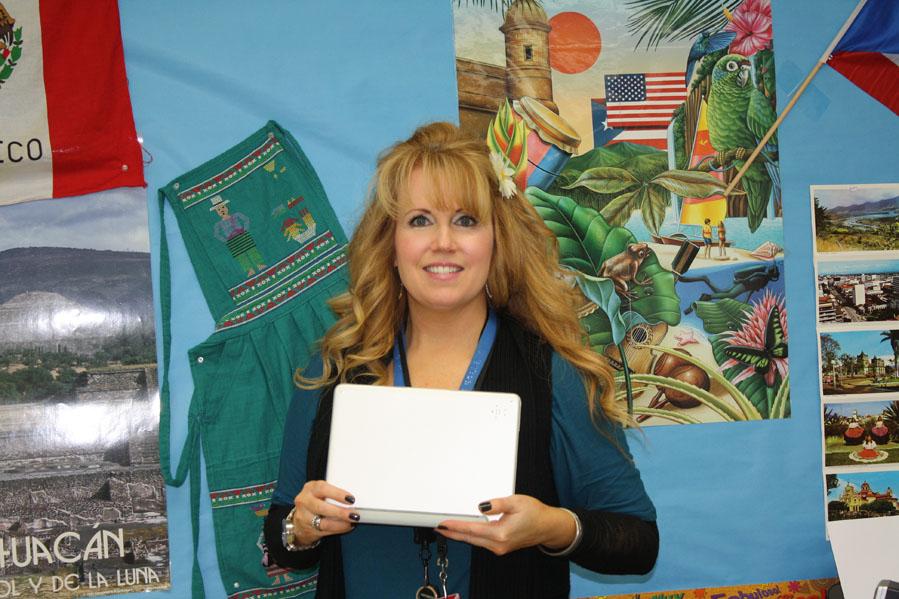 "iPads are a comprehensive tool for students where all work, notes and activities can be kept in one place therefore reducing/eliminating lost paperwork and notes."
***
For students wanting suggestions about how to troubleshoot problems with their iPad, check out this article with Mr. Heineck's tips and hints: https://lasallefalconer.com/2014/12/technology-problems-no-problem/
About the Writers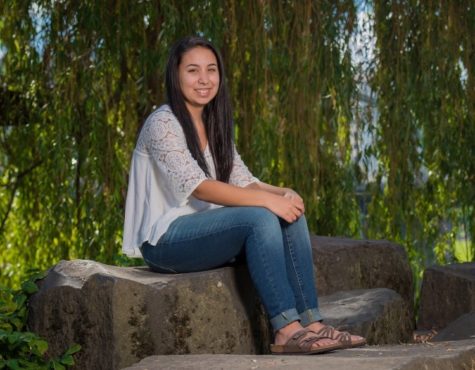 Maddie Pfeifer, Editor
Maddie Pfeifer is a senior this year at La Salle. She enjoys soccer and track and is also involved in many clubs at La Salle. She plans on majoring in...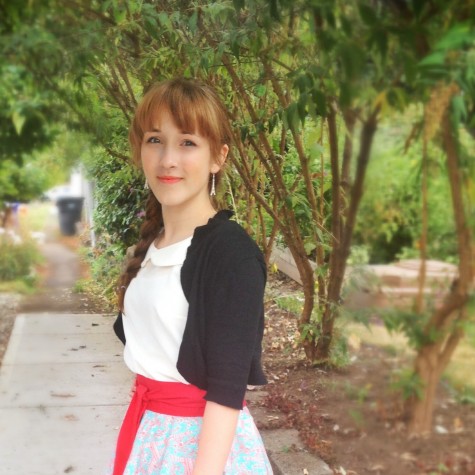 Hannah Markowski, Staff Reporter
Hannah is a sophomore, who speaks three languages: English, Spanish and Sarcasm. She is psyched to be able to write for The Falconer (though she wishes...