How Lasallians Celebrate Christmas
Our fellow teachers and classmates have many traditions and favorites throughout the holidays. Many include movies, carols, and a variety of foods. With Christmas just around the corner, we decided to interview a variety of people in the Lasallian community to find out their holiday traditions.
Traditions done by Lasallians during the Christmas season include getting new pajamas, Christmas pickle, (an ornament that is hidden and whoever finds it on Christmas morning gets an extra present) Christmas Eve mass, and reading "The Night Before Christmas."
Many of our fellow Lasallians attend the Christmas Eve mass, including senior Valois Gashongore, who remembers "going to Christmas Eve mass and not sleeping with my siblings on that night." He explains it as being one of his regular Christmas traditions. "My favorite part about Christmas is being together with family and friends after, and hot cocoa, I love hot cocoa."
Senior Mekel Tarbet and his family all gather on Christmas Eve night and get new pajamas, go to sleep in them, and wake up the next morning to fresh, homemade cinnamon rolls.
Mrs. Orr explains her ongoing tradition with her daughter and husband: "Every year my oldest daughter gives us a different Night Before Christmas book since she was 18, she is about 32 now. Every year she looks for a new edition, and my husband reads it on Christmas Eve."
Ms. Orr's favorite part about Christmas is "Watching my grandchildren open their presents, because they still believe in Santa Claus."
Another holiday tradition for many La Salle students is to watch Christmas movies, and one particularly popular and well-liked Christmas movie at La Salle is "Elf." Seniors Janelle Scott and Grant Gooding join in with loving this well known movie as well as freshman Matty Karcsay and juniors Sam Anderson, Taylor Westermeijer, and Leah Berger.
"My favorite Christmas movie would have to be Elf. My family and I watch it every Thanksgiving to get into the christmas spirit," says Gooding.
Scott also agrees, and acknowledges the popularity of the movie saying, "I know I'm mainstream but Elf is a great Christmas movie [because] it's hilarious."
***
For more info on the best holiday movies, check out our list here: https://lasallefalconer.com/2014/12/5-christmas-movies-to-watch-this-december/
About the Writer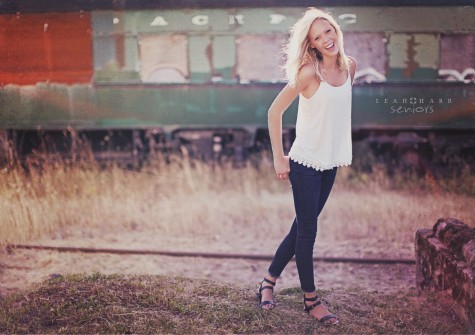 Gabi Simmons, Staff Reporter
Gabi Simmons, a senior at La Salle, plays varsity golf and is a part of the Pay it Forward Club. Gabi plans to study nursing at Oregon State University....