Every year, the faculty and staff of La Salle Catholic College Preparatory nominates one colleague to receive the Lasallian Educator of the Year award. As stated by the criteria shared with the staff preceding the vote on the nominations, the goal of this award is to honor an educator who embodies the ideals and values of Saint John Baptist de La Salle through their work, serving as not only an exemplary teacher but an engaged community member — one who is committed in their faith and dedicated wholeheartedly to the well-being of their students. 
This year, the recipient of the 2023 Lasallian Educator of the Year award is Mr. Linus Oey.
Mr. Oey's background as a Lasallian is deeply rooted. Growing up in Happy Valley, he attended Lot Whitcomb Elementary and Ickes Junior High —  both located in the vicinity of La Salle — before enrolling at La Salle for high school, where he graduated in the class of '87.
After graduating, Mr. Oey continued to stick close to home, and attended Oregon State University with a full ride scholarship to the civil engineering program. However, he was never intent on pursuing a career in engineering. 
"I went to college blind," Mr. Oey said. "Even though I was in the engineering program, I was in the engineering program because I got a scholarship — I wasn't sure if that was what I was going to stick with." In light of that, he ended up switching out of the program his senior year, and transitioned to studying Health and Human Performance and Exercise and Sport Sciences.
Despite the fact that Mr. Oey was unsure what the future held regarding his career choice at the time, he did know that he wanted to work with people, and as it happened, ended up inadvertently stumbling upon a job at La Salle when he returned to visit his former teachers, whom he had grown very close with during his time as a high school student.
"They were talking about needing someone to sub [for] the health class, and since that was my major I said, 'Gosh, I'd love to sub in there.' So that's how it started," Mr. Oey said.
When the health teacher — who was on maternity leave — returned, there was no longer a position available in the health department. However, since Mr. Oey had a background in engineering and therefore a knack for mathematics, the school offered him a job teaching basic algebra.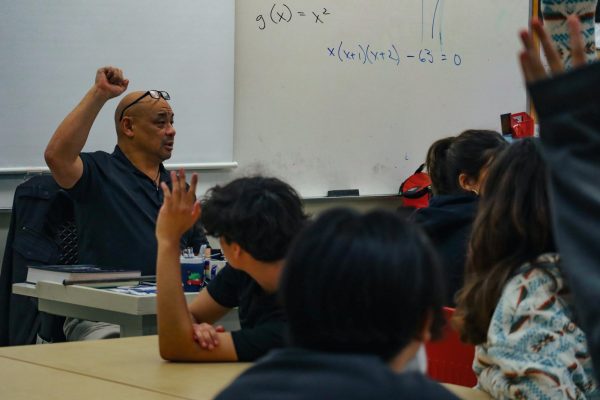 Mr. Oey accepted the position, and in the winter of 1992, before he had even received his diploma to complete his undergraduate degree, he kicked off the start of his teaching career, and aside from a brief break in the 2000s, has remained as a math teacher at La Salle ever since.  
Though it was undoubtedly difficult starting out as a young teacher, it was immediately clear to Mr. Oey that this was where he belonged. He had always liked math, and what made teaching it so enjoyable was that he was able to utilize his background to approach it with a different perspective; one that allowed him to connect with his students and help them find success. 
"What helps me be the math teacher I am is that I'm not a math major," he said. "I was able to see that math wasn't always easy for kids, and I was able to find ways to make it easier for them."
Over the years, Mr. Oey has taught a wide range of classes, including Algebra I, Geometry, Algebra II/Honors Algebra II, and Signum Fidei, La Salle's former program for students with learning disabilities. Having that fluctuation among classes has been something he's enjoyed, as it has allowed him to adapt to teaching a variety of skill sets as well as given him the opportunity to get to know many different students. 
For example, when teaching Algebra I students, Mr. Oey finds great meaning in building their foundational knowledge and setting them up for success, and on the other hand, when teaching Algebra II/Honors Algebra II, he enjoys working with upperclassmen and getting them ready for the future, engaging in activities such as discussing college plans.
Another aspect of teaching he has always been particularly fond of is getting to teach students for multiple years and gaining a sense of familiarity regarding their personalities and learning styles, which is unfortunately not as common during this stage of his career. "I think it's sad that I go through the school now and some kids I don't even get [to teach]," he said. "Back then, I had everybody at some time."
Senior Photo

Mr. Oey's senior portrait, featured in the 1987 yearbook.

Sophomore year track

Pictured in the 1985 yearbook, Mr. Oey competes in a track and field meet his sophomore year.

Cheer team

Mr. Oey poses with one of his stunt partners, Robin Cyphers.

Cheer Captain

La Salle's state-winning cheerleading squad of 1987, featuring Mr. Oey, rally captain, at center.
Naturally, Mr. Oey has witnessed a lot of change during his years at La Salle. Some things — like internal improvements and the expansion of the school — have been wonderful to experience, but others are more difficult to process, creating a lot of "ups and downs" that come with being the teacher who has remained in their position the longest out of anyone on the staff.
For someone like Mr. Oey, who so highly values the relationships he creates with his students and co-workers, the biggest challenge is experiencing the sadness of letting go of some of those relationships that have been developed over the years. "After being around some place for that long, you make such close friends and such close people who you consider family," he said. "Sometimes it gets hard for me to get close to our people here because I just know that if I stick around long enough, I'm going to see them go, too. It makes me really sad."
However, the fact that the community is so tight knit is what Mr. Oey has always appreciated most about La Salle, and he is grateful that that aspect of the school has remained steadfast. 
Ironically, he himself was initially reluctant to join the La Salle community as a high school student, as he wanted to attend his local public school but was forced to do otherwise by his parents. Now, Mr. Oey always makes sure to congratulate parents of new students for making the decision to send their child to La Salle, because in his mind, "that was the best thing my parents did for me, so it's the best thing they could do for their child." 
With that in mind, a goal of Mr. Oey's is to ensure that every student who comes through the front doors is able to witness that familial, loving aspect of La Salle's community. "All the teachers here will treat the kids and students like they are [their] own kids," he said. "If I make a decision on what I want the students to do in my classroom, it's the same decision I would give my own child." 
That being said, the classroom isn't the only place where Mr. Oey has had the opportunity to connect with his students over the years. 
Dating back to his own high school years, Mr. Oey has consistently been heavily immersed in the La Salle athletic world. When he was a student, he participated in track, soccer, and cheer, and was one of the original members of the co-ed cheer team when they won state in 1987, an accomplishment that had an ever-lasting impact on La Salle's cheer program.
At the time, co-ed cheer teams were virtually unheard of, but Mr. Oey and the other male cheerleaders were unfazed. "Myself and seven other guys started the co-ed team," he said. "Nobody else had that at the time, so that was really, really big for us."
Continuing his impact on the athletic community, Mr. Oey eventually returned as a coach for all three sports he participated in — as well as football — during various points of his teaching career, and in addition to coaching state-championship winning teams for football, soccer, and track, was an integral part of the cheer program for many years, directly involved in helping the team win another state title as well as an invitational regional championship. 
"The sports memories are big things for me," Mr. Oey said.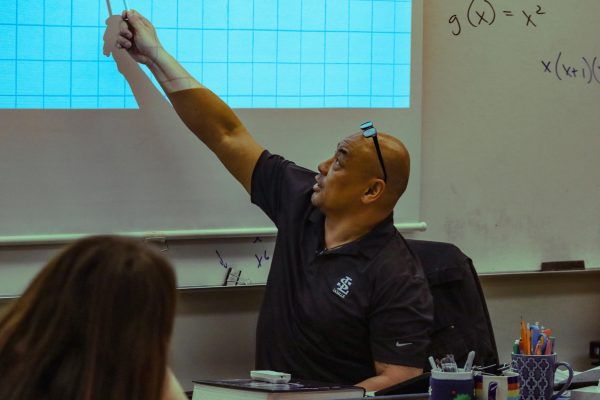 In the past, Mr. Oey has been heavily involved in sports outside of La Salle as well. He served as a cheerleading coach for Portland State University and ran the game operations for a former minor league baseball team called the Portland Beavers as well as the current major league soccer team, the Portland Timbers. 
Most notably, Mr. Oey is the stunt coach for the Portland Trail Blazers, a position that he was able to acquire after starting the stunt team from the ground up in 1995. 
Originally, he started out as a hip-hop dancer for the Blazers, but soon realized that he wanted a change of pace. "I didn't want to dance anymore — I wanted to stunt," he said. "So I asked [them] if I could have my own stunters, and I started the team." For 20 years, Mr. Oey served as both a stunter and coach, attending 42 home games every season while still maintaining his full time teaching position at La Salle. 
In 2003, Mr. Oey assisted in leading the Blazers stunt team to win an open-division (meaning open to all collegiate and professional levels) USA National Championship, and he himself placed 3rd in the Partner Stunt Division.
Shortly after that achievement, Mr. Oey stopped stunting and shifted his attention solely to coaching, and now has a co-coach that manages half of the games. Although he believes his time to retire from that coaching position is growing near, cheerleading and stunting will always hold a special place in his heart. 
"It's hard for me to retire," he said. "I started that team from nothing, and we are the only NBA team that has ever lasted that long." According to Mr. Oey, NBA stunt teams typically last for 2-3 years before dissolving, so the fact that the team he started has remained intact is an accomplishment that not many other people can say they've achieved. 
Adding on to his accomplishments within the cheer world, Mr. Oey was inducted into the Oregon Cheerleading Coaches Association (OCCA) Hall of Fame in 2022, a testament to the immense amount of time and energy he has put into his various roles as a cheer coach.
Mr. Oey and Cheer
National Champions

Mr. Oey and the Blazers stunt team after winning the 2003 open-division National Championship.

Father and Daughter

Mr. Oey poses with his daughter at a Blazers game.

Stunting achievements

After placing 3rd in the 2003 Partner Stunt Division at USA Nationals, Mr. Oey and his stunt partner raise their trophy. 
Besides his love for sports, Mr. Oey considers himself to be a big "family man." He loves spending time with his two children and his grandchild, and the fact that he is now an empty nester requires some adjustment on his part. "I'm trying to find things to do," he said. 
Luckily, as he is very active and possesses a lot of side hobbies, this has not proven to be too difficult a task thus far. For example, Mr. Oey plays competitive cornhole, and is just starting to get into pickleball. He also loves to play cards, an area he is well-versed in after a two-year stint as a professional poker player.
All in all, Mr. Oey is incredibly grateful for the role that the Lasallian community has played in his life, and in his opinion, receiving the Educator of the Year award is a "huge honor" that represents something bigger than himself. 
"I look at the list of other teachers on there and I don't feel like I'm worthy of being on that list with them," he said. "I don't think [winning the award] is about me. It's about someone representing the school because I'm proud of what the school represents." 
While Mr. Oey was surprised about his nomination, Principal Ms. Alanna O'Brien, who has been working with Mr. Oey for 28 years, did not hesitate to point out how deserving he was of the award, and emphasized the immeasurable impact that he has had on the La Salle community over the years.  
"He understands the Lasallian relationships in the classroom; he wants the best for his students; he reaches out when they're not at their best and tries to troubleshoot," she said. "Mr. Oey is one of those steady, reliable teachers who just gets it."