As the new school year starts, eight new faces can be found on La Salle's staff. Among these new members of the community include those filling positions in the Math and Science departments as well as in administration. The Falconer spoke to these new staff members to paint a picture of how they came to La Salle and what they are looking to accomplish in their new positions. Due to scheduling issues, our staff was unable to interview La Salle's new Director of Admissions, Ms. Hui, but stay tuned for a profile regarding her position to come soon. 
Mr. Chris Long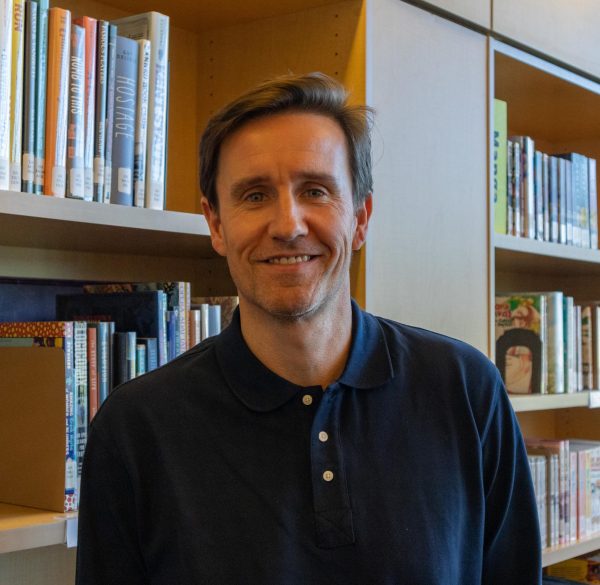 By Lucy Loeb
Mr. Chris Long, Director of Academic Resources, found his way to La Salle through his zeal for working with students. 
Mr. Long previously worked at the University of Portland for six years as a learning operations manager in marketing and communications. After graduating from the University of Portland in May of this year, receiving a doctorate degree in education, he decided to explore a different career path than the one he was following at the University of Portland because he wanted to work with students. 
"I have a passion for student learning and development and I want to bring that here and work with students directly," Mr. Long said.
Before receiving his doctorate degree in education, Mr. Long got his undergraduate degree in Film Video Studies and his master's degree in Digital Media Production. After obtaining his undergraduate degree, Mr. Long found a career in filming for documentaries, which led him to the next step on his career path.
"I realized that I just loved interviewing people and learning about them and their beliefs," Mr. Long said, "and so I went and got a second masters degree in learning design and technology from Purdue."
At Purdue University, he studied cognitive principles of learning, instructional technology, and instructional design. This later served as inspiration during his doctoral studies at the University of Portland, where he centered his attention on academia.
"While I was working at the University of Portland, I went and got my doctorate degree in Education with a focus on the intersection of neuroscience and learning," Mr. Long said.
Mr. Long hopes to approach supporting the Lasallian community and planning course material similarly to how he did during his dissertation for his doctorate degree. He firmly believes in approaching teaching by first giving students a foundation in their own learning, which would look like teaching students how their brain works while learning and helping them understand what is necessary for healthy learning. 
"Once you build that foundation in how learning works, then you can go in so many different directions," Mr. Long said.
Currently, Mr. Long is helping Academic Support Specialist Ms. Shannon Woodworth with the peer tutoring program at La Salle. Additionally, he provides support for students and teachers in the areas of research assistance, applying student learning, and assisting teachers in helping their students to learn effectively. 
In the future, Mr. Long will also be assisting teachers in professional development regarding researching resources, helping with navigating research databases and statistics, as well as supplying research materials for teachers when necessary.
Through obtaining his doctorate and doing extensive research, he found that viewing teaching from a need and student-based perspective rather than an information processing-based perspective is more beneficial to both students and teachers.
He feels that a lot of people conducting the research he was doing during and prior to his doctorate are trying to move away from something he calls "deficit lenses", which view students in terms of what they don't have, constantly putting them at a deficit. New research suggests that viewing students and integrating their previous knowledge is much more beneficial, as we can instead see their cultural and previous values and experiences, their current learning, and what they need to "feel welcome and a sense of belonging." The curriculum that was developed during his doctorate degree was based on meta learning, which Mr. Long defines as a way of learning about your own thinking and learning processes.
At La Salle, Mr. Long hopes to approach teaching from a student feedback-based perspective where he can learn from his students and apply that in his research as well as his instructional practices.
"I think research is an interesting thing because you can get really involved in research and lose sight of what's happening on the ground," Mr. Long said. "And so I'd like to really strike a good balance, which is one of the reasons that I came here, was to work with students and learn from them."
Although this might be difficult, Mr. Long is up to the challenge. He enjoys having to "untie knots" and thrives on being "thrown into the fire", so he appreciates that he has a lot to adjust to and learn in his new position.
"I'm prepared to figure it out and I'm happy to figure it out and work through it," Mr. Long said.
Aside from beginning to apply his research to courses he will teach at La Salle, he has been getting used to the new environment. 
In his first three weeks at La Salle, Mr. Long views the school as a miniature version of the University of Portland. He said that the positive environment, along with everyone being exceptionally welcoming and gracious during his adaptation to the new community, has made for a wonderful first few weeks at the school.
Currently, his goal is to learn as many students' names as possible and get to know as many as he can within the school year. He strives to make connections with as many teachers as possible and gain further understanding of their goals to be able to support them and their students in the classroom.
Outside of La Salle, Mr. Long has quite a few hobbies, many of which date back to his childhood. 
One of his hobbies is surfing, as he learned to surf early in his life while he lived in Mililani, Oahu. He also loves playing basketball, and his favorite basketball team is the Oklahoma City Thunder, as he lived in Oklahoma for most of his upbringing. 
Mr. Long and his wife Emma recently welcomed their first child, Bodie, into the world. He is now six months old, and one of Mr. Long's favorite hobbies is spending time with his wife and his son. 
Through the process of acquiring his doctorate degree, Mr. Long didn't have much time for hobbies, but he is looking forward to striking a balance between work and personal time during his tenure at La Salle. 
Ms. Kathleen Jahn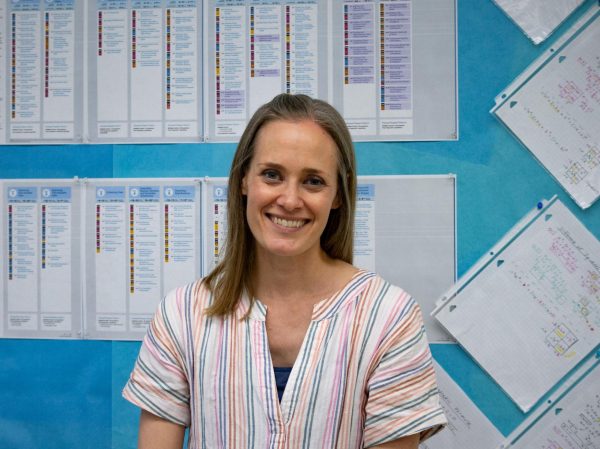 By Seychelle Marks-Bienen
For Ms. Kathleen Jahn, becoming a teacher was always in the cards, so it's no surprise that although this year marks her beginning at La Salle, it also commemorates her 18th year — including one year of student-teaching — as an educator. 
Prior to honing in on her career choice, Ms. Jahn was subconsciously putting her teaching skills to use all throughout her childhood. For example, instead of playing the classic make-believe game 'house,' she preferred to play 'school,' and loved to simulate the classroom environment. 
As she grew up, this theme persisted, and throughout high school Ms. Jahn exercised her love for helping others by assisting classmates with their homework when they were struggling. "I feel like I've sort of always been a teacher," she said. 
Despite these telling traits, the shift to becoming a teacher didn't occur until later in her life. 
After high school, Ms. Jahn completed her undergraduate degree at Harvard University, where she studied applied mathematics and economics. Growing up in Boston, she didn't have to travel far, and was able to receive a top-notch education while staying close to home.
Eager to put her freshly-obtained mathematics degree to use, Ms. Jahn remained in Boston after graduating and worked for three years in quantitative investment management. 
Though initially content, she eventually realized that she wanted a change of pace.  
"I was sort of raised to believe that you should make a lot of money if you can and have a quote unquote 'prestigious job', so I sort of went that way," she said. "I quickly figured out that that was not what I wanted to do." 
Wanting to pursue a fresh start in all areas of her life, Ms. Jahn moved across the country to Oregon. "I was really turning my back on a lot of what I had been raised to do, so it just felt right to go all the way to the other coast," she said. 
Though she had planned on becoming a teacher a lot later, potentially after she had settled down and started a family, she found that three years of her finance job left her wanting to work in a more active environment — preferably one with young people. In addition, she wanted more opportunities to focus on her passion for mathematics. 
Ms. Jahn went on to get her master's degree in education from the University of Oregon, officially kick-starting her profession as a teacher.
At the beginning of her teaching career, she worked as a math teacher at Mountain View High School, eventually transitioning to becoming an instructional coach at Heritage High School and Covington Middle School. She then taught compacted math for Portland Public Schools before landing at Franciscan Montessori Earth School, her most recent job before coming to La Salle. 
Ms. Jahn was drawn to La Salle for several reasons. It first appeared on her radar because her son was applying as a freshman, and as she had been wanting to transition back to teaching high school, she jumped on the opportunity. 
Ms. Jahn was especially impressed by La Salle's "kind and caring community" as well as the "clarity of purpose" that those in leadership positions possessed. 
"I realized that I wanted to be a part of that," she said. "As much as I wanted that for my son, I wanted that for myself, too."
As a new member of the math department, Ms. Jahn is taking many challenges head on, such as teaching AP Calculus AB and AP Statistics at the same time and instructing class sizes of over 30 students. 
Despite this, she has high hopes for both herself and her students. 
"I know I have a different teaching style than other teachers at La Salle, or at least in math, but my approach is one where it's student centered," she said. "That's my goal — to get all the students comfortable in the math setting and not relying on the teacher's thinking but actually thinking for themselves and making sense of the material." 
Ms. Jahn is excited to further explore all that La Salle has to offer, and has been very pleased with everything she's seen from the community so far. "I'm impressed by how diligent the students are," she said. "Everyone is very kind. It is that kind, welcoming community that I was expecting." 
Ms. Chris Babinec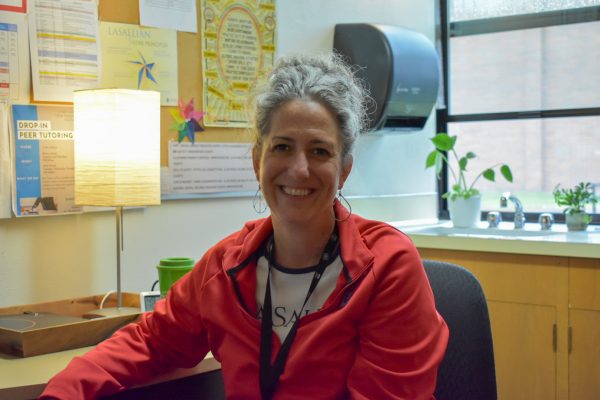 By Kathleen Waldron
Despite being La Salle's newest member of the counseling team and stepping into the role of a counselor in a school setting for the first time, Ms. Chris Babinec is no stranger to the field of counseling.
Prior to joining the La Salle community, Ms. Babinec was the owner of a private practice, working exclusively with teens and families. However, after 12 years of doing work in private practice, Ms. Babinec ultimately chose to work strictly with teenagers, focusing on school communities.
"In private practice, it's hard to see a lot of kids and do the job really well," Ms. Babinec said. The job requires heavy communication and organization from each patient's teachers, counselors, and parents. Because of this, Ms. Babinec longed for the opportunity to have day-to-day interactions with teens.
"I really wanted to go back to working with teens full time," Ms. Babinec said. 
When deciding on a career, Ms. Babinec said, "I always wanted to be a student counselor, and I didn't even know if it was going to be possible." During the process of graduating from Northern Arizona University, Ms. Babinec chose the path of clinical counseling as opposed to school counseling, and because of this did not know if becoming a school counselor would be possible. 
This line of work gave Ms. Babinec the opportunity to work extensively with marginalized communities, including members of the LGBTQ+ and BIPOC communities. 
Ms. Babinec is most eager to be involved in the energy of the school community. The friendliness and curiosity of the student body is why Ms. Babinec is enthusiastic about being able to work closely with the students.
Coming into the school environment, Ms. Babinec is eager to get to know the student body. "My goals are to meet every single kid that is on my caseload," Ms. Babinec said. Currently, that number sits at 197 students.
For Ms. Babinec, it is important that students feel welcome to converse and have a space to relax."You don't have to be in crisis or have mental health issues or learning support and accommodations," Ms. Babinec said. "School counselors are great people and places to just check in [and] ground yourself."
It was an easy choice for Ms. Babinec to enter the Lasallian community. "I really bought into and love the community feel of La Salle," Ms. Babinec said. "It felt like a place where every person could be seen as a unique and valuable individual." 
Another thing that attracted Ms. Babinec to La Salle was "the values and the interest in helping the poor and marginalized, [and] making sure that everyone has access to a high quality education."
Outside of work, Ms. Babinec spends time playing soccer, hanging out with friends, being outdoors, camping, and hiking. However, Ms. Babinec's children are at the top of the list of people that Ms. Babinec enjoys spending time with.
Occasionally, Ms. Babinec appears on the KATU news channel to present mental health segments.
Ms. Babinec has also published a children's book titled "Want a Hug?" The book focuses on the importance of obtaining consent and having boundaries for younger kids.
Ms. Kenzie D'Ambrosio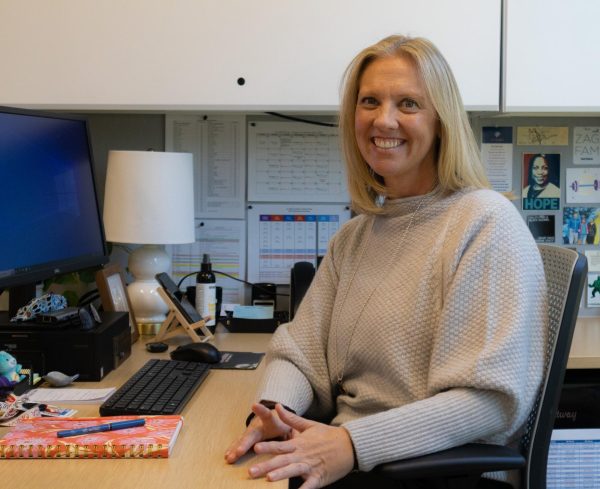 By Jasmine McIntosh
The Lasallian value of inclusive community is not just a banner hanging in our hallway — it is ingrained as a way of life at La Salle. New Dean of Students Ms. Kenzie D'Ambrosio was welcomed by that value in her first days at La Salle, and strongly aligns with the teaching. 
On her first official day at La Salle, Ms. D'Ambrosio remembers feeling very overwhelmed by all the new things she would need to learn and do in a very short period of time, but the inclusive and uplifting community of La Salle's staff was very helpful in preparing her for the new job.
"I've been so impressed and humbled just by the amount of support I've had," she said. "The way that people have immediately included me and just been friendly and said hello."
Aside from the personal connections and support she has been welcomed with, Ms. D'Ambrosio has noted that "there's such a strong La Salle spirit that kind of permeates this whole area, let alone just the school, and that's been really cool to see," she said. 
As she begins to settle into her new position, Ms. D'Ambrosio reflects on the expansive journey that brought her here. 
Ms. D'Ambrosio first headed north to Gonzaga University in Spokane, Washington, where she majored in Special Education. Traversing approximately 5,400 miles east of Spokane, Ms. D'Ambrosio headed to Florence, Italy for a year-long study abroad, where she was able to immerse herself in a new culture. Simply put, she said her experience was "amazing".
Her time at Gonzaga was highlighted by meeting many new friends, and most importantly, "I met my eventual husband there," she said. Gonzaga is still a big part of her life as two of her children are currently attending the university. 
Fast forward several years and travel to downtown Portland, Oregon, where Ms. D'Ambrosio was working as the Assistant Dean of Students at St. Mary's Academy. That job had many of the same aspects as her current role here at La Salle.
Interestingly enough, it was one of Ms. D'Ambrosio's coworkers at St. Mary's that suggested that La Salle would be a good fit for her. That coworker was Ms. Kelsey Hui, who is the new Director of Admissions here at La Salle. 
After receiving that nudge towards La Salle, Ms. D'Ambrosio came and visited the school. "I talked to Ms. O'Brien, and then I came to visit," she said. "I immediately felt really comfortable and welcome and just knew that it would be a good place for me to be." 
Ms. D'Ambrosio has made an effort to mirror that same feeling of comfort and welcome throughout the halls of La Salle every day. She often stands at the front of the main hallway in the morning, greeting students as they enter the school and start their day. 
This simple gesture ties into one of her goals for this school year. She aims to "increase that sense of belonging amongst all of the students," she said.
Another one of her goals this year revolves around school spirit, and seeking to elevate that across all aspects of the La Salle community. She wants to "get students and faculty and staff excited to be a part of La Salle, and to show that in all the ways, not just going to a sporting event and cheering," Ms. D'Ambrosio said. "Having that be kind of ingrained, and if you go to La Salle, you have that spirit and that want to show that dedication." 
As for the more concrete details of her new position, Ms. D'Ambrosio is responsible for all things student life. She works closely with the staff in the FSCI — Faith, Service, Community, and Inclusion — office, helping them with events. "We work together to make sure that all of that programming is running smoothly and it's taken care of," she said.
Outside of the FSCI, Ms. D'Ambrosio is thoroughly involved with supporting every aspect of a student's academic and personal lives. 
"I work really closely with the counseling team as well as Ms. Coughran, and I'm part of that student support team that works with supporting students who might be struggling in an array of areas," she said. "Whether it be academic, mental health, whatever it is, that team works together to ensure that we're supporting our students the best that we can."
It's not just support that Ms. D'Ambrosio provides for students. She is also involved in their classes and activities. She recently made a visit to the Leadership class to talk about homecoming week festivities and enriching community feelings during the various events.
When she's not working with the student body at La Salle, Ms. D'Ambrosio can be found indulging in one of her favorite pastimes: sports. Whether it's watching or playing, she loves all things sports. Specifically, she has a fondness for tennis, and more recently, pickleball. 
All of those activities certainly work up an appetite, and Ms. D'Ambrosio probably knows a place. "I love trying food and being adventurous about it and going on outings to find cool spots," she said. 
She is also open to any suggestions of new places to try. "I love anytime someone suggests a cool place that's in their neighborhood or somewhere that they really enjoy," she said.
Ms. D'Ambrosio has high hopes for her first year as the Dean of Students, and, in general, has been enjoying her work thus far. "It is mostly fun," she said. "There are parts that are not so much, but for the most part, it's really awesome."
One aspect of her work that she particularly appreciates is the opportunity to work with young people. "I love high school kids," she said. "Y'all are cool."
Mr. Jon Owen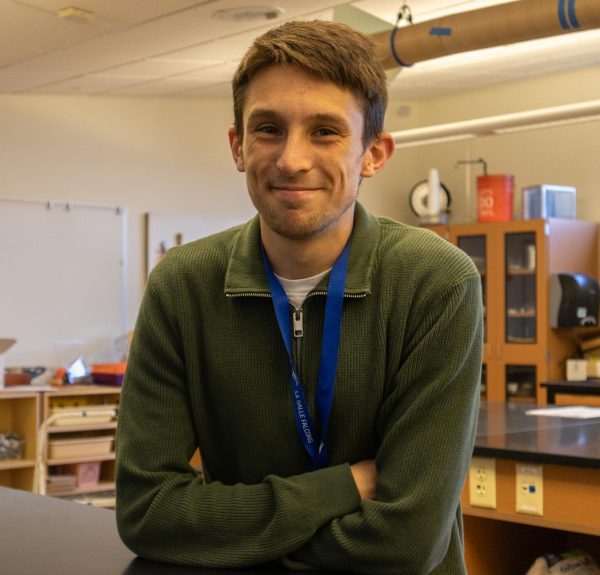 By Sofia Gonzalez
Although teaching wasn't something Physics teacher Mr. Jon Owen had always planned on pursuing, he discovered his passion for it in college, leading him to start his first year of teaching at La Salle.
Mr. Owen recently graduated from Seattle Pacific University, entering the school majoring in mechanical engineering before switching to physics at the end of his freshman year. 
"I originally was an engineering major and I just realized I hated designing things and making things," he said, "[but] I like knowing how things work and the physics classes." 
Science and math were always subjects he enjoyed in high school, which originally led him to pursue a degree in engineering. His family is also very STEM oriented, with his father being an engineer for Amazon and one of his brothers working towards an engineering degree at the University of Alabama.
Throughout his time at Seattle Pacific, he tutored other students in physics and was a teacher's assistant in his senior year, inspiring him to look into pursuing the profession of teaching. 
"It's nice to see someone have, like, that lightbulb moment and go from, like, not getting it to getting it all at once," Mr. Owen said. 
In addition to being a full-time student, Mr. Owen was also a student-athlete, running the 800m and 1500m for Seattle Pacific's track and field team.
When Mr. Owen realized that he wanted to run in college, he reached out to the coach at Seattle Pacific and was offered tuition aid, which further drove him to continue his education there. "College is mostly 'you get out what you put in,'" he said. "[Even] if you go to the best school in the world, if you don't put anything in, you are going to be miserable."
Running is still a passion of his, and is one of his main hobbies.
Seattle provided a change in pace from Florida, which is where he went to high school. However, the move wasn't an immense change, as his father's military service and employment moved the family all over the country to places like Tacoma, Washington, Lebanon, Oregon, and Reno, Nevada.
Arriving in Portland just three weeks before school started, Mr. Owen has found thus far that Portland is not a huge change from Seattle. However, one difference he noticed between the two cities is the downtown areas. "Everything to do is in downtown Portland, and Seattle is a little more spread out," he said. 
His decision to move to Portland was motivated by his girlfriend, who moved to the city to pursue her master's degree in psychology, in addition to the fact that he was searching for teaching opportunities. 
So far he has enjoyed his experience in Portland and specifically at La Salle, citing the other teachers and students as the main reason why. "[The students], they want to actually put an effort in," he said. "It's great to teach people who want to learn."
He teaches mostly freshmen and some transfer students in the courses Physics and Physics M.
Since he teaches students who, for the most part, are taking their first high school science class, one of his main goals is to get students to stay invested in science after his class.
"So as much as I can get people interested in physics or just science in general, that's what I want," he said. 
Ms. Olivya Conner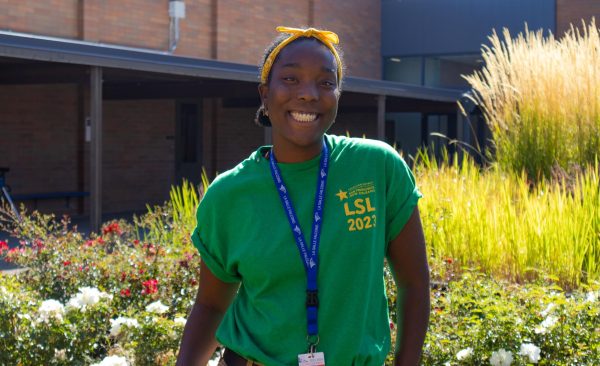 By Rita Tran
Even though this is Director of Service Ms. Olivya Conner's first year here at La Salle, she is no stranger to the Lasallian way and teachings.
Originally from Berkeley, California, Ms. Conner went to St. Mary's College High School, a Lasallian school. "It was a huge part of just making me who I am today," Ms. Conner said. Loving the service aspect of her high school, she was interested in continuing to be a part of a Lasallian family at another Lasallian school.
Before moving to Oregon just before the start of the school year, Ms. Conner was working at a restaurant called the Sailing Goat, and prior to that, she was working as a teacher naturalist at an outdoor education program called Caritas Creek located in Occidental, California. 
Working at Caritas Creek allowed her to explore the role of a teacher, which made Ms. Conner realize that she loved working with students. 
"I genuinely loved working there," she said. "It was really amazing to see the amount of growth that a child can have from Monday to Friday." 
Ms. Conner took the role of Director of Service not just because she wanted to work with students, but because at the core of her job, she is helping students have opportunities to serve. "[Service] was a huge passion of mine and continues to be, but there are not a lot of ways in school that students are able to get involved with service," she said. 
Not only does she want to further student involvement in service, but Ms. Conner also wants to help students learn to love to serve others. "I think that one of the things that makes service so impactful is when you have passion, when you have interest in it," she said. 
One of her goals for this first semester is to be able to get her footing and figure out how this specific Lasallian school works, becoming acquainted with all the programs and opportunities that La Salle has to offer.
"My goal is to familiarize myself enough with this place so that I can keep the good things and start to change the things that need changing," Ms. Conner said. "I want to get to know the student body enough that they feel comfortable coming to me and telling me what they want to see and do."
Beyond the school walls, a personal goal that Ms. Conner has is to go outside and explore Oregon. Ms. Conner immensely enjoys the great outdoors from hiking, biking, to simply spending time in the forest. "I would rather live outside than inside," she said.
She also enjoys music and expresses this through singing, watching musicals, and playing a multitude of instruments, such as the piano.
Excited for all the things that her role as Director of Service has to offer, Ms. Conner knows that she is a part of a bigger community that not only includes La Salle Catholic College Preparatory, but every single Lasallian community in the world. The values that all of the La Salle community shares is what keeps Ms. Conner constantly looking forward to working further with the people at La Salle. 
"It is this deeper family that has these core values of quality education and fighting for social justice and being there for one another – honoring the person, respecting a person," Ms. Conner said. "All of those kinds of things keep me so fired up about being a Lasallian." 
Mr. David Frank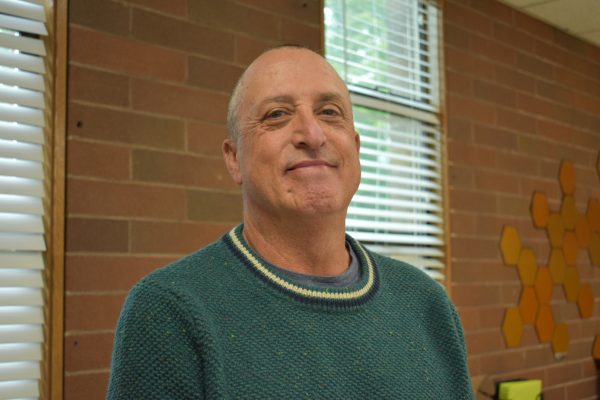 By John Pham
Growing up only a few minutes away in Gladstone, it was Mr. David Frank's 35th year as an educator that brought him to La Salle as one of the new math teachers.
After 23 years of teaching at Central Catholic High School, Mr. Frank was made aware of an opening at La Salle by Vice Principal Ms. Kathleen Coughran, with whom he worked previously.
In his first month at La Salle, Mr. Frank noted that it wasn't a major transition from his last school, although he admits that he is still getting used to both Schoology and PowerSchool. 
"In a very positive way, they're all the same," Mr. Frank said. "There's not a difference between Central students and La Salle students. People need the same things: they need support, they need to be challenged occasionally, and know people care about them."
Mr. Frank's teaching career, however, started out on another track – more specifically, the running track.
Running for Gladstone High School, Mr. Frank was a five-time state champion in cross country and track. A passion for running accompanied with good grades allowed him to attend Stanford University.
Mr. Frank said that his future was very much undetermined when he went into college. "My goal was not to be honestly the greatest academic person in the world — I wanted to be the greatest runner in the world," he said.
His steeplechase record at Stanford would remain unbroken for 18 years and he was also able to compete in Olympic trials. In academics, Mr. Frank debated over pursuing math or science. Looking back now, he thinks he would have majored in Physiology or Kinesiology with a minor in Philosophy. "It's all worked out okay," he said. "I'm still trying to figure out what I want to do with my life."  
Eventually deciding to major in Economics, he wasn't sure if a career in the stock market or working as a consultant was for him. He was reminded of his high school coaches, who were teachers themselves. This inspired Mr. Frank to further pursue his master's degree in Education. "I thought this would be a cool thing to do because I think I might really like it," he said. "And if I don't, it's not going to hurt me."
After teaching in the Bay Area for 11 years at St. Francis High School, Mr. Frank would return to Oregon, where he taught at Central Catholic, also serving as head coach for the track and field team for 18 years. 
This year, Mr. Frank is teaching Geometry and Statistics. 
Not having taught Statistics in a while, Mr. Frank says that fellow newcomer Ms. Kathleen Jahn has been a tremendous source of help in offering resources for the project-based assignments for his classes. 
After having served as Central Catholic's head cross country coach, he is still looking to hold onto his passion for running in his transition to La Salle as an assistant coach with Mr. Mikel Rathmann.
 "Working with him has really been fun because he's exceptionally enthusiastic," he said. Both coaches have crossed paths in the past, but are now on the same team.
Mr. Frank thinks he will be at La Salle for a while. "I just think it's fun that you can find new things to do and reinvent yourself," he said.
Correction: October 10, 2023
A previous version of the article incorrectly stated that Ms. Conner's outdoor education camp was in Irving, California, when it is was in fact in Occidental, California.