Next Level Seniors: Olivia Maulding Commits to Play Division I Volleyball at Notre Dame
Reflecting on her athletic journey from playing recreational volleyball in the third grade to now committing to Division I volleyball for Notre Dame University, senior Olivia Maulding said that "It has always kind of run in my family."
She is part of a select few seniors at La Salle who have signed to play sports at the collegiate level, students The Falconer showcases in its Next Level Seniors series.
One of the main reasons Maulding was drawn to volleyball at such a young age was having family role models who motivated and encouraged her to play. In addition to being introduced to the sport by her mom and aunt who played growing up, Maulding's goal to compete at the college level was influenced by her cousin's experience playing Division I men's volleyball at the New Jersey Institute of Technology. "His love for volleyball inspired me to want to play," she said.
After her first recreational team, Maulding began club volleyball for the first time in fourth grade for North Clackamas Volleyball Club. "We were not very good, I want to say we were probably 54 out of 55 in the state or the region," she said. "But as I got older, my skills started to develop."
While continuing playing club volleyball, Maulding's introduction to competing in the sport through a school came when she attended Christ the King during middle school and played CYO volleyball — an experience she appreciates due to the lasting relationships she's formed with a few old teammates who now play on her present club team. 
Maulding currently plays for Oregon Juniors Volleyball Academy (OJVA) as a middle blocker. The reason she's landed on that position is, in part, due to her height but also because "that was the main position I practiced, so that's what I'm most familiar with," she said.
Having been ranked high in the nation, her team qualified for the National Competition which occurred April 28-30 in Columbus, Ohio this year. On the first day, they beat the number six team in the nation in two sets, allowing OJVA to finish No. 21 in the nation out of thousands of ranked teams — an achievement rare in Oregon volleyball history. 
Maulding believes a lot of this success stems from a strong team environment. "The dynamic of our team is pretty fun and light-hearted, but when it comes to actually playing, we're all very serious about our sport; we don't take it lightly," she said. 
She also appreciates the bonds she has with her coaches and teammates, as those relationships have a lot to do with the team's performance on the court. "Our determination and our drive, we all have very similar aspects and outlooks on that, so we connect really well and it works," Maulding said.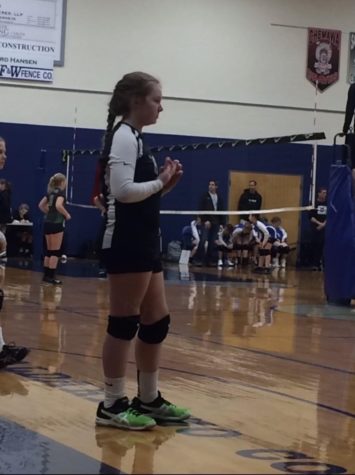 In addition to maintaining a positive team environment, competing at a high level also involves extensive training. Maulding practices four times a week with the team, and spends an additional two days doing workouts and training. Each practice lasts two to three hours, typically starting with positional, skill-based work. Then, they transition into gameplay and scrimmage activities, concluding with conditioning or weightlifting. 
Outside of the club season, Maulding also enjoys the experience of playing high school volleyball at La Salle, but also acknowledges how different it feels compared to club. 
"There's a different meaning behind high school volleyball and club volleyball," Maulding said. "I would say high school is more of a fun environment — you're playing for people, you're playing for your school, but club volleyball is more so your path to get recruited, your path to play in college."
One of Maulding's standout memories from high school volleyball was when she played Bend High School at a tournament. At the time, Bend was ranked number one in the 6A division, meaning they were expected to be tough competition for 5A La Salle.
"Everyone was like, 'Who's La Salle? There's no way, this game is going to be over so fast,' but we ended up beating them," she said. "I think I'll probably always remember that game."
Due to the amount of time volleyball takes up in her schedule, Maulding typically has little time for other activities. "It's like a full time job with workouts and everything," she said. "Time management is huge when you're a student athlete."
In order to balance school and volleyball, Maulding uses a digital planner and communicates regularly with her teachers to stay on top of work — especially due to the rigorous course load she's maintained during her four years at La Salle. Overall, Maulding has taken eight AP classes in total, and finds that getting work done in the mornings before school helps her get the most out of her free time. 
A motivation for Maulding to play volleyball has been her high school coach, Anna Dillard. Not only was she Maulding's coach all four years at La Salle, but she was also one of her first club coaches, making her one of Maulding's biggest inspirations as she's grown as an athlete over time. "She played college volleyball, she knows what it's like," Maulding said. "I just look at her as someone who has really inspired me to be the player I am."
Maulding has also dedicated much time to volleyball in high school because playing at the collegiate level has always been her end goal since she first began the sport. "Everyone had always talked about college volleyball, and you see it on TV," she said. "I was like, 'That's what I want to do.'" 
For collegiate volleyball recruitment, June 15 after a student's sophomore year is when colleges can begin reaching out with offers. However, COVID-19 proved to be a significant barrier in that process, as competition was greatly limited. The pandemic caused recruitment to be delayed until teams were able to resume play again. "Overcoming that was a huge, huge deal," Maulding said.
In order to combat this setback, Maulding started doing conditioning on her own at home. Additionally, when COVID-19 restrictions were gradually being lifted, she was able to practice under special circumstances by playing at a teammate's home gym as long as she and her teammates consistently tested negative, were vaccinated, and wore masks. "I think that really helped keep me in shape and on top of my sport," she said.  
Despite those challenges, Maulding received multiple college offers. The top two choices she ended up deciding between were Notre Dame and Texas Tech — not only because of their strong Division I volleyball teams — but also because their academic programs aligned well with her major. Ultimately, Notre Dame was her final decision due to her love of the school's environment. 
"I wanted to go somewhere that had a really great culture," Maulding said. "And then on top of that, my main priority in my recruiting process was finding a school that has really high academics but also a really great athletic program. Notre Dame provided me with that."
Maulding plans to major in neuroscience and behavior on a pre-med track because she has always wanted to become a doctor growing up. Down the line, she also plans to attend medical school after she graduates from Notre Dame. 
Committing to playing volleyball in college is what Maulding sees as her biggest accomplishment. "That was a huge moment for me just because that had been my ultimate goal since I was little," she said. "I think that kind of proved to myself that I could do what I set my mind to."
That feeling of achieving what may seem unattainable at first is exactly what Maulding hopes younger athletes will experience in their own athletic journeys.
"No matter who tells you what you can or can't do, just ignore them," she said. "You have complete control of your future and your success."