Next Level Seniors: Nikola Jelusic Commits to Swim at Linfield University
Senior Nikola Jelusic has thought about swimming in college since he first started the sport around the age of nine. "I guess through swim lessons I found out I just loved swim," he said. "So I tried out for the swim team, made it on, and just took off from there." 
Jelusic has chosen to continue competitive swimming by pursuing it at a college level at Linfield University, becoming part of a select group of seniors at La Salle who are showcased in The Falconer's Next Level Seniors series by committing to a collegiate sport.
Although Jelusic has always thought about collegiate swimming, it didn't form into a set goal until the start of high school. "I want to swim in college, just to keep doing the sport," he said. 
Jelusic competes in the 100-meter breaststroke because it is a sprinting distance. Having tried long distance in the past, Jelusic has been set on sprints because it is hard for him to remain engaged for longer lengths. "I am more of a sprinter," he said. "It feels much better." 
He is a member of both La Salle's team and a club team, Lake Oswego Swim Club, which he joined recently. He practices every day of the week except for Sundays, as the club requires a lot of dedication.
Jelusic joined the Lake Oswego team in order to improve, as he felt his progress had plateaued with his old club. 
The coaches for Lake Oswego swim club are, in Jelusic's opinion, the best he's had. "They encourage us to keep going, push through it," he said. 
Pushing through practices is one aspect of the sport that is challenging to Jelusic, as they can be very grueling, but he views these challenges as opportunities for growth.
Although club swim and high school are both important aspects of Jelusic's swim journey, he views them differently.
Jelusic decided to swim at La Salle during his freshman year in order to make more friends. He has made many since, and this has developed high school swim meets into a fun and more social event, as many high school swimmers aren't members of a club team and instead join for numerous reasons, including making friends, being a member of a high school sport, and participating in something active.
Club swim, on the other hand, is in Jelusic's mind, more competitive. "[For] club you're there with your team," he said. "But you're there for yourself, you're there for your own events."
Jelusic favors club swim simply because of the bonds between him and his teammates as well as the competitiveness that club swimming provides. "[My teammates] definitely pushed me to do my best every day," he said. "We all push each other." 
The level of competition that swimming provides Jelusic is something that motivates him to stick with the sport and keeps him invested. His favorite aspect of the sport has been the progress he has made since he began, which has allowed him to compete at higher and higher levels.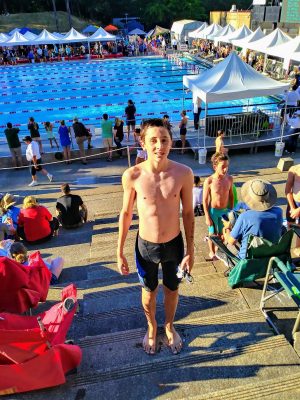 The progress he has made has also opened the door for him to swim in college.
Although he knew collegiate swimming was something he wanted to do since he was little, he didn't start the recruiting process until his senior year. This was because Jelusic was unsure what college he wanted to go to — sports or swimming would be an added benefit of his college choice.
He had three main choices: Oregon State University, Portland State, and Linfield University.  
He ultimately decided on Linfield with one reason being his high school counselor. "She had an influence on the decision because she definitely knew more about it than I did," Jelusic said.
Another reason Jelusic decided on Linfield was the size. The University offers smaller class sizes, similar to La Salle. Jelusic hopes this allows him to get to know more people due to the closer community.
The education aspect also played a role in his choice. "I know a person who graduated [and] somebody who's going to graduate from Linfield," Jelusic said. "I talked to them, and they said it was [a] really good school, like academically challenging."
Jelusic currently plans to major in marketing, but that is open to change, as he is not dead set on this academic path.
As soon as he applied to Linfield, Jelusic reached out to the swim coach over email. After meeting with him a couple of times, the coach told Jelusic that there was a spot on the team roster for him if he would like it. 
Jelusic said yes, cementing his goal of collegiate swim.
He is looking forward to being a member of the team and hopes that "the team aspect is good," he said.
Since swimming is a sport consisting of individuals, forming team bonds can be more complicated than in other sports according to Jelusic. 
Balancing academics and athletics is not an area of major concern for Jelusic since he has been balancing the two for the majority of his life. "I feel like it's just going to be the same kind of balancing," he said.
Jelusic's swim journey has not always been smooth sailing, with one major roadblock in his path being the lockdown stemming from the COVID-19 pandemic.
"During the quarantine, all the pools were just completely shut down," Jelusic said. "And I actually took a year off of swim because of that."
Since the pools were shut down, his team had to create many workarounds, including swimming in nearby rivers, but there was simply no way to have a normal schedule. 
Returning to the sport after taking time off provided another challenge for Jelusic. He kept his swimming skills, but was forced to adjust to his body being unused to constant cardio that a normal practice schedule provided. 
Swimming has always been an important aspect of Jelusic's personality. Since he has dedicated so much time and energy to improving in it, the sport has become a way of life. 
He is looking forward to continuing his journey and starting a new chapter in his life by becoming a freshman in college. "I feel like it's just going to be fun to experience that again," Jelusic said.