Next Level Seniors: Madeline Obuchowski Vaults Into Collegiate Sports at Colorado School of Mines
Unlike some collegiate athletes, senior Madeline Obuchowski didn't always dream of pursuing her sport in college. Being a dedicated gymnast throughout her younger years, she was always a natural athlete, but the thought of pole vaulting didn't cross her mind until 9th grade when some of her former gymnastics teammates inspired her to make the switch. 
Now, three years later, Obuchowski has committed to pole vault at Colorado School of Mines, a Division II STEM school located in Golden, Colorado. By doing so, she joins the select group of seniors featured in The Falconer's Next Level Seniors series, designed to showcase those who have committed to playing collegiate sports. 
Although Obuchowski wasn't introduced to pole vaulting until 9th grade, her love for track was initially sparked in middle school. "I tried CYO track in seventh and eighth grade," she said. "I really liked the jumping events like long jump and high jump, and then a lot of my old gymnastics teammates started pole vaulting." From there, Obuchowski pursued pole vaulting at both her club team and La Salle, and she's been in love with the sport ever since.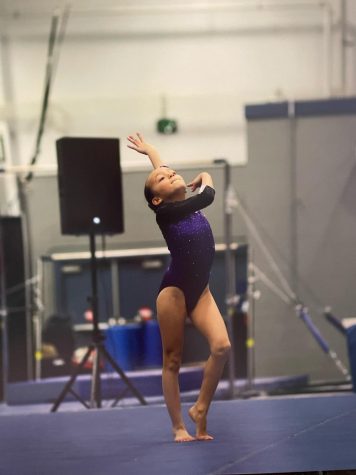 Initially, learning how to pole vault was difficult, but Obuchowski's club coaches guided her every step of the way, playing an instrumental role in her development. "I had a really good coach starting off in my club," Obuchowski said. "He helped me really get into it at the beginning."
At Obuchowski's club, the Willamette Striders Track Club, she's been under the instruction of head coach and founder Rick Baggett along with Natalia Price, former NCAA DI Indoor National Champion and member of the NCAA Hall of Fame. 
By competing under exceptional coaching and working hard with both her club and high school teams, Obuchowski has been able to continually develop her skills and compete at high levels. She recently set a new outdoor personal vaulting record of 11 feet 6 inches, and in addition to topping her previous record by five inches, she is now ranked sixth in the state of Oregon for girls' outdoor pole vaulting. 
Not only did these striking statistics help catch the attention of recruiters, but the ability to consistently set new personal records has helped Obuchowski overcome mental blocks that were preventing her from performing to the best of her abilities. 
"I have faced my tough meets and tough days," she said. "I hit a really tough mental block where I just wasn't PR-ing and I wasn't feeling great. It's just training your mind to not give up once you've had a bad meet." 
In fact, it was being able to overcome those roadblocks that helped Obuchowski come to the realization that she wanted to pursue pole vaulting at the next level. "I never thought 'Oh, I'm good enough to play in college,'" she said. "It wasn't until my sophomore year — kind of the end of the school year going into summer — that I really decided 'Oh, this is something I want to pursue and have the ability to pursue.'" 
From there, Obuchowski signed up for NCSA, a recruiting platform to help coaches discover aspiring college athletes. 
However, after not seeing many results, she took matters into her own hands. "I started to kind of go off on my own, separate from the website," she said. "I made an athletic resume, a cover letter, and just sent my videos to as many coaches as I could." 
Obuchowski's mom also played a large role in the process, helping her stay on track and connect with coaches. "She bought a book and started reading how to get recruited, " Obuchowski said. 
Before long, Obuchowski was noticed and recruited by multiple schools. In addition to Colorado School of Mines, she took unofficial visits at both Bucknell University and Cal Poly, but Mines prevailed for several key reasons.
Obuchowski first became interested in Mines upon talking to an alum from the school who happened to train at her track club. "I just started talking to him about it, and the more I talked about it, the more I started liking it," she said. "I really like the outdoors, so Colorado was definitely a place I'd want to be." 
In addition, Mines is a STEM-focused school, an ideal fit for someone like Obuchowski who is interested in and plans to study mechanical engineering. 
However, the cherry on top was the coaching staff at Mines. "I was blown away by Mines because their coach is a female coach," Obuchowski said. Normally immersed in a mostly male-dominated coaching environment, having a female head coach would be a change of pace for Obuchowski — one that she welcomes and feels would be "really beneficial." 
With the appeal of a standout location, academic rigor, and supportive athletic environment, Obuchowski decided to verbally accept her spot on the roster and sealed her commitment through a signing on May 11. 
Naturally, Obuchowski is proud of the end result of her hard work, but these achievements haven't come easily.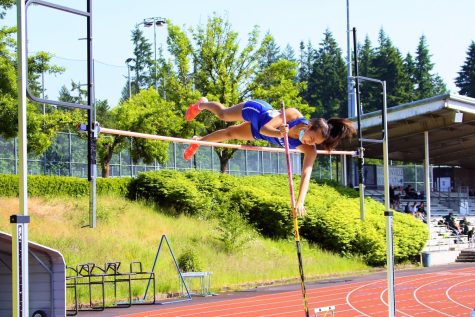 Pursuing sports at the collegiate level requires a strenuous schedule. The high school season holds practices and meets both after school and on the weekends during the spring months. All other months of the year, Obuchowski has practice four days a week — two days of strength and speed practice and two days of pole vault training — as well as meets on Saturdays, which can sometimes run up to six hours long.  
Training to be a college athlete is difficult for anyone, but especially for student-athletes of Obuchowski's rigor, who have to prioritize both academics and athletics amidst a jam-packed schedule. 
"It's definitely difficult because I have a tendency to just push myself to my limits in academics," she said. This multifaceted approach stems from her family, who Obuchowski describes as "heavily focused on academics." 
Time management is not the only hurdle Obuchowski has had to overcome in her journey to becoming a collegiate athlete. 
Over the years, she has suffered from several debilitating injuries. Last year, back problems and an ankle sprain caused Obuchowski to be out for six weeks, and this year she got a concussion early on in the season. "I was definitely frustrated with my concussion," she said. "Going into the season I was like, 'this is my senior year, I'm going to really take advantage of it … and then that happens.'" 
To make matters worse, Obuchowski sprained her ankle the day after getting cleared for her concussion. Nevertheless, she was able to persevere through her injuries and develop stronger habits, such as frequently visiting the trainer, to help her body heal and prevent further damage.
Despite the fact that her senior season is quickly coming to a close, Obuchowski is continually striving to achieve new goals and hopes to end the season with a bang before heading off to college.

She recently placed first in districts to qualify for state, and in addition to placing well in state, she is also aiming to break the school's girls' pole vaulting record of 11 feet 9 inches as well as be able to jump 12 feet before college starts.
As for the college season, Obuchowski is looking forward to new opportunities for growth. "I'm really excited to be in a new environment with new competition and older, more mature people that I can look up to," she said. 
For those that may be looking to play sports in college, Obuchowski's advice is to embrace adversity and take initiative in the process. 
Injuries, setbacks, and mental blocks — they're all inevitable. As someone who's experienced all of the above, Obuchowski emphasizes that the road to becoming a collegiate athlete is bumpy, but at the end of the day, the hard work pays off. 
"Don't be afraid to email coaches. You can find their emails online and send them your videos," she said. "Don't let mental blocks put you down because you're strong enough to overcome those."