Next Level Seniors: Emelia Warta Takes Her Talent to Gonzaga University
Senior Emelia Warta was just three years old when she started playing soccer and has found that it has not only become a constant in her life but her passion. Her devotion to the sport has led her to commit to playing Division I soccer at Gonzaga University during her junior year.
For Warta, soccer felt ingrained in her life since "my dad played college soccer," she said, which meant that lessons and practices started early for her and her siblings. She accompanied her two older sisters in the sport and recalls wanting to play after watching them play in their recreational league games. 
From a young age, she learned the significant amount of time and commitment that was required to further her talents and play at a collegiate level. Her weeks leave little room for anything other than soccer, with Portland Thorns Academy practice three days a week, individual training two days a week, and strength endurance every day. "Pretty much ten practices a week between everything," she said.
Despite Warta's time and effort paying off, she often faces situations where her social life is compromised due to soccer. "There's definitely been times where I've had FOMO or something like that because I have to do soccer," she said. "But at the end of the day, if I want to get to that next level and play in college I need to keep working and have to make sacrifices."
She has found that she can create a balance between her social life and soccer career. "I can surround myself with people on the team that are my friends, and that can become my social life," she said.
Warta has been playing for her club team — Portland Thorns Academy — for the past five years. "I really like the coaching staff and I've created a lot of lifelong friends on the team especially playing there for five years," she said. She currently plays as an attacking midfielder, but through her many years with the sport, she has become familiar with a variety of positions.
Portland Thorns Academy was part of the U.S Soccer Development Academy league up until COVID-19. The DA league states that "players who participate in high/middle school soccer are ineligible to participate in Academy practice and competition during that same season." It wasn't until her club transitioned to the Elites Club National League (ECNL) — post-COVID — that granted her the option to play for La Salle girls soccer team her sophomore year.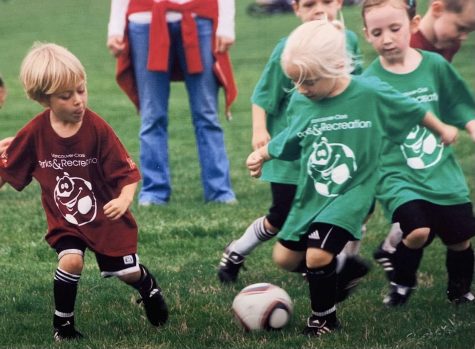 Since then, Warta has become a key player for La Salle's soccer team, following in the footsteps of her two sisters. This year she went on to win the OSAA Class 5A Player of the Year award, scoring 29 goals and 13 assists this season. 
Warta has thoroughly enjoyed her time with the girls team. "I feel like with high school soccer, there's just more to play for and it makes it more of a fun environment," she said. 
Aside from maintaining physical endurance in soccer, Warta has managed to uphold her academic studies as well. As a student-athlete, her time is often compromised due to other obligations or practices. "It's really difficult, but I feel like when you have time in school to get your work done, just making sure you utilize that," she said.
Prior to her official commitment, Warta found that the recruitment process was difficult to deal with. A rule states that colleges are not allowed to respond to student-athletes until the June after their sophomore year, "so it's really difficult having to send emails and not getting responses back," she said. At times, Warta said she felt discouraged because of the recruitment process, but staying consistent and not giving up paid off for her future.
Gonzaga was not the only school Warta received offers from. She ultimately chose it over the University of Oregon, Louisiana State University, the University of Montana, and the University of Portland, which were her other top choices. In November of her junior year, she officially committed to play Division I soccer at Gonzaga University. Gonzaga had everything she was looking for as far as academics, had a great school environment, and "being able to support a really good basketball program was right up my alley," she said.
Since her official commitment, her stress levels from school and academics have lowered. "I do hold myself to a high standard academically so I'm still trying to do well," she said, but she also feels more leniency now that she has committed to a school. Despite the athletic department waving her application due to her athletic commitment, it was still important to Warta that she earned not only her soccer scholarship but also her academic one as well.
Aside from playing soccer, Warta is eager to attend a highly academic college and has plans to major in business. She is thrilled for her next four years but is still uncertain about what the future holds.
Collegiate-level soccer has been a lifelong goal for Warta who believes her devotion, skill level, determination, and work ethic have led her to make her goals her own reality. Setbacks and defeats have strained her, but "at the end of the day you're going to have your ups and downs, so you just have to keep pushing," she said.