Next Level Seniors: After Four Years in the La Salle Soccer "Brotherhood," Luke Warner Commits to Southern Oregon University
As far back as the age of three, senior Luke Warner has always had a soccer ball at his feet, whether it was in a match, a practice, or a pickup game with his dad. "I have a lot of love for [soccer]," Warner said. "Every time I'm on the field, it's just peaceful. Everything else goes away."
Warner began his high school career on JV, where he was coached by his father, Scott Warner. "I liked him as a coach," Warner said. "I think he's a good coach, it's just hard to listen to him sometimes." 
Since sophomore year, Warner has been a mainstay on La Salle's varsity soccer team, where he has been mentored by head coach Monty Hawkins. "Monty is very much a manager, more so than a coach," Warner said. "He gives [us] a lot of grand scheme, big ideas."
Now, Warner will author the next chapter of his playing career in Ashland, Oregon, where he has committed to play collegiate soccer at Southern Oregon University. His commitment places him in the select group of seniors featured in The Falconer's Next Level Seniors series, designed to showcase those who have committed to playing collegiate sports. 
During his time on varsity, Warner has mainly played right back, but his experience in other positions has made him capable of playing almost anywhere. "I played center [midfield] back when I was younger, and then once I got older in the club years, I found out that I was pretty fast," Warner said. "So I moved to the outside and that just carried me through today." In addition to his versatility, Warner also named his pace and smart decision-making as his best attributes on the pitch.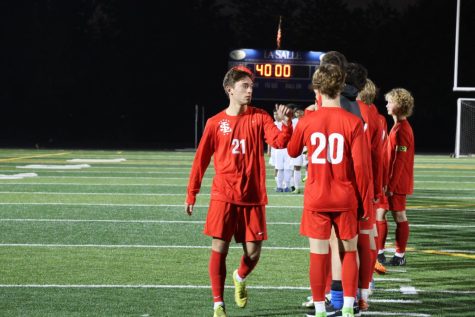 At the club level, Warner currently plays for Oregon Premier FC, and he describes his club's atmosphere as more cutthroat and competitive compared to the high school soccer experience. "Club is just straight competitive, straight performance," Warner said. "We're all friends on the club team, but when we're in practices, it's straight intensity. Everyone's trying to go for each other."
In contrast, Warner describes La Salle's team as a brotherhood. "These are people you've been going to school with for the past three, four years, and so every time you see them, you're happy," Warner said. "It's less of a competitive vibe."
Contributing to that positive vibe is something that Warner has had to learn over time. "I used to be pretty negative on the field," Warner said. "If I would mess up or [other] people would mess up, I would either get on them or myself. And that's just not a good way to play any team sport." Warner said that the varsity seniors during his sophomore year helped him to adjust his attitude. Since then, Warner has been "learning not to be as aggressive, [to] bring people up with positivity."
That sense of family was a big reason why Warner chose Southern Oregon. "When I went down for my visit, it was just the most welcoming team — the best vibe," Warner said. "I just felt at home there." Warner also named the university's campus and its proximity to home as other reasons for his decision.
While visiting, he got the chance to experience a day in the life of a Southern Oregon Raider. Warner was given the opportunity to participate in a full-speed, eleven-a-side scrimmage with the team. "That was awesome, playing elevens with college kids," he said. Despite the difference in physicality, Warner felt right at home. "Skill-wise, tactically, I felt like I was on par with most of the team," Warner said.
Warner has not currently decided on a major at Southern Oregon. However, he wants to do something in the health or psychology field. His career goal is to work a job where he can help people hands-on.  "I feel like I work good one-on-one with people — I can connect with people pretty easily," Warner said.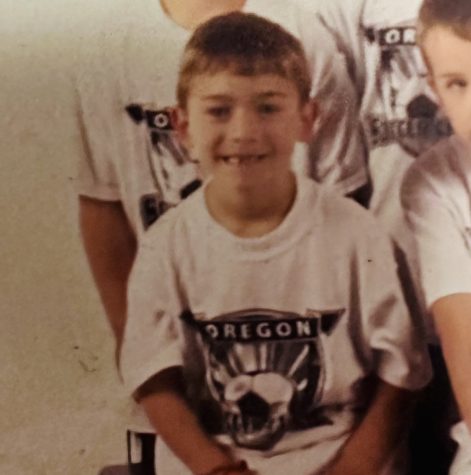 Managing both schoolwork and sports is one of a student athlete's biggest challenges, and Warner is no exception. "Balancing that was very tough because right as high school [soccer] ends, club starts again, so there's really no break," Warner said. 
However, he has found ways to manage. "You kind of just learn to find little bits of time and little strategies that can speed it up and make it so [that] it's not weighing on me at the end of the day," Warner said. "There were some times where I had to ask for extensions, but teachers were always super nice about it. They completely understood, which was really nice."
While Warner remained dedicated to soccer throughout his time in high school, there were occasions when his desire to play in college wavered. "End of my junior year, I was putting in work to try to get attention from colleges and it just wasn't paying off," Warner said. "It was getting to where it was starting to affect my mental, where I was like, 'I might not be good enough for this.' And I definitely considered giving up on the college dream."
He also acknowledged COVID-19 as a major contributing factor. "It put a roadblock in soccer for a little bit," Warner said. "My club was a mess after that. Even tryouts and all that stuff was just so uncoordinated."
However, Warner was able to break through and reach the next level. "I improved a lot during senior year and over the summer coming into senior year," Warner said. "I think the confidence that playing on the soccer team gave me carried over to club, and then club allowed me to get all the actual attention." Warner noted that the vast majority of college recruiting is done at the club level and that colleges "barely care about high school at all, which is kind of unfortunate," he said.
As a senior this past season, Warner was named first team all-state at right back thanks to his six goals and 25 assists.
Since he first set foot on La Salle's campus as a freshman, Warner has become much more outgoing. "I think I was kind of scared to embarrass myself all the time — scared to make mistakes, scared to reach out to people," Warner said. "Now, if I see someone who I know, I'm going to talk to them. I'm not really too worried about the whole 'high school image.'" Participating in La Salle's Journey retreat also helped him forge new friendships. "I still have friendships from Journey that I didn't talk to, like, the day before Journey," Warner said. "Now I talk to them every day in class."
No matter what the future may hold for Warner, he sees soccer as a part of it. "Honestly, I can't imagine myself not playing soccer [or] having that in my life," Warner said. His time on varsity has only strengthened his commitment to the game. "When I don't want to go to practice, when I'm tired, when I have homework, I'm still committed to this team — I'm invested in this sport."