New Festival Finds Roots at La Salle
Over the course of a week, starting on Monday, April 24, La Salle celebrated its first Roots Festival. The first event of its kind at La Salle, the festival was intended to share and celebrate La Salle's cultural makeup through a variety of activities across campus.
Having previously worked at international schools, Vice Principal for Student Life Mr. Aaron Hollingshead was inspired to hold an event similar to the international week celebrations he had seen at the American School of Doha in Qatar. Several months in the making, a committee was formed of students and staff who met every other week leading up to the festival.
"Hearing other people's opinions is really important," Mr. Hollingshead said. "So, I sent out an invite."
Aimed at bringing a sense of closeness to La Salle, the festival was also an opportunity for members of La Salle to become more involved in planning events. "We thought this is a nice way to highlight a lot of different student groups that might not always get a spotlight shone on them," Mr. Hollingshead said. 
Throughout the week, music was shared by different affinity groups during lunch. The Middle Eastern Student Union and Black Student Union both played music from their respective cultures in the main hall during lunch, and the Asian American Pacific Islander Club hosted a karaoke session in the counseling center during lunch. The Unidos Club also took to playing their own music when serving food on Tuesday, April 25. 
"There was a good vibe," Mr. Hollingshead said. "People were dancing, the music was playing, and I commented to one of the other teachers afterwards and I said, 'I think sometimes we overcomplicate community building.'"
In contrast with sharing the "visible parts" of culture like food, clothing, or music, "the tough part is the ones that are less visible, like our belief systems, our worldviews, our shared experiences, those are where there's actually more meaning" Mr. Hollingshead said. "But I think the hope is that by doing some of these things, it leads to further conversations or encourages students to ask questions of one another."
At the beginning of the week, a world map was placed on a bulletin board in the main hallway along with around 400 pins. By the end of the week, all of the pins had been placed on the map by passing students and staff. Hearing people talk about the map, Mr. Hollingshead found that people were not only talking about the map or where people came from but actually asking others about those places.
As part of the larger interactive exhibit in the main hall, tables were set where objects of cultural significance could be left for display with a description or explanation through the week. Ranging from photos, clothing, and other mementos, passersby could examine the objects on display as well as contribute.
"The hope is that through doing those simple activities, two things happen," Mr. Hollingshead said. "Number one: you're building a community… and number two: that you're able to go a little bit deeper into the people's culture through those events."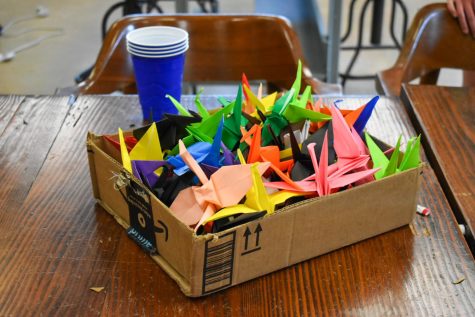 As part of the then-ongoing "Maker's month," the Makerspace was opened for activities where different objects were made, representing different cultures with piñatas, paper cranes, dream catchers, and tie-dye shirts being made.
"I lived on the farm that my great-grandparents homesteaded," Director of STEAM and Innovation and Design teacher Ms. Carie Coleman said. "Where I grew up, it's been in my family since the 1800s, and having that sense of community and sense of where my roots are, it just seemed natural for me to be a part of this."
On Wednesday, April 26, an assembly marking the midpoint of the Roots Festival was prefaced by a prayer from Director of Faith Mr. Tom McLaughlin, combining elements from the Lakota, Dene, Navajo, Mayan and Toltec cultures. "I really wanted it to be a prayer that people could participate in," said Mr. McLaughlin, referring back to the African proverb, "When you pray, move your feet."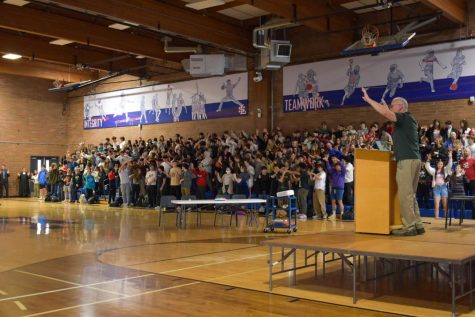 The "Roots Walk" took place during the assembly as well, with countries including Indonesia, the Philippines, China, Vietnam, and Mexico being represented through their national dress, followed by a description of the significance of the specific pieces of clothing students were wearing. 
Wearing her quinceañera dress for the Roots Walk, junior Evelyn Barrera performed the song "Ahí Donde Me Ven" by Ángela Aguilar. "It made me really happy to know that I could have the opportunity to show everyone my quinceañera dress and to be able to sing in front of everyone and sing in Spanish specifically," she said. "I went to public school my whole life, and I was in immersion school. Even when being in that school and having people of my own culture there, they were kind of ashamed of it."
To end the Roots Festival on Friday, April 28, a cultural food fair took place, spreading from the cafeteria, courtyards, and football field to accommodate both A and B lunches at the same time, and parents and other volunteers came to serve food from their own cultures that could be sampled freely with provided tickets.
"We're lucky in Portland," said Mr. Sulages, one of the staff members involved with the Roots committee. "We have a lot of great restaurants with a lot of different [ethnicities and cultures]. The food [was] spectacular and to get it all in one place at La Salle with parents, students, and teachers with everyone bringing different stuff. I mean, everybody's got to eat, right? So everyone is going to try stuff."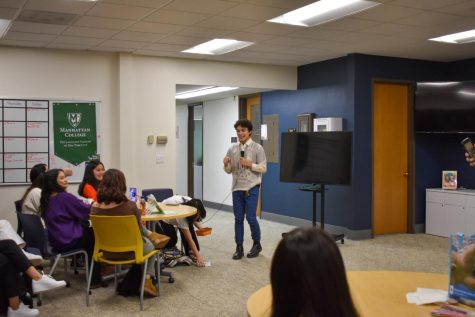 The Roots Festival had been aimed at community building, and for junior Ezra Moody, a member of the committee and one of the Officers of Inclusion, this is a good start for more involvement for the wider school community. "I've talked with other school communities and their affinity groups meet almost every week or so to discuss plans," Moody said, referring to the Asian Pacific Islander Youth Conference that happened on Tuesday, April 25. "I want to bring more of that to our school, and I feel like we should aim for more meetings and more student involvement." 
The overall goal of the festival, Mr. Hollingshead said, was to "recognize and celebrate the individual," with the theme being unity through diversity.