El Otro Lado: Students and Staff Experience Life at the Border First Hand
With immigration being such a controversial and misunderstood topic within the United States, nine La Salle students and two staff members traveled on an immersion trip to El Paso, Texas to learn about immigration and experience life first-hand at the border.
The group left on Saturday, April 15, and returned home on Friday, April 21. During their time in El Paso, the group stayed at St. Ignatius Church, which used to be a school. While they were there, an influx of Venezuelan migrants crossed the U.S. and Mexico border seeking asylum, and as a result, many migrants came and stayed at the church with the group until they found more permanent housing.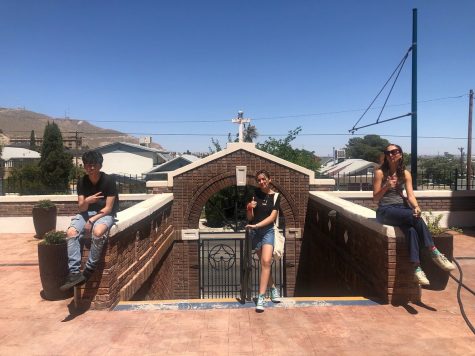 The group wasn't aware that they would be living with migrants during their stay until they arrived at the church. "I am really grateful that we were a little bit uncomfortable and had the opportunity to stay there because it really made the experience," senior Kamryn Houghton said.
While they stayed there, the church reached capacity and even had to begin turning families seeking shelter away. "It was very real and very awakening to the situation," Houghton said.
The group, along with others, called around to many organizations, to find a place for a family who was turned away to sleep, and the family ended up going to a homeless shelter for the night. "Figuring out where they can go next was a huge experience for us just to kind of witness that," Director of Service Ms. Sarah Maher said.
Having the opportunity to live with the migrants showed the group many things, especially for junior Jack Gill. "Even though they might not have the same things as us, love and happiness isn't based on a physical thing," he said. While they stayed at the church, the entire group bonded with the kids who were also staying with them, and something Gill noticed was that the kids were always happy to be there no matter what they were going through.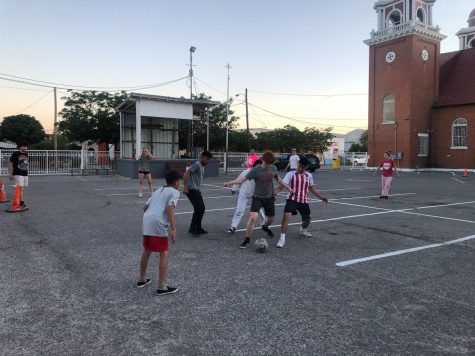 Although many individuals in the La Salle group weren't fluent in Spanish and many of the migrants didn't know English, they found other ways to communicate that didn't involve just spoken language. They would play basketball, foursquare, and soccer, and through these, the terms 'immigrant' and 'citizens' were no longer needed. "It was all 'amigo' and 'friend,'" senior Samuel Carrillo said. "I thought that was really cool."
Some members of the group mentioned that the most memorable moment of the immersion was when they had a water balloon fight with the migrant kids who were living with them. These kids had never had a water balloon fight before, making it even more special. For Houghton, it was an "incredible way to break the language barrier, and it was [a] really connecting and pure moment," she said.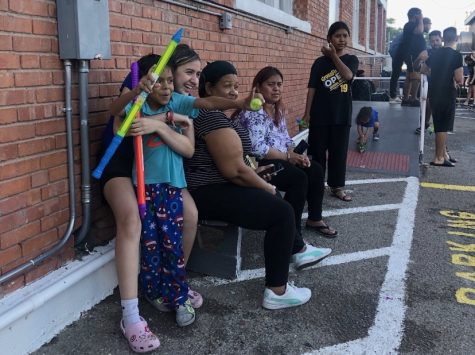 They did have moments where Spanish was needed, but seniors Cassie Ramirez, Jackson Chapman, and Sammuel Carillo were all able to help translate. And in some cases, Ms. Maher would use her phone in order to help communicate with those who they were living with.
Having the experience of not knowing Spanish was especially powerful for Houghton, as she was able to experience what it was like for many migrants who come to the United States. "I was kind of grateful for the uncomfortability that I felt not knowing Spanish because it showed me that 'wow, this is a reality for a lot of people when they moved here,'" she said. 
During the immersion, they were partnered with Cathedral High School in El Paso, and a staff member led the entire immersion and planned out their days. Along with the staff member, a couple of boys from the high school spent two days with the group — one who lives in Mexico and crosses the border every morning using his Trusted Travelers card to come to school. 
He is not the only one who does this; according to Ms. Maher, 40 to 50 percent of the boys who go to Cathedral High School cross the border every morning. "How can we complain about a 20-minute drive when they have to deal with border control every morning?" Houghton said.
Throughout the week, they participated in many activities and listened to many people to learn all the different perspectives about immigration within the United States.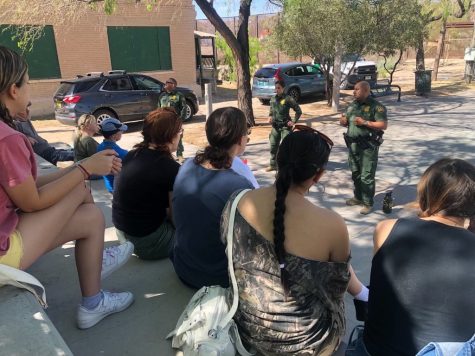 One of the many people that the group got the opportunity to talk to were Border Patrol officers. Going into this conversation many people in the group had the impression that Border Patrol and I.C.E were the same thing, but after the talk, they realized Border Patrol was only there to monitor the border, whereas I.C.E's job is to enforce immigration laws at the border and throughout the United States. 
According to Ramirez, Border Patrol advised them to be careful of immigrants, but the group found that this advice was unnecessary as "everyone minds their own business," she said. 
Another powerful speaker who they got the opportunity to listen to was Sister Betty, an activist for immigrant rights. She talked to them about the cartels throughout Mexico and told them that it is reported that Juarez is one of the most dangerous cities in the world, although Gill didn't get that impression. "When you're walking down the town of Juarez, you can't tell, we couldn't tell," Gill said. "People are nice, you walk down this market, everyone's just amazing."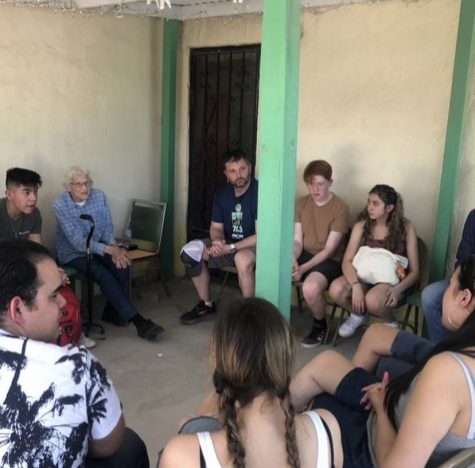 Along with listening to speakers, they also got to participate in activities that simulate portions of life at the border, such as a hike called Mt. Cristo Rey. Because of the terrain, there was no way a wall could go through it, and as a result of no wall, they could see immigrants off the path, and on different peaks as they looked out in the distance. "We saw probable coyotes, you know, the men on their phones telling them to come and stop and stay," Ms. Maher said.
Throughout this hike, they experienced what it was like to physically cross the border — hot and harsh. Immigrants would cross at this point because they didn't want to be caught by Border Patrol. Even then, during the entire hike, there was a Border Patrol helicopter overhead, and trucks going along the mountains as well.
 "It's just an incredible situation to witness and be a part of," Ms. Maher said.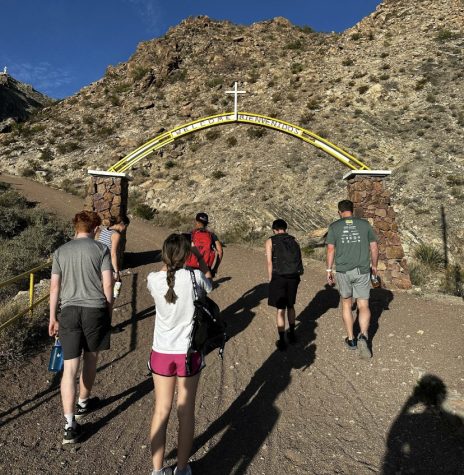 One powerful opportunity they got to experience while in El Paso was going to Mass with unaccompanied minors. They had crossed the border on their own, possibly as a result of trying to reunite with family or their family sending them up to the United States for a better life.
Although the children were not technically in jail, Ms. Maher said, "It was really clear that they're just in jail, like it's just jail. They all had gray polos and jeans, they couldn't even go to the bathroom by themselves, somebody had to accompany them."
Another impactful experience they had was going to multiple migrants' court dates who were being charged with crossing over for a second time after being deported the first. They got to listen to three different hearings, and each person would walk in with shackles on his waist, wrists, and feet. "It was really powerful, just seeing these people in chains coming in just for stepping onto this land," Carillo said. "It's something that was kind of seen as inhumane, but it was an experience I'll never forget."
After being deported for the first time, crossing the border again to come into the United States is considered an aggravated felony. "We kept saying to ourselves, their only crime is crossing the border," Ms. Maher said. "They are not being charged with murder, they are not being charged with drugs, they are not being charged with trafficking."
On one of the days, the group got to cross the border into Juarez, Mexico. They spent their day trying new food, trying new clothes, immersing themselves in the culture, and seeing how many people were waiting to cross the border into the United States.
They also visited a women's co-op, which is a business or property owned by multiple people. In this co-op, there were about 13 women who made bags, jewelry, flags, and tapestries. "I was just so inspired by their sense of community," Houghton said. She also noticed how positive they all were in a difficult economic situation and how, through everything, they were always connected to their faith.
Throughout the entire trip, Ramirez also noticed how faithful the immigrants were, and that no matter what they were going through they always kept their faith. "I know a lot of people let go of their faith because they come to struggles, but then you see these people and they keep continuing their faith, even though given all their struggles," she said. "That's that one thing that gives them hope."
As a group, everyone initially signed up for different reasons, including wanting first-hand experience, experience for a future job, the opportunity to travel, to educate themselves, or because they wanted to see what their family went through in past generations. "My parents were born in Mexico, and them crossing over for me to have a better life was a big thing for me," Carillo said. "So I was inspired to go back to see their journey and what these people have to go through every day just to come over to have a better life."
The group got numerous things out of the experience. For some, the trip solidified what they want to do in the future, and inspired them even further. "The children and the families are still smiling through what they've been through, traveling through different countries just to get to America," Le said. "I think that's just really inspiring because they don't have much and they're still trying to put a smile on their face."
For Carillo, it showed him that we should not be separated by countries, because we are all living on the same planet. "To be able to remove those barriers and connect each other with the people is one of the best things someone can do," he said. "So my takeaway is just, move boundaries, move borders just to connect with people."
One final thing everyone took out of this experience was a bond with everyone who went on this immersion. "I went in not really being close friends with any of the people, and left with ten new friends," Gill said. "They were all great people."