Next Level Seniors: Ella Wedin Joins the Pride
Collegiate basketball has been a goal for senior Ella Wedin since she was in seventh grade. That goal is now a reality, as she will be playing at the Division I level at Loyola Marymount University in Los Angeles, as well as majoring in product design, becoming part of a select group of seniors at La Salle who are showcased in The Falconer's Next Level Seniors series by committing to a collegiate sport.
Wedin has been playing competitive basketball for nearly 11 years, starting around the age of six years old.
"When I was younger, I didn't really like it that much. I kind of just played because my whole family did," Wedin said. "But then, as I got into middle school and stuff, I started to become really competitive, and I started to really enjoy it." 
Wedin also began to realize that she had the potential to play in college, which further motivated her to stick with basketball. 
Basketball has always been an important aspect of Wedin's life since her mom and two older sisters have experience with the sport at the college level. Her sisters both play DI basketball for Saint Mary's in California, with her eldest sister graduating this year.
"It's kind of just something that connects my whole family," Wedin said. "Which is really nice because it's something that we can all do and talk about together."
Having two older sisters go through college recruiting was something that helped Wedin with her own process because she witnessed them going through most of what she would face when she got to the recruiting stage. 
Despite watching her sisters go through the recruiting process, it was still a stressful time for Wedin. "It was definitely really hard and really overwhelming but, I mean, I'm really glad I got to go through it," she said. 
Providing examples of how to go through the recruiting process is not the only way her two sisters have helped with her journey, as they also provide high-competition training. When her sisters are on break and at home she usually trains and works out with them. "Me and my sister Addi usually workout together," she said.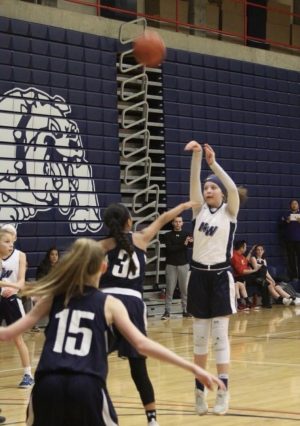 Wedin plays both club and high school basketball. When she was little she played for the club Northwest Select, but as she got older, she transitioned to a different club, a California team called Cal Stars. Club has been a huge commitment for her, as in the spring she would drive nine hours to California every weekend for practice and was gone most of July due to tournaments in which she traveled to Iowa, Chicago, Arizona, and Texas.
Not only was club basketball a huge time commitment, but it was also more individually centered than high school. "Club is definitely more competitive because everyone on your team is kind of fighting for the same thing," Wedin said. "We're all looking to get college scholarships."
Both forms of basketball are a huge part of Wedin's journey, and she has enjoyed both for different reasons. "High school is definitely more, not necessarily relaxed, but it's more fun," she said. "We're all going for the same thing, we're all trying to win league and win state."
These shared goals allowed Wedin to become closer and better friends with her high school teammates, as the environment was more relaxing. She still enjoyed playing club, but "it's a lot more like business," she said. 
Wedin has played basketball for La Salle since her freshman year. Both her sisters graduated from La Salle, but she was able to play with her middle sister, Addi, for two years.
Wedin's mom Kelli was and is still currently the girls basketball head coach, which allowed Wedin to play for her mom all four years.
Wedin has enjoyed the fact that she could play for her mom. "It's really fun," she said. "We definitely get in arguments sometimes, but she does a good job balancing out the criticism with the compliments."
La Salle's academic focus is a component of the school that Wedin is very thankful for, as she feels that La Salle has prepared her for college academics. However, throughout her time at the school, she has had to balance being a student athlete, since her intense schedule left little free time for social events and school work.
Despite her stressful schedule, Wedin has learned to "prioritize school first over basketball even though sometimes I don't want to," she said. 
Academics were another reason that she felt drawn to Loyola Marymount. Wedin wanted a school that she knew would provide opportunities after graduation, as well as provide lots of resources to help juggle her demanding basketball schedule and rigorous course load.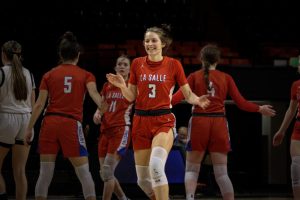 Wedin's career goal is to work product design at Nike, and Loyola Marymount provides many graphic design opportunities, which is one of the main reasons she chose to pursue basketball there. Another was the coaching staff. "They're really genuine people, and the team is really nice," she said. 
Basketball has been an important part of Wedin's life since she was a little girl, and she is thrilled to have the opportunity to pursue it at a higher level. 
"I've learned so many things from it," she said. "I feel like if I didn't have something to do all the time, I'd be really lost without it."